The EU safety net for dairy is undermined by intervention in dairy products
The safety net system in dairy operates when it is not necessary and leads currently to overcompensation of farmers and a waste of public means.
Does the EU safety net in the dairy sector function as it should do?
The current situation with high prices and ongoing SMP (skimmed milk powder) intervention provides a prime example that the EU safety net is not properly functioning but can lead to overcompensation of EU dairy farmers. This is costly to the EU budget and a waste of money. Moreover, it plants a seed for future market destabilisation. In my opinion, with the debate about a next CAP reform (the CAP after 2020) starting, this would be an issue that needs to be urgently solved.
The EU safety net in milk
The past reforms of the EU's common agricultural policy (CAP) since 1992 can be seen as subsequent steps in the direction of increased market orientation. The dairy sector has been one of the last sectors that was reformed in this direction. In April 2015 the dairy quota system was abolished, after a so-called soft landing trajectory. The soft landing implied a gradual phasing out of the milk quota by a stepwise increase of the quota level. This has been quite successful for most Member States and contributed to a smooth transition of the dairy sector.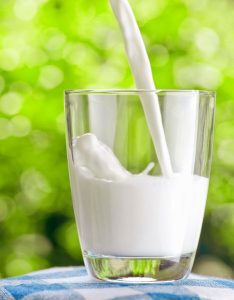 A not less important part of the latest reform in the EU dairy sector was the switch from a regime of classical price support to a safety net system. Under normal conditions prices are no longer supported nor manipulated. Only when there are extreme circumstances, an intervention mechanism will operate, which aims to create a price floor preventing the milk price to further decline. This safety net aims to protect farmers against extreme downside price risk. With the safety net price level to be about 21 eurocents per kg of milk, while normal milk prices are in a range of 33 to 38 eurocents, the safety will not start operating until the price declines by about 40 percent from its normal value. Safety net provisions also apply to other sectors but there intervention is not aimed at derived products as it is in dairy.
Butter and milk powder
How does the EU safety net provision in dairy operate? The "public intervention" measure is a market tool that allows the buying-in of butter and skimmed milk powder (SMP) into public storage. Between 1 March and 30 September each year, a maximum quantity of 109,000 tonnes of SMP and 50,000 tonnes of butter complying with specific quality requirements can be offered by private operators. Once these volumes are reached, intervention continues by tender until the end of the intervention period (which can be extended under exceptional circumstances). When market conditions allow, butter and SMP stocks are sold back on the market.
Looking to the mandate of the CAP, the safety net mechanism should contribute to two main policy objectives. First, it should support farm income in case of extreme market conditions (downside milk price fluctuations). Second, it should contribute to market and price stabilisation. As regards this latter objective, actually the safety net provision is about the only instrument in the CAP to achieve this objective. What is important, however, is that the aim of the provision is to protect dairy farm incomes and not necessarily specific processed dairy products such as for example milk powder.
Alongside the public intervention measure another market tool is the granting of support (aid) for the private storage of butter, SMP and specific cheeses. This aid helps operators by taking products temporarily off the market. It differs from public intervention, as the goods remain under the ownership of private operators who are responsible for selling them once the contractual storage period has elapsed. Recent schemes introduced in the milk sector provide for the possibility of financing storage costs for a minimum period of 90 days – and a maximum of 210 days.
No need for intervention purchases of milk powder
At this moment the milk price EU and Dutch dairy farmers receive is in the normal range. From this perspective the EU's safety net provision should not be active as there is no urgent need. Although the milk price farmers receive is in its normal range and the butter price is very high, the price of milk powder is currently very low. The milk powder price is even below the level which triggers the intervention mechanism. So, at this moment significant intervention purchases of milk powder take place, while there is no need for this when evaluating the milk price farmers receive. The intervention in the powder market actually contributes to supporting the milk price at a level beyond its safety net level. As such it is as if the old days of milk price support are coming back.
This needless public intervention in the milk powder market leads to significant public intervention stocks of now already more than 350 thousand tonnes at EU level. These stocks are not only costly to the EU taxpayer, but they are also contributing to future marketing problems. Stocks that are generated once will have to be sold and brought back into the market again. When these stocks represent a substantial amount, as is currently the case (they now represent already more than 20% of the EU's total annual skimmed milk powder production), they are likely to create a depressing impact on future milk powder prices. This will depress the farmer's dairy prices, potentially driving them below their safety level at a moment that also butter prices come down.
So while the market orientation in the dairy sector in general has been improved, the EU dairy policy still contains a safety net provision, which lacks a proper market orientation. This leads to perverse effects such as overcompensation of farmers by potentially supporting the milk price, even when there is no need for this. Moreover, it creates a burden on the market that may have a depressing impact on future powder and milk prices. By that the short-run needless intervention in milk powder may contribute to market instability in the medium-run. This then not only backfires to farmers, but can create future market instability as well as a further need for future intervention. What should be done?
A minimum milk price should be supported, not dairy product prices
The EU safety net provision in dairy should have as a clear focus that it aims to protect farmers against extreme downside price risk. For that reason a minimum milk price should be supported, not minimum dairy product prices. The system to target the support to dairy product prices worked fine in the past, but not necessarily so today. When the butter price is extremely high and the skimmed milk price very low, as is currently the case, still an acceptable milk price could result, which is far beyond its minimum intervention trigger level. In such cases no intervention in whatever dairy product market should take place. Markets take on board different signals and as such prices of dairy products can diverge, even though on the longer run one would expect price developments in different dairy product markets to behave in a correlated way (due to the economic principles of the hedonic or milk ingredient pricing and market arbitrage). The intervention mechanism should be such that it can cope with fluctuating dairy product prices.
It is part of the EU's market orientation to accept price movements, since they have an important function to clear markets, taking into account different shocks to the system. This implies that the EU safety net provision, which aims to support the farmer milk price, should allow for substitution in the dairy product mix, and only starts to operate when the total return from dairy product sales is too poor to support the safety net-minimum milk price to farmers. Moreover, it needs consideration whether the possibilities for private storage support should not be extended. Private storage support has as an advantage that the responsibility for the stocked products stays in the private sector, which could not only contribute to reduce the risk for the EU Commission, but also to a more business-driven management of market stabilisation operations.
Time to reform safety net provision in dairy
It's time to complete the EU's market orientation of the CAP by also reforming the safety net provision in dairy. This would prevent wasting public money by overcompensating farmers and would contribute to avoid the build-up of future market destabilising stocks of dairy products.
More information