Is an English-taught Bachelor's programme a good idea?
Is an English-taught Bachelor's programme a good idea? This is the question that I put to Ralf Hartemink, Programme Director Food Programmes at WUR. One of 'his' programmes is the Bachelor's programme in Food Technology. Part of this programme is currently being taught in Dutch. In the coming academic year, the programme will be taught entirely in English. What has brought about this change and what does he believe are the advantages and disadvantages of an English-taught Bachelor's programme? (in Dutch, in het Nederlands)
The Netherlands is at the forefront of this international discipline
The Netherlands is faring very well within our discipline. We are a global player in the world of 'food'. This certainly applies to the research element. Large multinational corporations like Unilever and FrieslandCampina are examples of successful leading global multinational corporations that have a research department here in the Netherlands. The research, the production and the chain of raw materials: the business community within our discipline knows no bounds. And neither does the scientific community. Within the world of 'food', our university is the top global university. Our graduates quickly find good jobs all over the world.
The scientific language is English
Within the scientific community, English is by far the language that is used the most. The research is in English; scientific articles are published in English; you cannot write a scientific book or organise a conference in any language other than English. Within our discipline, English is the standard language. Everyone is used to it. A graduate's English must be good, otherwise their chances of working within the scientific community will be very limited.
The language of the business community is English
The food sector is very important to the Netherlands. Of the 40 most important food and beverage companies in the world, 12 companies carry out Research & Development (R&D) activities in the Netherlands and some even have an R&D division in the Netherlands. Food is one of the nine top sectors in which the Dutch business community scores extremely well abroad. There are a lot of high-quality job opportunities for our graduates. These jobs are primarily international. The Netherlands is the second largest global exporter of food. Our foods are consumed all over the world. The quality of our foodstuffs is world famous.
Multicultural learning
A good knowledge of English is important for our students. In addition, they also need to learn how to deal with people from every conceivable country. The Netherlands is a trading country; it is not only our products, but also our knowledge that is being 'sold' worldwide. Good intercultural communication is, therefore, very important.
As a future professional in the world of foodstuffs you need to have a good understanding of how people from a different culture think. You need to possess good international communication skills in order to be successful. We also encourage our students to do international internships. And we also consciously attract international lecturers and researchers. This subsequently allows our students to easily learn how to deal with professionals who come from different cultural backgrounds. The students also learn a lot from collaborating with and living alongside international students.
Do you have to be a language genius?
At the moment, the first year of the programme is partly in Dutch and partly in English. But from the second year on, everything is basically in English. As a team, this has allowed us to gain a great deal of experience in teaching in English and it's going really well. Many terms from chemistry and the other science subjects are actually almost the same in both Dutch and English. Our profession does not really have its own Dutch jargon, unlike disciplines such as psychology or law. The lecturers and students both adapt to English quite quickly.
Writing in English
Understanding English is quite easy, but writing in English can sometimes be a bit difficult for students. At first, we don't mind if the students make simple grammar and punctuation errors, but the students will ultimately have to submit a graduation paper that is of an adequate English standard. Of course, there are also all kinds of courses that the students can take to improve their English.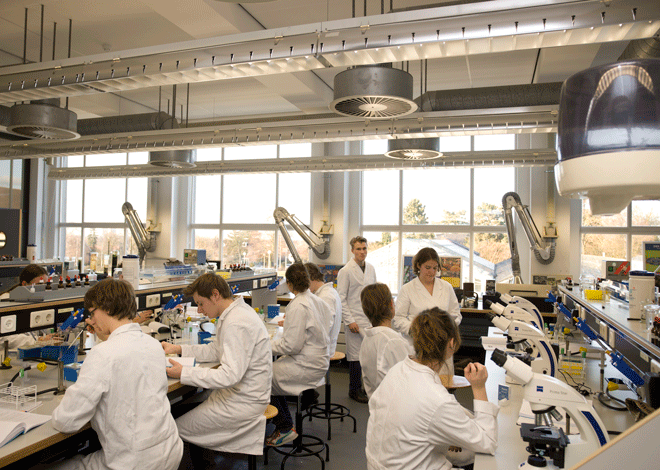 Avoiding the English-taught Bachelor's programme
Some students and their parents are afraid of English-taught Bachelor's programmes. The students are confronted with many new things: a different way of teaching, new friends, a new city, sometimes a new country. Learning to communicate in a foreign language can sometimes be quite daunting. Nevertheless, the reality is that students adapt to their new language quite quickly.
Taking an English-language examination
From now on, the examinations will also be set in English. For some people, this may mean that their grades are somewhat lower when they take an English-language examination, but I can't see anybody failing their examination because of language difficulties. As for passing the examinations, I also do not expect there to be any problems with an English-taught Bachelor's programme.
International students and the English language
Some international students have a bit more difficulty with English. Some of them may be able to read and understand English quite well, but do not have enough experience when it comes to speaking and writing. I have noticed that this is especially the case with the Chinese students and with other Asian students, but they also learn quickly through experience. Our work groups are comprised of many different nationalities and this means that the students are obligated to practise their English. And of course, we're also here to give them a helping hand.
Ralf Hartemink, Programme Director.