ADHD less common in green neighbourhoods
Children living in neighbourhoods with more green spaces are less likely to use ADHD medication, according to Wageningen research. This is particularly the case in more deprived neighbourhoods. Mental health also has a much weaker association with income levels in neighbourhoods with green spaces, compared to neighbourhoods that are less green. Recommendations from Wageningen researchers to governments, project developers and urban planners are helping to create healthier living environments. Could we invest more in green spaces to improve our health?
Diagnoses of ADHD in children have increased over the past few decades, but greener living environments may be able to change that. Sjerp de Vries, an environmental psychologist at Wageningen University & Research, has researched the relationship between how green an environment is and the use of ADHD medication for children. 'Greener spaces are associated with up to 10 per cent less use of medicines prescribed for ADHD, such as Ritalin,' says De Vries. 'That association becomes proportionally stronger for more deprived neighbourhoods.'
"All the evidence indicates that you can make substantial improvements to mental health by ensuring that poorer neighbourhoods have sufficient access to good quality green spaces."
Poorer neighbourhoods
Green spaces are also beneficial to adult health. A European study has shown that differences in mental health between people with lower and higher incomes are 40 percent less in green areas than in less green areas. British research has also found that areas with green spaces have smaller differences in mortality rates between richer and poorer people. Wageningen research points out that in the Netherlands – and in many other countries – poorer neighbourhoods tend to have fewer green spaces than wealthier neighbourhoods do. 'All the evidence indicates that you can make substantial improvements to mental health by ensuring that poorer neighbourhoods have sufficient access to good quality green spaces,' says De Vries.
Playground bullying
The beneficial effects of green spaces go even further than this. For example, two other pieces of research led by De Vries have revealed that bullying is less prevalent in green school playgrounds. Children were interviewed before and after the introduction of greener playgrounds at a number of different schools. 'The introduction of green spaces appeared to improve the social climate. When green school playgrounds provide a variety of spaces, there's something there for every child. This probably explains the lower levels of bullying.' This applies just as much to other forms of aggression beyond the school gates. Researchers in the US have found that poorer neighbourhoods with green spaces experience less aggression and crime compared to similarly deprived areas that have no green spaces.
Less stress and anti-depressants
Even the view from our living room window has an effect on our state of mind. 'Those who look out onto a variety of green features have a lower level of the stress hormone cortisol compared to those who have a view of buildings and asphalt, according to research in Berlin. A recent study in London showed that the more trees people have on their street, the lower the use of anti-depressants,' says De Vries.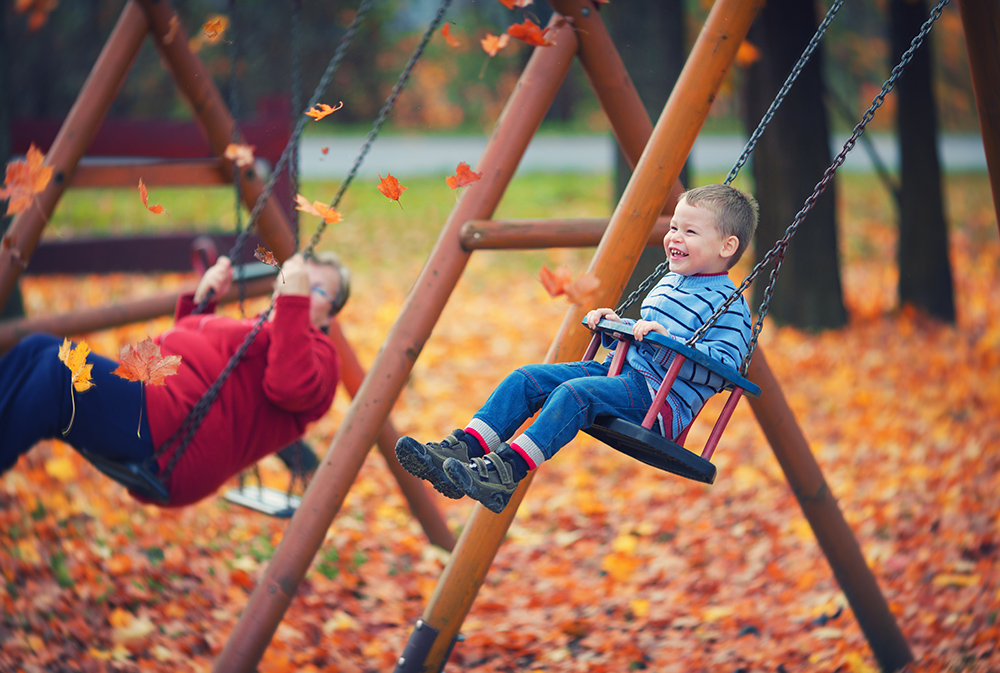 Proximity to water
Research carried about by De Vries himself with the Trimbos Institute revealed that those who live in green environments or in proximity to water are less prone to anxiety disorders than those who live in environments without those features. They also report better general health. And British researchers concluded that proximity to water, such as the ocean, lakes or rivers, has an even greater beneficial impact on depression than being in a green environment. 'We know much less about 'blue' impacts than green ones,' says De Vries.
Dunes, beaches and heathlands
In 2016, Sjerp de Vries and his colleagues launched a citizen science research project. Using the 'HappyHere' app, people were able to report several times a day on how happy they were, where they were and what they were doing. The Vroege Vogels ('early birds') radio programme featured the app, which led to 4,000 people downloading it. 'The findings showed that people feel happier in a natural environment, particularly on the beach and amongst dunes and in areas of low vegetation, such as heathland.'
Green routine
A logical follow-up question would be to identify what kinds of green features and water are most beneficial to mental health. A European literature study, co-funded by the WHO, is trying to answer that. 'Early indications suggest that trees are better than grass,' says De Vries, who is one of the researchers on the study. He is also working with other colleagues in Wageningen to research the impact of private green spaces on our health. 'We expect that people benefit more from having their own garden and a tree in front of their house than they do from a little park two streets away, because of the more frequent exposure. Routine, daily interaction with green spaces could be more valuable than occasional visits to beautiful nature spots.'
Recommendations for urban planning
Proximity to green spaces can evidently be beneficial to mental health and can help reduce the effects of socioeconomic differences on health. 'Green spaces are often seen as expendable. Given the need to build more housing, local authorities are increasing the density of urban development, which puts greater pressure on green spaces. They need to use as much available space as possible for housing within their city limits,' says De Vries.
Local authorities ought to pay much more attention to the provision of local green spaces, he insists. To help local authorities, project developers and urban planners with this, Wageningen researchers have developed a healthy green city design tool which serves as a hub of current expertise on green spaces and health. This includes recommendations on everything from how to design green playgrounds for children to the type of green roofs that can capture rainwater and protect against heatwaves.
More self-discipline
While there has been much more research in recent years on green spaces and their impact on health, there is still a lot of uncharted territory. 'Attractive, green and safe outdoor environments reduce stress, including chronic stress. That calming effect can contribute to greater self-discipline.' Students in Taiwan who leaving cert history essay guidelines than students who had been looking at images of cities. This phenomenon is something that De Vries would like to study in greater depth. 'You could have people take a walk in either a natural landscape or in an urban environment, for example, and then see what they choose to eat for lunch.'
Read more