Blockchain improves transparency and sustainability
There is a lot that people want to know about food. Are farmers getting a fair price? What is the situation with pest control? Economists at Wageningen are researching ways of sharing that kind of information quickly and safely. One way is through blockchain, a technology that acts a digital ledger using a chain of data blocks stored in a computer network. Blockchain is a way of providing farmers, consumers and other stakeholders with information, and it simplifies certification and fraud detection. In agriculture, it can be used to improve transparency, sustainability, and fair compensation.
Farmers need to dispose of a proportion of their livestock manure, because having too much of it on their land is bad for the soil and for groundwater. But disposing of manure costs money, and in 2017 large-scale fraud was uncovered. Many livestock keepers were found to be bending the rules on manure disposal as a way of cutting costs, assisted by administrative offices, transporters and manure processors. But if the administration of that process had been done using blockchain, the fraud would have been prevented or the fraudsters would have been found out earlier.
"Blockchain facilitates democratic decision-making by enabling collective rule-setting and building in checks and balances."
That is one of the many ways in which blockchain can be used. But what is blockchain really? "It's a way collecting, storing and sharing information with multiple parties," explains agricultural economist Lan van Wassenaer, the programme leader for blockchain research at Wageningen University & Research. For the past four years she has been running a large number of projects to research the use of blockchain in agriculture, horticulture and the food industry.
Built-in checks
"In essence, a blockchain is a shared accounting system which is maintained by everyone and which can be used to record agreements, actions and transactions," says Van Wassenaer. The information is stored on a large computer network as a chain of data blocks. It is also secured cryptographically. "There's no single person who manages the system. Multiple people do that together. This prevents corruption and makes the system safe." Participants record data promptly and share it immediately, so it can't subsequently be modified or falsified. "You can also build in checks so that the system alerts you to any irregular data. This makes it possible to detect fraud more promptly."
There are many ways of setting up a blockchain system. It depends on the agreements you make with others, along with the extent of access, permissions and management given to the various participants. There are also various hybrid forms that fall between 'ordinary' information systems and blockchain.
Tracking pot plants
The Wageningen researchers have taken part in a blockchain pilot for the floriculture sector (see video). Using blockchain, you can track a batch of pot plants from the moment the seeds germinate up to the point where the fully grown plants are sold. Propagators, growers, certification bodies, traders, retailers and consumers can all enter, validate or look up information relevant to them. Data on crop protection agents, fertilisers and energy consumption could eventually be used to issue a sustainability certificate, for example.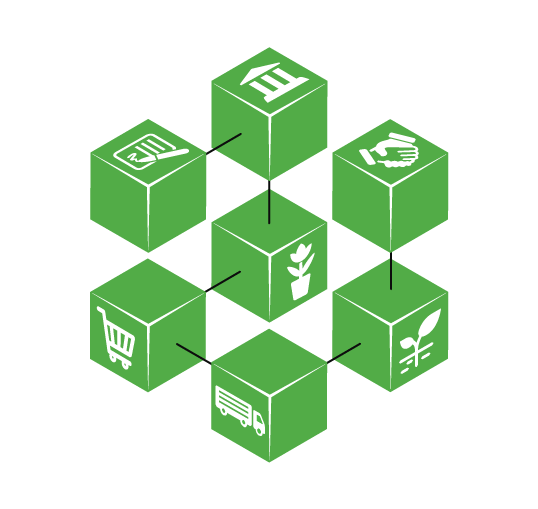 "You can use blockchain to record agreements but also to organise transfers of ownership or certification. In agriculture, the logistics around manure and the use of crop protection agents also lend themselves well to blockchain registration," explains Van Wassenaer. When it comes to pest control, for example, traders often don't know exactly what was used, how much of it, and when. If growers record in a digital file what they applied in each growing phase, that information becomes accessible to everyone.
Fair trade
Blockchain can also be useful in fair trade systems. Farmers can use an app to enter information about their crop or product, and use that to obtain certification or payment. "In low-income countries it can be difficult for small-scale farmers to access financial products such as bank loans or insurance. But there are all sorts of options available through blockchain and through digital currency in the form of crypto tokens and crypto coins."
An additional advantage is that digital systems and currencies work across national borders and are less subject to regulatory obstacles. That makes it easier to establish global links and to work together around the world. It is conceivable, for instance, that consumers could express their approval of sustainable production directly in the form of points to a farmer which can be converted into cryptocurrency. "That is a way of linking consumers and farmers and enabling a consumer in the Netherlands to make a direct financial contribution to sustainable coffee production in Ethiopia. Equally, blockchain can be used to enhance the transparency of Dutch farmers' efforts to improve biodiversity, the environment or animal welfare."
Drawbacks
"Blockchain facilitates democratic decision-making by enabling collective rule-setting and building in checks and balances. The systems improves transparency, collectivity and sustainability. It ensures that people have access to reliable information and that transactions can be fulfilled safely and fairly," says Van Wassenaer. Blockchain is therefore extremely useful for the food, agriculture, environment and health sectors. "It can be an important part of digital infrastructure in the data economy."
It does have some drawbacks, however. There is a lot of discussion about the vast computing power that blockchain needs, because of the high energy requirements that come with it. "Bank systems use a lot of energy too," Van Wassenaer points out. Another issue is that a lot of discussion and agreement has to precede the setting up of a blockchain. "It is very complex, comparable to a coalition agreement, and needs to be well coordinated."
Finally, the systems stands or falls with the behaviour of those involved. "People have to be prepared to share information. One advantage, however, is that blockchains can be organised in a way that ensures privacy is maintained. That's because the system can check information and validate it without revealing underlying details."
Read more: