Healthier and more sustainable eating behaviour in times of corona
Switching to a healthier, more sustainable diet is difficult. In this corona crisis, consumers are buying more fruit, vegetables and organic or locally produced food. What is their motivation, and will this change persist in the long run? Do people who work from home snack more frequently? Wageningen consumer scientists seek answers to these questions using the FoodProfiler app. You too, could gain more insight into your eating pattern by entering what you eat. Thus, you are contributing to our knowledge of new eating behaviour. Will you join?
"While eating behaviour is extremely difficult to change, we now see this change occur spontaneously during the coronavirus crisis. We want to find out what has prompted this change and whether it is permanent."
Since the start of the corona outbreak, consumers are buying differently. During the beginning of the crisis, people began panic-buying toilet paper and food with a long shelf-life such as canned beans, but also fruits and vegetables. Now that the dust has settled, consumers retain this altered buying pattern and continue to buy more fruits and vegetables, as well as more organic and locally produced goods. 'We are eager to find out why',  says Jos van den Puttelaar of Wageningen Economic Research. He and his colleagues discussed the changes in buying behaviour during a digital coffee break. Consumers are buying increased amounts of fruits and vegetables, but are they also consuming more fruits and vegetables? And, are people buying more products from local suppliers or directly from farmers because many stores are closed, because they consider shopping an 'outing' or because they wish to support local businesses?
Behavioural change
'In general, people do not eat as healthily as they should, and this behaviour is extremely difficult to change. Now, we see this change occur spontaneously. Therefore, we want to find out what has prompted this change, and whether the change is permanent', Van den Puttelaar explains. The consumer scientist hopes the FoodProfiler app will provide answers to these questions on the altering eating pattern. Researchers have been trying to gain insight into eating habits through the use of this app since 2016. The app is free to download. New questions, related to the corona crisis, have recently been added. Van den Puttelaar wonders, for example, whether working from home leads to increased snacking, and what these snacks consist of.
Download de FoodProfiler app
Eating pattern outline
FoodProfiler asks the user what they have eaten over the last two hours. This question pops up at random intervals over a period of several weeks. Occasionally an additional question is asked, for example, whether you chose the product because it is healthy, sustainable or low-effort. After several weeks, the user is presented with an outline of his or her eating pattern, showing whether the user is, for example, environmentally engaged, price-sensitive or driven by enjoyment. The profile also indicates whether your eating pattern is in line with your self-image: are your eating habits as healthy as you think?
'The profile is fairly general, based on what someone's eating habit says about their healthy and sustainable choices. Thus, we map both conscious motives and subconscious eating habits. If a user indicates that halting climate change is important, but they eat a lot of meat and dairy products, the food profile will show this',  Van den Puttelaar clarifies.
Fun and easy
Many nutritional studies, such as the "What is the Netherlands eating" study, which the RIVM carries out every five years, ask consumers about their nutrition over the last 24 hours, or ask people to estimate an average. The disadvantage of this approach is that many people cannot remember precisely what they have eaten. Van den Puttelaar: 'We did not want to bother people with a lengthy questionnaire, but rather use an easy and fun app. You can postpone or ignore a question, as well as indicate if you have not eaten or drunk anything. However, this seldomly occurs. We are "grazing" more throughout the day. This is also something we want to study.'
Most popular colour bell pepper
The app is available in Dutch, English and German, to generate a more extensive insight in similarities and differences with our surrounding countries. This insight is relevant for the Dutch market since sectors and businesses are interested in consumer choices and eating habits. The FoodProfiler app is not meant only for interested consumers, it is also used in research involving test subjects, for example, for the GroentenFruit Huis.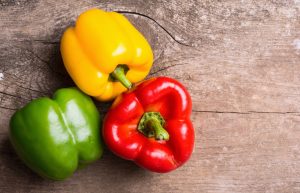 With the FoodProfiler app, researchers can measure what colour of bell pepper consumers eat the most (the answer: red).'Thus, we have analysed what colour bell pepper is the most popular. We also check what foods are often combined, for example, blueberries and yoghurt, and when. We don't just want to discover when blueberries are consumed. But, more importantly, when there is room for healthier products', Van der Puttelaar clarifies. Eating habits vary among people. Those that value health have different eating habits, and there are differences between different age groups and between men and women.
Development epidemic
In the future, Van den Puttelaar aims to expand the app with information on the environmental impact of food products, such as the amount of water used in an apple or the CO2 emissions generated by a veggie burger. This will allow consumers to better determine how sustainable their eating habits are. Van den Puttelaar is also collaborating with the Wageningen research department Human Nutrition and Health and the trade and industry sector in developing an app that can more precisely record calorie intake and nutritional values.
The preliminary results of the impact of corona on eating behaviour are expected for the fall. The study will, however, continue. 'We want to gather long-term data which we can then compare to the developments of the corona epidemic, for example, if several waves occur.'
Read more