New approach to the nitrogen problem
Nature is under threat from the high levels of nitrogen in the Netherlands. Multiple sectors, amongst which agriculture, contribute to nitrogen emissions and must take measures. Wageningen experts in the fields of nature and agriculture have developed a roadmap to determine, per region, what actions are needed. This approach should lead to local and national solutions for nature and agriculture. How do you see the recovery of nature and a sustainable future for farmers?
'The nitrogen problem is a complex one, involving many different interests that sometimes appear to clash', researcher Tia Hermans states. She heads a task force of Wageningen nature and agriculture experts and economists that studied possible alternative solutions for the nitrogen problem. The initiative was launched by Wageningen University & Research. 'We wanted to approach the nitrogen issue from a broad perspective and thus contribute to solving the nitrogen problem', Hermans declares.
"The roadmap allows you to see how you can solve this problem at a regional level. Both the recovery of nature and adjustments to agriculture require tailored solutions."
The Wageningen nitrogen team has designed a step-by-step plan (see below, in Dutch) that shows to what extent the local measures will reduce nitrogen emissions and restore nature. 'By following the roadmap, it becomes clear what options policymakers, farmers and nature managers have. It supports substantiated conversation and decisions based on facts.'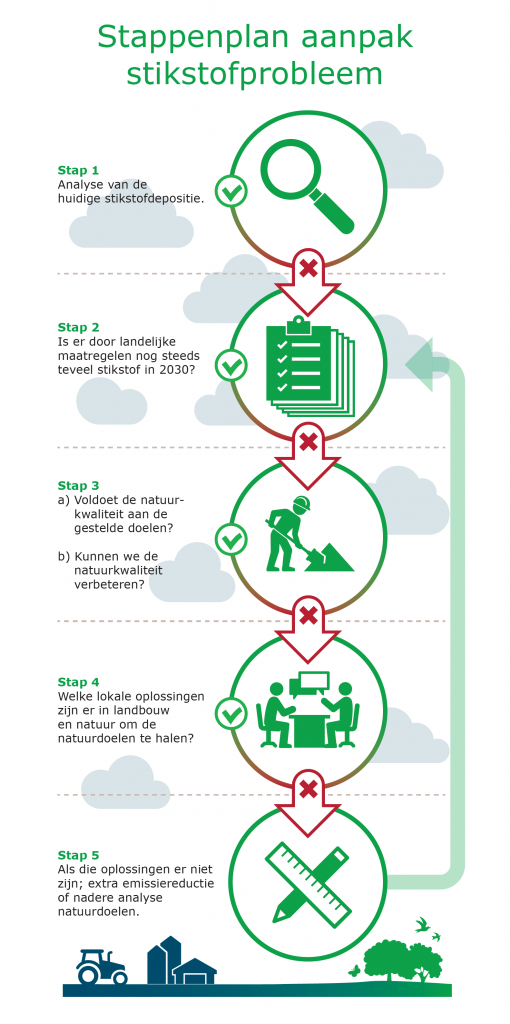 Cohesion
The first step is an analysis per nature area. 'To what degree does the nitrogen load in the air pose a threat, and what are the consequences for the future? In the next step, we look at the effect of different national measures that are available',  Hermans explains. Following that, the third step considers the quality of nature.
Nature is severely affected by acidification and eutrophication that results from nitrogen deposits on the ground. Moreover, desiccation forms a severe problem for the environment. Nature reserves are often small and disconnected, making these areas less resilient and hampering the fauna's escape routes. Hermans: 'Much can be won by not just focusing on nitrogen values, but by looking at the situation as a whole. It is essential to incorporate all options for the restoration of nature, such as the groundwater levels and creating natural dams to hold rainwater.'
Regional and tailor-made
If nitrogen emissions remain high and the quality of nature stays sub-par, a fourth step shows what regional solutions may contribute to lowering nitrogen levels and fortifying nature. 'Local farmers could replace old barns with low-emission new ones, reduce the amount of protein in feed or switch to more extensive forms of agriculture',  the researcher states. Possible measures also include measures for nature, such as enlarging nature reserves and optimising the connection between different nature reserves.
Should these steps prove insufficient, the nitrogen emissions must be lowered, or the goals set for nature should be re-analysed. 'If the problems remain unsolved, your only option is to return to the national policy or the nature goals. Adjusting one step automatically leads to adjustments in the other steps. This way, you can follow the roadmap several times until you reach the required national measures or regional solutions and can balance the measures.'
Particulates and soil acidification
The industry, transportation, traffic and construction sectors can join, in collaboration with our partners. The data provided by these sectors can be added to the models used by Wageningen scientists to calculate nitrogen levels. 'It is not just the agricultural sector that should contribute to lowering nitrogen levels',  Hermans emphasises.
Agriculture is responsible for approximately 42 per cent of the nitrogen emissions in the Netherlands. Nitrogen is released from the ammonia (NH3) that results from manure and urine interacting. Industry, transportation and traffic emit nitrogen dioxide (NOx), part of which ends up in the atmosphere as particulates and smog, and thus, poses a threat to public health. Nitrogen oxides and the nitrogen produced from ammonia is partly deposited, where it accumulates. This then results in acidification, making it impossible for many plant and animal species to survive in the affected areas.
Social value
The Remkes Committee's report, which was published on 8 June, shows that the agricultural sector must take more significant strides in reducing nitrogen emissions. Now is the time for industries to look beyond their own interests, Hermans feels. 'The agricultural sector is focussed on production. Farmers, processing companies and suppliers have invested in the future. But the side-effects on nature and the environment were never part of the production costs', Hermans clarifies. To reach the right decisions, a broader perspective is required, and public costs and gains must be included. 'Nature does not serve an immediate economic purpose, so no one advocates in its favour. But you could easily link it to health, recreational value and well-being.'
Freedom of choice
In some areas, farms are to be relocated or bought out. Hermans understands this is a sensitive issue for many farmers. Still, the roadmap often provides much freedom of choice, she underlines. 'Farmers required to reduce their nitrogen emissions can choose whether to invest in technical solutions, such as low-emission barns or perhaps choose to adopt a nature-inclusive farming method, more extensive farming or perhaps even to move the farm.' Some measures are eligible for subsidies. Furthermore, additional research is needed, for example, on the nitrogen emissions of circular farming.
Tailored
Hermans and her colleagues feel the sense of urgency to lower the nitrogen emissions because nature in the Netherlands is not doing well. The researchers hope the roadmap will support the government, the agricultural sector and the nature sector in developing a new systematic approach. Hermans: 'This allows you to see how you can solve this problem at a regional level. Both the recovery of nature and adjustments to agriculture require tailored solutions.'
Read more: