Unravelling the secrets of the cow
The dairy industry is facing major challenges, among which the need to reduce greenhouse gases and nitrogen emissions. The cows at the Dairy Campus in Leeuwarden are monitored 24/7 by sensors, trackers and cameras. The animals generate data on nutrition, welfare, milk, grazing, biodiversity, manure and urine. Thanks to this research, a feed additive has been developed that reduces methane emissions by up to 40%. Step by step, the WUR researchers are unravelling the secrets of the cow in the search to find yet more solutions.
"We are not here to milk cows, but to do research, to innovate and to collect data. Our cows are producing that data," says Kees de Koning, innovation manager at the Dairy Campus in Leeuwarden. Every movement of the approximately five hundred cows is registered by a radio collar with sensors and GPS, cameras, electronic beacons, robotic feeding and milking systems and smart gates.
The researchers can monitor exactly where a cow is, whether it is lying down in a cubicle, being milked by a robot, or eating. In the feeding shed, the feeders accurately record how often, how much and how long a cow eats and from what feed. In the milking parlour, the time of day, duration of milking and volume of milk are all recorded. A milk sample from each cow is analysed weekly for protein composition and fat and lactose content.
New solutions
All the data generated by the cows is used to search for ways to improve the dairy industry. "The focus of the research has shifted over the years. Where we used to concentrate on increasing production, in recent decades animal welfare and feed efficiency have become more important," says De Koning. In recent years, there has also been much more attention for reducing ammonia and greenhouse gas emissions.
"We are looking for new solutions and strategies that can help farmers," continues De Koning. Twenty years ago, he was involved in the development of the milking robot. "Today, almost a third of dairy farmers use a milking robot, while 25 years ago they were almost non-existent."
Less methane by changing feed
The Dairy Campus has six different types of barns, each suitable for a specific research goal. For example, there is a feeding barn, but also an 'emissions barn' where the emissions of certain gases are measured. Several barns are equipped with concentrate feeders with breath analysers which record the amount of greenhouse gases such as CO2 and methane that a cow emits.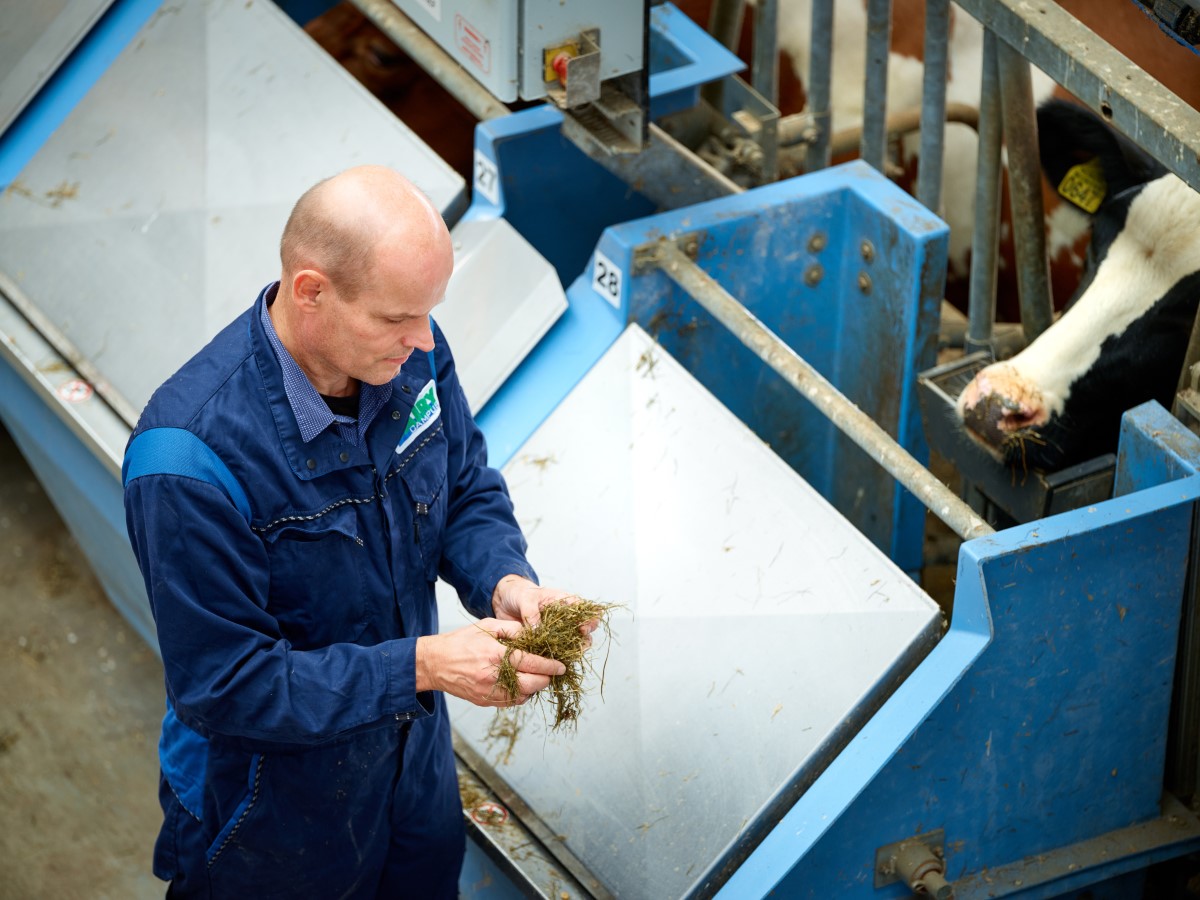 "Methane is produced during rumination, when the grass is broken down in the cow's rumen," explains De Koning. Methane is released into the atmosphere when a cow burps (which they do often). It is a very strong greenhouse gas, produced in swamps, by wet rice farms and by ruminants such as cows. Due to rapid global warming, the need to reduce methane emissions has only increased.
For some time now, researchers in Wageningen have been investigating which nutrients can reduce methane production in the rumen. The Dairy Campus cooperated with DSM to test a methane-inhibiting powder that can be added to dairy concentrate. "It was groundbreaking research: the food additive reduced methane production in the rumen by an amazing 30 to 40%." This additive is already permitted and available in South America, and is awaiting approval in the EU.
Mutually beneficial
These are interesting times, says De Koning. "There are many issues and much social debate, for example about climate and nitrogen. The added value of an innovation centre like the Dairy Campus is becoming increasingly apparent."
"There are many issues and much social debate, for example about climate and nitrogen. The added value of the Dairy Campus is becoming increasingly apparent."
The researchers regularly cooperate with other Wageningen University & Research departments and other research institutes and business partners in the Netherlands. These are typically public-private partnerships co-funded by the government or the EU.
Research at the Dairy Campus has also attracted international interest and it is currently cooperating with research institutes in the US, South America, China and New Zealand. "In the Netherlands we have a lot of expertise, while many countries are struggling with similar issues to ours. We can learn from each other and mutually benefit from the research results."
Understanding animal well-being
In the meantime, researchers are learning more and more about the mysteries of the cow. "The more we know, the more new questions arise, for example about behaviour, welfare and efficiency. We are continuing to learn, but I doubt that we will ever completely unravel all the secrets of these animals."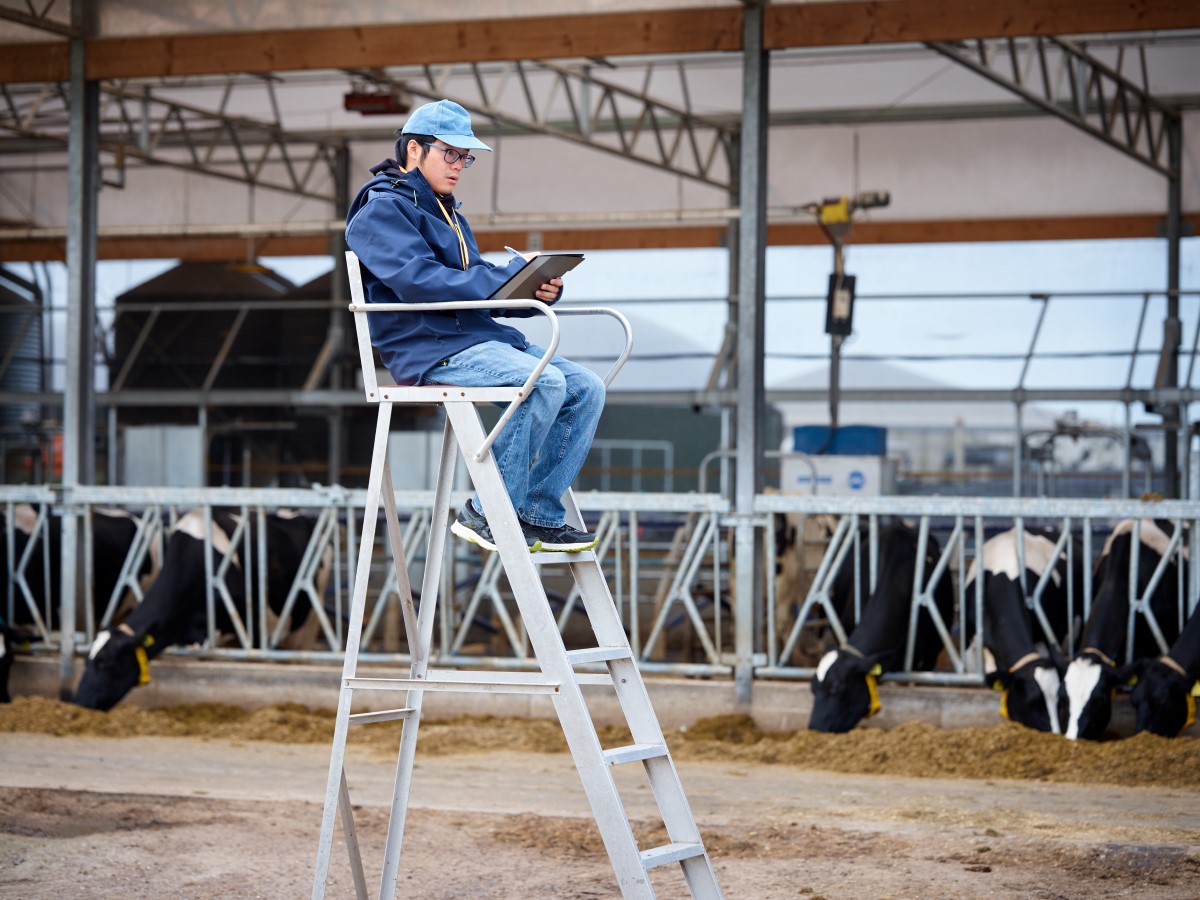 What mystery does he want to solve? "There is a lot of discussion about the environment, climate, health and welfare, and the farmer and the cow are expected to provide the solution." We see animals only through our own eyes and we are coloured by our own experiences, says De Koning. One example is the perception of the practice of separating a calf from its mother immediately after birth.
"I really want to know under what conditions a cow feels most comfortable. Perhaps that is a step too far. But in the future, we will probably be able to say a lot more about cow welfare based on the animals' behaviour and the hormones and other substances in their milk and blood."
Science Weekend:
visit the Dairy Campus on Saturday 2 October

On Saturday 2 October 2021, the Dairy Campus will open its laboratories and cowsheds to the public as part of the national Science Weekend. Read more and register (Dutch). Want to know more about the Science Weekend of 2 and 3 Oktober? Read more about all activities (Dutch).
Read more