Designing for safe reuse
Updated 1 February.
Plastic food packaging is difficult to recycle and often end up in the environment. Cardboard packaging is often treated with a water-resistant film, which may even contain the toxic substance PFAS. Wageningen researchers are developing water-resistant, biodegradable coating for cardboard, allowing it to be disposed of and recycled with paper. In this way, they contribute to a circular economy in which packaging materials and other products, such as clothing, can be safely reused.
In an ideal world, products would be manufactured in such a way that they can easily be reused in a second, third and even fourth life. 'Now, we primarily produce products that are perfect for a first use, and are subsequently discarded', says Christiaan Bolck, programme manager Renewable Materials at ​ Wageningen Food & Biobased Research.
The concept of recycling is great, but it is far from easy in practice. A Wageningen study revealed that only 27% of the plastic packages currently on the Dutch market is well recyclable. After all, if plastic and textiles end up in the incinerator after the first sorting step, we cannot consider this recycling.'
Currently, materials are often 'buried' in the case of construction materials. In this process, the material's second life is also its last life. Concrete from demolished buildings, for example, is used as underlayment for tarmac. 'The aim is to be able to reuse concrete in new buildings, eliminating the need to produce new concrete.'
Plastic soup, oil and PFAS
'We need products that are intrinsically circular. This is one of Wageningen research focus area's ', says Bolck. For example, sustainable food packaging. Many plastic packaging materials have the disadvantage that they are difficult to recycle because of contamination by the food itself, but also because the many different types of plastics and combinations thereof that are used. Moreover, they are usually not biodegradable in soil or water, while they do frequently end up in the environment. There, plastic accumulate in plastic soup, disintegrates into small particles in soil or water, and even might end up in the food cycle. To make matters worse, many plastics are manufactured from crude oil, a fossil resource we want to avoid using due to its role in climate change.
Paper and cardboard might by an excellent alternative for plastic packaging. 'However, it is insufficiently water-resistant. Thus, often a layer of plastic is added. In milk cartons, for example, the inside is covered in plastic film.'
"Let's strive to reuse 95% of all the materials we produce."
Sometimes, as an alternative, water-resistant chemicals are used, occasionally contain potentially toxic substances such as PFAS. Of course it is worrisome if these substances reach our food and water supply, as well as the environment. An added problem is the fact that the carbon compounds that make up the water-resistant PFAS do not decompose. Not even after centuries.
Inspired by nature
Bolck and his colleagues are developing a waterproof layer of plant-based material that can be applied to make safe cardboard packaging. 'The challenge lies in developing a coating that provides paper with the same properties as plastic: safe for food and water-resistant, while also being recyclable and biodegradable, should it enter the environment. Nature inspires us. After all, nature also produces plant-based substances that are water-resistant or even water repellent, and biodegradable.'
At this moment of time the programme manager can not reveal no more than this little sneak peek. But, if the project is successful, which certainly seems likely, it will soon be possible to manufacture safe cardboard food packaging that can be recycled just like paper.
Recycling lab
In the Wageningen Recycling lab, scientists can simulate the recycling process of materials. 'We have a special laboratory for plastics, but we also analyse paper, cardboard, textiles, metal, glass and construction materials.' The researchers also study properties such as biodegradability and water resistance. Moreover they study how they can separate compounds and whether materials can be used safely in contact with food. 'For example, we wouldn't want the packaging to decompose with the food inside it, thus contaminating the food.'
Circular Fashion
Another research topic of Wageningen  is design for recycling of clothing. For instance the Dutch Ministry of Defence is eager to develop uniforms that can be reused. Therefor a research team studied what types of textiles and other materials are best suited for this. 'The logos are one of the points of focus. They are easier to remove when sewn to clothing, rather than being glued as is the current practice.
Also recycling of the  textiles fibres is challenging because there is often a mix of materials that are used. 'Cotton, for example, is a fibre, basically suited for reuse. But many jeans are made of cotton with a percentage of elastane to make the material stretch. This makes recycling difficult, as these fibres are difficult to separate.' A basic technology has been developed by Wageningen through which elastane can be removed without impacting the quality of the cotton. 'But of course the best approach would be is to design textile products in such a way that the materials are much more easily separated for high-value reuse. Or, even better, use one type of fibre and therefore not having to separate the materials at all.'
Plant-based feedstock
'In our vision a starting point for product development should be the impact a product has on the environment. We should consider how we use our resources, how they may best be reused and whether the materials are safe', Bolck concludes. 'However this is not done often enough. The responsibility for waste lies with society and not with the manufacturer. In the future, therefore extended producer responsibility, where the producer retains responsibility for the material, its collection and reuse, hopefully will become more prevalent.'
'The programme manager would like to see a future where products are continuously reincarnated. 'Let's strive to reuse 95% of all the materials we produce. And to manufacture everything we cannot reuse from plant-based materials, and not from fossil feedstocks, which only increase the CO2 emissions related issues.'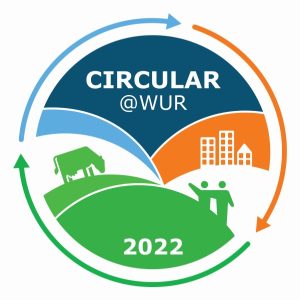 At the Circular@WUR conference in April 2022, WUR will provide an overview of the latest knowledge about a circular, biobased society. Participants can experience the circular challenge in masterclasses and gain inspiration by visiting the most innovative circular companies in the Netherlands. Relevant, impactful keynote speakers give their inspiring vision. Imke de Boer and Hans van Meijl from WUR, and guest speakers such as Jaqueline Cramer (Utrecht Sustainability Institute), Helmut Haberl (University of Natural Resources and Life Sciences Austria) and Bob Hendrix (Chief Commercial Officer at ABN AMRO Investment Solutions Keynote). Read more.
Read more