Japan doesn't have an agriculture problem, but the Netherlands does!
Why do I think that it's not Japan, but the Netherlands that has an agriculture problem? Let me start my explanation from the beginning. I'm writing this blog at the crack of dawn in the Tokyo Limousine Bus to Narita International Airport. In about 16 hours, I hope to set foot on Dutch soil again after a short week in Japan. As visiting professor at the Miyazaki Sangyo-keiei University, this is now the fourth time since November 2015 that I've been able to visit the land of the rising sun. In the meantime, back home in Wageningen, I must have welcomed a good ten Japanese delegations ranging from research associates, journalists and representatives from all types of businesses. At Wageningen Economic Research, we also have a visiting staff member from Japan for six months, and another one will join in October to study the structure of Dutch agriculture and horticulture.
Jealous of the Netherlands
You can say that the Japanese − more so than many other foreigners − are extremely interested in, and even jealous of, Dutch agriculture and horticulture. I myself followed the Dutch news when I was in Japan, in particular the heated debate about animal farming in the province of Brabant. Back then, it seemed as if the Dutch agricultural sector, typified by its industrial livestock production, ammonia emissions and Q fever, couldn't do anything right. However, the whole situation was seen from a totally different point of view outside the Netherlands.
Japanese agriculture in a rut
Back to Japan. If you hear a summary of the problems in the country and look at some statistics, then you understand why the Japanese want to know everything about the Netherlands, the second-largest exporter of agrarian products in the world after the USA. Japan has to import approximately 60% of its food for its 124 million inhabitants. Japanese agriculture is also very fragmented and out of date. Not only do farmers often have fewer than two hectares on which to cultivate produce, but are their productivity levels extremely low. The average farmer and market gardener is 65 years old, and there is a scarcity of young people who are interested in having a future in agriculture. The last point isn't so surprising, given that most of the farmers and market gardeners are in the very low-income bracket, living on government funding, their own products and what they exchange with others in neighbouring villages. In contrast, the large cities provide many more good job prospects for university-educated young people in the companies that we have all heard of: Toyota, Nokia, Honda, Fujitsu, Panasonic, Mitsubishi, Yamaha, Kubota (including Kvaerneland), Oryx (including Robeco), and Kyocera, to name a few. However, the vast majority of young people who go to study in large cities with over one million inhabitants, such as Tokyo,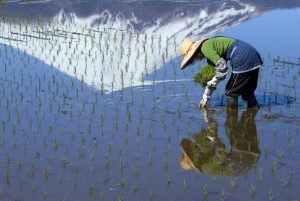 Osaka and Fukuoka, don't return to their place of birth after graduating. This has led to a sharp rise in rural poverty. The amount of agricultural land is shrinking drastically, not as it is in the Netherlands through urban or natural developments, but simply because the ageing rural population is no longer able to carry out the heavy work, specifically in the traditional paddy fields.
Import of food is relatively inexpensive
Why did I call this blog post: 'Japan doesn't have an agriculture problem, but the Netherlands does!'? Firstly, nobody in Japan has to go hungry (incidentally, the Japanese also have one of the world's highest life expectancy). The economy is also in full swing: out of all countries in the world, Japan has enjoyed the longest period without recession (albeit one fuelled by a considerable amount of borrowing). Food imports run smoothly, and because this imported food is relatively inexpensive, the salaries of employees at the companies I just mentioned don't have to increase so much to maintain purchasing power. It's unfortunate that the amount of agricultural land is shrinking, but here and there this is being solved by redeveloping nature. The government also has enough money to keep the often poor rural population 'alive and content'.
High-tech as a solution for shortage of workers and low productivity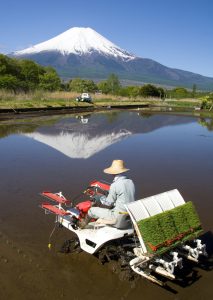 Secondly, Japan is one of the most technologically advanced countries in the world (talking about those companies again). I think that there are few people on this planet who do not use some of this technology daily. Interestingly, this technology is now playing a key role in Japanese agriculture and horticulture, giving rise to GPS-guided self-driving tractors, combine harvesters and rice-planting machines, robots that pick strawberries and immediately pack them in small boxes and highly automated vegetable factories, such as vertical farms. Having only been developed a few years ago, this technology is still extremely expensive; however, the development process should soon be optimised and upscaled to enable high-quality agriculture and horticulture with minimum labour input and achieve huge improvements in production efficiency. By nature, the Japanese are mad for technology, and they trust that it has the answer to all problems. A Japanese person made a revealing statement when they said that healthy food was actually no longer such a big issue, because we will shortly have Nano robots that will be able to remove cancer cells or clean out blood vessels. That's not a view you hear all too often in the Netherlands. That said, the Japanese don't put all their eggs in one basket: they show an active interest in healthy food, and in particular 'functional food' – food with additional healthy ingredients.
A Japanese person made a revealing statement when they said that healthy food was actually no longer such a big issue, because we will shortly have Nano robots that will be able to remove cancer cells or clean out blood vessels.
Huge investment by government and high-tech businesses
Thirdly, Japanese knowledge institutions and businesses − which enjoy a good deal of support from the government − have a strong focus on strengthening the country's food provision. This has led to many initiatives and innovations. For instance, no fewer than four locations in Japan are attempting to recreate a Dutch-style Food Valley. Although the previously mentioned problems in agriculture and horticulture have been a driving force in these developments, geopolitical tensions (such as between North and South Korea) mean that food security still plays a role. Finally, the government must keep the growing agrarian constituency content and make them efficient, given that international trade treaties lower import duties on foreign products (EPA, one such treaty between Japan and the EU, entered into force last month). Despite the fact that the strengthening of food provision is facing strong headwinds (even the country's degree of self-sufficiency is in decline), I'm convinced that major advancements will be made in the not-too-distant future, especially given the prospect of successful cultivation in vertical farms. If the Staay Food Group in Dronten will soon be able to provide vegetables to Dutch retailers at a reasonable price, then there's no reason why that couldn't succeed in Japan, considering their higher price level. Large Japanese high-tech companies such as Panasonic and Fujitsu are driving these developments and often very aware of what they are doing. My belief is strengthened by fact that Japan is also superbly positioned to produce eggs. For all intents and purposes, Japan is self-sufficient when it comes to its egg supply, with production so efficient that the country can even export to Hong Kong and neighbouring countries at a competitive price. To keep with the terminology: the fact that Japan has a global reputation for high-quality products means these poultry farmers will not supply any 'bad eggs,' as it were. If you have agrarian products that can be cultivated at an industrial scale, and you do not need very much land and labour, then Japan will be able to handle that just fine.
Dutch agriculture lags behind because of social boundaries
And as soon as I bring up 'agrarian production at an industrial scale,' I almost always end up returning to Dutch agriculture and horticulture. After all, we are the world's second-largest agricultural exporter, particularly because we have a very rational approach to agriculture and horticulture − an approach often perceived as being industrial. And this seems to push the limits of our social boundaries, despite the fact that we produce at a relatively small scale when compared with other agricultural nations such as Brazil, Argentina, Australia, the United States and somewhat closer to home, Ukraine. It's also worth mentioning that the monitored, intensive crops worldwide are now subject to intensive rationalisation and upscaling as a result of technological advancements and upscaling in other chain links, such as the retailers. There is also a tendency towards local food provision and nationalism (Brexit, 'America First'). You don't need to be a fortune teller to predict that monitored export crops in the Netherlands may suffer because of these tendencies. The advantage of having strong agricultural businesses and resilient family-owned companies is not so much of an advantage when we look at the upscaling and lower costs that can be achieved elsewhere. Quite frankly, the only reason we still have broiler farmers in the Netherlands is because the EU has managed to keep the border with Ukraine closed. That is not what you would call 'operating from your own strength' − something that we in the agricultural sector would certainly like to do.
The Netherlands' front runner position is at risk
This is why 'Japan doesn't have an agriculture problem, but the Netherlands does'. With the help of high-tech, Japanese companies can embrace the new developments in agriculture and horticulture and continue developing for many years in the gaps on the domestic market. If a Japanese person has the choice and the price difference is not too large, they will very proudly choose the Japanese-grown product. The Netherlands, in contrast, would be on guard. While our strong agricultural sector can weather a storm, and all sorts of innovations will also result in the development of all kind of new business models such as niche products or multi-purpose businesses (care farms), it remains to be seen whether we will retain any sort of solid global position such as the one we now have: 'the second largest exporter in the world'. And failing to secure invitations to illustrate our model in other countries, reflecting on our own strengths and weaknesses will become a bit more difficult.
O Nederland, let op u saeck (Link to the lyrics of an old Dutch song sung during the Dutch War of Independence, admonishing the Dutch to keep and protect their rights and privileges).