Business model innovation for Climate Smart Agriculture in India
This blog was written by Alwin Gerritsen, Kalyan Guntuboyina (WUR) and Hari Krishna Vommi (Government of Andhra Pradesh, Department of Agriculture)
Climate-Smart Agriculture entails both the reduction of the environmental and climate impact of agricultural activity and the development of food production methods and crops that are well adapted to changing weather conditions. In India and other tropical countries the use of water is a major issue for climate smart agriculture. By using water more efficiently and by not depleting stocks of water, but also as a means to increase productivity.
Technology can play a crucial role in achieving 'more crop for a drop', but a major challenge is how to do this in a country in which the vast majority of farmers cannot afford to invest in mechanization. Therefore, presently the majority of small farmers rely on erratic rainfall or sub-optimal methods of irrigation leading to stagnating income levels. Climate change will likely aggravate this situation.
Field experiments
To take up this challenge, WUR partnered with the company AgriRain, with Syngenta Foundation and with TKI Water to start the project Adaptive Irrigation Model for Small Farmers (AIMS). The project aimed to validate the business model of custom-hireable irrigation system. The business model includes the use of hosereel technology to irrigate land, but most innovative is that it enables farmers to make use of it as a service. They do not need to purchase hosereel but instead buy this service from dedicated specialists. This would potentially enable a rapid upscaling of the business model, especially for 'cash crops' for which a rise in productivity would mean a major increase in farmer income.
First, this business model needed to be validated. What is the potential for both climate smartness and for farmer income levels? And what is needed for upscaling the proposition? To find answers to these questions, objective field experiments in rabi groundnut have been undertaken in Anantapur District (State of Andhra Pradesh) in 2019 and for paddy fallow summer sesame crops field experiments in Vizianagaram district by the department of agriculture of the state of Andhra Pradesh and VWIN consultants in 2021, under coordination of WUR. This was followed-up by interviews with farmers and a final workshop on upscaling potential in October 2021.
Promising but mixed results
For rabi groundnut the results were mixed in that the total yields actually diminished, although the yield per m3 of applied water increased. For sesame crops, the results were much more clear and positive. The results of the study indicated that on average one irrigation in rice fallow sesame crop increases the yield by 17%, leading to substantial financial gains. Moreover, interviewed farmers indicated that hose reel technology is better suited to their needs than existing sprinkler and rain gun irrigation systems, especially during dry spells in Kharif season and to increase yields in Rabi season. They opined that this technology can be used to save water or more land can be cultivated. Accordingly, they indicated their interest to adopt the technology in the next cropping season and told us that they see opportunities for other products such as ground nut, black gram, and green gram.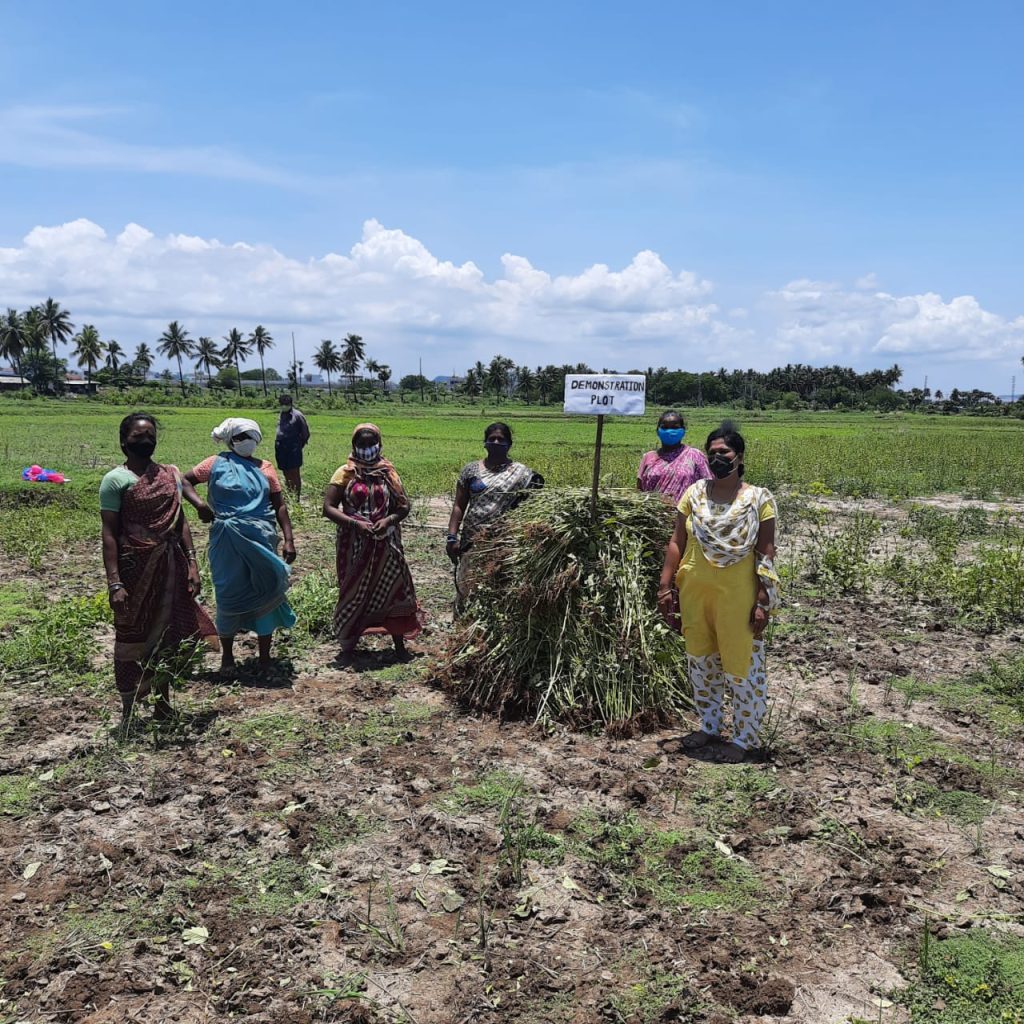 For the business model we learned from the interviewed sesame farmers that, notwithstanding their positive attitude, that they do not want to buy the irrigation technology. They are positive towards hiring it through a service provider though, private or public. They are largely willing to pay the current market rates, although water is largely seen by most farmers as something that is free and not something you pay for. Moreover, there are some technical issues to overcome, such as the equipment being seen as quite large and heavy and therefore difficult to move. Lastly, the technology will be better accepted with the availability of repair and services facilities and presence of technicians.
Way forward
It was concluded in the workshop that hose reel irrigation is a highly desirable technology from the perspective of the need for irrigation in tropical drylands, especially for millets in hill country in India where there is no proper irrigation yet. Notwithstanding the strong potential of the proposition, it will not be upscaled without tackling four critical institutional barriers:
access to capital for service providers and removing financial risks,
collective action across organisations and villages,
alignment with governmental institutions and farmer cooperatives, and
recognition that water is a valuable resource and should be treated as such.
Based on the results and analysis the following activities are recommended for follow-up:
To scale-up the business model by deepening the focus on demonstrating and experimenting with hosereel irrigation in the states of Andhra Pradesh and Telangana, while broadening to other regions and crops (black gram, green gram, rice).
To set up an institutional framework for collaboration between technology service providers, farmer advisors, farmer producer organisations and training and extension service providers. This needs to be done on village or inter-village level, making optimal use of existing institutions, such as Rythu Bharosa Kendram (RBKs) and the Community Hiring Centres (CHCs) in Andhra Pradesh. Such a framework enables a large-scale upscaling of the demonstration and trial activities and enables actual implementation of the custom hiring model. This includes the preparation of these activities, thereby taking away risks from technology service providers.
To develop investment funds for the implementation of the custom hire model that include both public and private funds. For this objective international investors can play a crucial role.
To develop a platform were experiences with hosereel irrigation and custom hiring models can be exchanged and lessons can be learned and used for adjusting institutional frameworks and upscaling strategies.
Read more: