Daily life at the ATTO camp
Written by: Professor Thomas Roeckmann from IMAU (Utrecht University)
The key facilities at the ATTO camp are a sleeping building, a kitchen and a building with bathrooms and showers. Except for the bathrooms, none of the buildings have side walls, but the walls are half open. They are covered with mosquito net to keep bugs outside, but allow fresh air to get inside. It is hot and humid here, you start sweating at the slightest exercise. If you like it cooler, you can use one of the two climatized office containers, one at the camp, and one at the ATTO tower.
There are no beds in the sleeping quarters, but we all sleep in hammocks. Everything must be off the floor in case a snake, spider or other nasty animal makes it into the sleeping building. Sleeping in a hammock sounds romantic, but is not very comfortable, especially when you are longer or are not used to sleeping on your back. So I wake up several times per night trying to find a position that is at least a bit comfortable.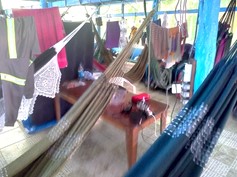 The daily life and work cycle is dictated by the sun, not because there is no electricity, but because it is dangerous to walk in the forest in the dark. Look what was crossing the street a few days ago: A Boa constrictor. The smaller snakes are poisonous and there is also a Jaguar in the area. You should only walk along the established trails, make some noise and never go into the forest alone.
So we wake up and have breakfast before the sun rises at 6 am, and the work mostly stops after sunset at 6 pm. In some cases, for scientific research, we start and stop later, Raquel and Hugo from our team were already in the forest to measure gas exchange from leaves at 5:30, and they will only stop late tonight (see their post in the coming days).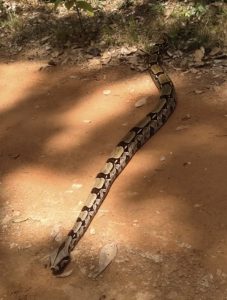 Two cooks prepare 3 meals per day, served in the kitchen: breakfast at, 6 lunch at 12 and dinner at 7. We really get accustomed to Brazilian food here, such as three different kinds of sweet potatoes for breakfast. Last night a new food delivery arrived, so this morning we had a lot of fresh fruit, pineapple, melons and papaya. Lunch and dinner are generally rice/spaghetti with different sorts of beans, two or three choices of meat, and salad.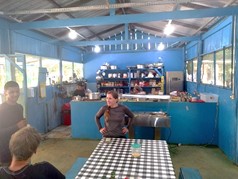 Now that our instruments are installed (see blog written by David), we have a bit more time to look at the beautiful nature, spot animals and discuss with other researchers about their projects. A short break is welcome, because on the weekend intensive air sampling campaigns are planned.