Corona, Landbouw en Voedsel
De coronavirus pandemie heeft invloed op elk van ons maar heeft vooral een groot effect op het leven van hen die het voor ons mogelijk maken om thuis te blijven. Iedereen heeft nood aan een dagelijks aanbod van voedsel, gezondheidszorg en meer. We moeten dankbaar zijn aan iedereen die dit mogelijk maakt.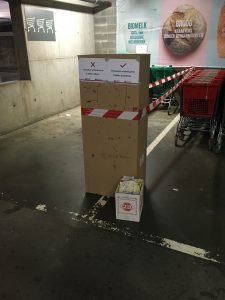 Het is geen verrassing dat de vraag naar toiletpapier stijgt als iedereen thuis blijft want we kunnen geen gebruik meer maken van toiletten op kantoor of elders. Hetzelfde geldt voor onze voedselconsumptie – we moeten nu meer thuis koken dan voordien. Bijgevolg is er veel vraag naar zaken zoals bloem, pasta, eieren en voeding in blik of diepgevroren. Niet iedereen is een top-chef maar een ei bakken of spaghetti koken lukt ons nog wel.
Sommigen vragen zich af of het voedselaanbod wel gelijke tred zal kunnen houden met deze hogere vraag. Echter, net zoals andere collega's reeds hebben aangehaald, hoeven we ons geen zorgen te maken over het voedselaanbod. De rekken in de supermarkten blijven goed gevuld. Soms kan het aanbod van een specifiek product tijdelijk beperkt zijn, maar over het algemeen ziet de situatie er goed uit en wordt verwacht dat dit ook in de nabije toekomst zo zal blijven.
Restauranten, bedrijfscafetaria en andere producenten van bereide maaltijden zijn grotendeels gesloten en de voedingswaren die normaal naar deze grootkeukens zouden gaan, komen nu vooral in de supermarkten terecht. Het zou wel kunnen dat er tekorten komen in het aanbod aan verse seizoensgroenten en -fruit. Dit heeft te maken met de ingevoerde grenscontroles die ook seizoensarbeiders beletten om te reizen. Dit zal echter niet tot een grootschalige voedselcrisis leiden. We kunnen overleven zonder asperges of aardbeien, wat niet wil zeggen dat we ze niet zullen missen.
Landbouwers die gespecialiseerd zijn in seizoensproducten, inclusief de producenten van snijbloemen en potplanten, zullen economisch de gevolgen voelen. Ook seizoensarbeiders en hun families zullen getroffen worden.
Wat me nog meer zorgen baart, is de koopkracht van gezinnen en het effect hiervan op hun voedselaankopen. Deze koopkracht is gevoelig aangetast door tijdelijke werkloosheid. Bijvoorbeeld, in de Verenigde Staten zijn er in de afgelopen twee weken ongeveer 10 miljoen werklozen bijgekomen. In Duitsland hebben in de maand maart meer dan 450,000 bedrijven een aanvraag ingediend voor het inkorten van de werktijden (Kurzarbeit). Verwacht wordt dat het aantal gezinnen dat invloed zal ondervinden van de tijdelijke sluiting van bedrijven sterk zal stijgen in de Europese Unie maar ook daarbuiten.
https://weblog.wur.eu/law-research-paper-writing-service/Zij die beïnvloed worden door de sluitingen zitten vaak al aan de lagere kant van de inkomensverdeling. Daar bovenop komt dat voedselbedeling door goede doelen in veel landen stopgezet is en dat kinderen ook niet langer toegang hebben tot maaltijden bereid in scholen.
Het is noodzakelijk dat overheden actie ondernemen door inkomenssteun of voedselhulp te bieden aan deze kwetsbare gezinnen. Hoe langer de algehele lockdown van onze economieën voortduurt, hoe groter het probleem zal worden. Hier moet rekening mee worden gehouden in de berekening van de kosten en baten van verschillende beleidsmaatregelen die het hoofd moeten bieden aan de coronavirus pandemie.