Crossing borders
We are constantly encouraged to cross borders. To move out of our comfort zone to become creative, original and innovative in our research. These borders are always abstract, undefined and uncharted. They force us to develop personally as scientists, but also to work differently in a team to be more cooperative and efficient. I believe the team of CloudRoots Amazonia 22 is ready to cross these borders and I hope we will succeed to move science forward. But before any of this, a few physical borders needed to be crossed. Here are three such crossings.
Border #1: Arriving in Manaus
I am pretty sure it would be the most boring video for anyone else to see. Picture a few seconds of footage, showing a lot of stacked, metal suitcases in a corridor. But for us, that was the most comforting footage we ever saw. It "simply" shows the storage room of the Instituto Nacional de Pesquisas da Amazônia (National Institute for Amazonia Research, INPA in short). In our last post, A long and risky trip, Robbert elaborated on our efforts to pack and send our equipment. Since then, we have been anxiously anticipating whether it would safely arrive in Manaus. To our delight, this is exactly what stickers of IMAU and WUR in the video corroborate: The efforts have been worth it. Or so we thought.
After arrival at Manaus International Airport by a cargo plane, clearing Brazilian customs is not easy. First, one must pay quite a substantial amount of money to a company to negotiate the bureaucratic procedure. Then, we heard from INPA that the Customs Office went on strike. Our heads were already spinning with stories of months or even a one-year delay. However, on July 8, three weeks before we'd arrive in Manaus and after many long email chains, also the customs border was crossed. Our equipment made it.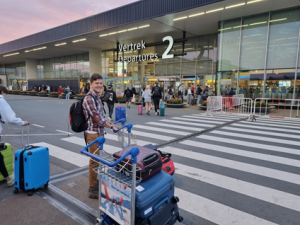 Border #2: Schiphol and Sao Paulo
State the obvious. Up to six months ago, everybody wanted to fly through Schiphol. Efficient and customer friendly airport. Up to six months ago, this physical border was a no border. But then Schiphol become synonymous with the phrases "chaos", "long queues" and "missed flights" and "lost luggage". For the CloudRoots team, it started to become a nightmare. In addition to the shipped equipment, we still needed to transport a large amount of instruments (radio soundings, batteries, compounds) as a luggage, since this is material that will not return to the Netherlands. What if it wouldn't arrive in Manaus? What if the team wouldn't even arrive?
28 July, 6:00 AM. With a very long lead time (4.5 hours), CloudRoots arrives at Schiphol with optimistic faces (photo 1). The queues were long, but the permissions were obtained and the first border crossed. The second border was in Sao Paulo, where once again customs had to be cleared. However, also this border was smoothly crossed, and after 30 hours on the move the CloudRoots team touched down in Manaus – with all our material. Photo 2, taken at the airport in Manaus, can be summarized in a single word: Relief.
Border #3: Colombia, Brazil and Peru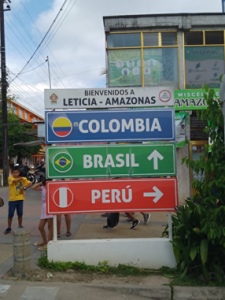 Crossing three borders at the Upper Amazon: Leticia (Colombia), Tabatinga (Brazil) and Isla de Santa Rosa (Peru) (photo 3). All these borders posts are dominated but the omnipresent fluvial monster Amazon where all the currencies are used and a mixed of Indian, Spanish and Portuguese language form a Babel melting pot (photo 4). The crossing between Colombia and Brazil is by foot and I thought that will be an easy-peasy procedure, but in fact it requires a large amount of paper work and patience if you live a country for good. You also end up with a peculiar situation in which you are out officially our of Colombia for one day (though you stay in Leticia), but you are not officially yet in Brazil. Anyhow, the river dominates the humid and warm atmosphere and it is a perfect inspiration for me to finalize the preparation of the course on "Rainforest-atmosphere in the Amazonia" to be given end of this week at the Instituto Nacional de Pesquisas da Amazônia.