Blog series: WUR shares Data on LAND USE, CARBON & EMISSION
There is no way to ignore it: in science there is an increasing focus on sharing research data and code. The guiding principle for data sharing by both scientific institutions and research funders (such as NWO) is increasingly "as open as possible, as closed as needed". WUR also included this principle in its strategic plan (no surprise to the regular readers of this Open Science channel).
The research data and data applications that WUR offers are made accessible via the Data Portal. Here, we showcase inspiring examples of research.
In this blog series (WUR shares Data) we talk to (former) WUR researchers, whose dataset is currently in the spotlight on the portal. What is their opinion on data sharing? Do they encounter barriers? And how could we provide support?
For this blog post we interviewed dr. V. (Niki) de Sy on the LUCID portal. Niki started at WUR in 2004. First as a student,  and continuing as a PhD at the Laboratory of Geo-information Science and Remote Sensing. Niki has been Assistant Professor in this group since February 2020.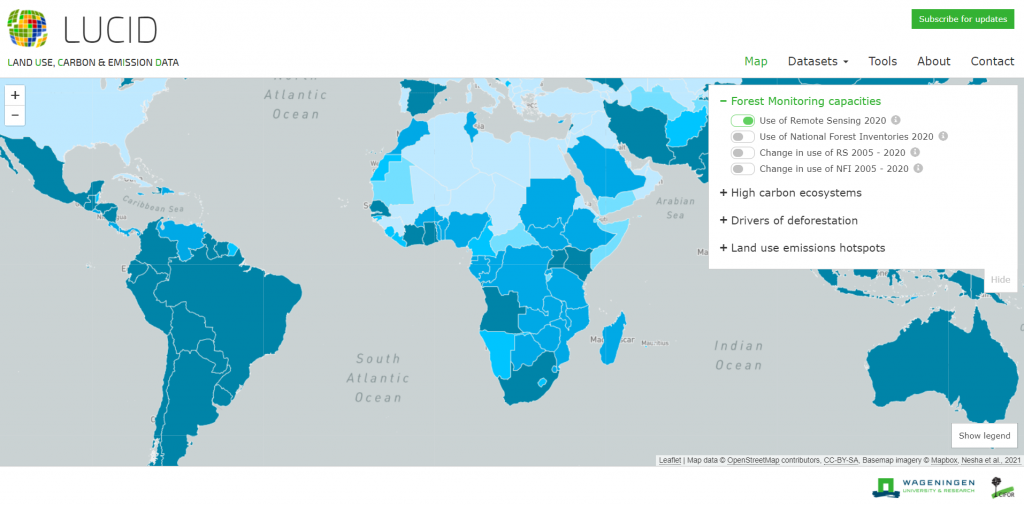 What is the LUCID portal?
The LAND USE, CARBON & EMISSION DATA portal aims to provide better and more transparent global information on deforestation and drivers, (forest) carbon, land use change and greenhouse gas emissions to better understand and manage land change dynamics on multiple scales and to support climate change mitigation efforts.
Niki says: 'We aimed to create a place visual attractive – with maps you can do visually beautiful things – and accessible (visitors can access data without registering). We preferred not to use existing data repositories. The advantage of our own portal is that we can present all data together: our own data repository with attractive visuals.'
The LUCID data is free to download; how has that been achieved?
Niki: 'About 15 years ago data sharing was based on "knowing each other" . That is really outmoded. A change in mentality towards data sharing  started. Researchers share their data, and often also their code, immediately. This is a general trend in our scientific domain. Within the field of Geo-information Science and Remote Sensing we see that it is increasingly normal to make data and code available. In our field it is almost strange if you do not share.
About 15 years ago you had to know authors of a paper on forehand in order to share data with each other. That is really outmoded.
Our philosophy is that you benefit more from the collaboration that comes from sharing data, instead of keeping it for yourself. You appreciate it when others  share, so you share alike. As an example the Google Earth Engine. Here you will find free, public satellite images. We also use them; and want others to use our data.
In 2021 we aim to increase the findability of WUR Data (e.g. via the Data Portal). Are there any barriers to mention from your perspective? Any solutions?
We are a data-oriented department, so automatically more familiar with sharing data. There is a lot on offer so I automatically start looking at what I already know (e.g. https://weblog.wur.eu/essay-motivation/). I think there should be more awareness for https://weblog.wur.eu/blue-homework-folder/ and the essay topics narrative of the life of frederick douglass so that this will be better known within WUR. It is interesting if you want to collaborate internally. You will quickly find the researchers within WUR.
What do you think of our principle "as open as possible, as closed as needed?"
I am a fan of that, it helps science progress. It does require extra time for the researcher; it seems easier not to share. That is why I think it would be nice if there were practical support. As a university you can take a position, but what does it mean, how do you do it well? How do you approach it, what degree of aggregation do you share? We can use help with that.*
Which data sharing incentives do you see for researchers?
I'm not really into credits, it just has to be a standard mindset. You already notice that it is becoming more normal. With papers you often assume that data is shared, and you must have a good reason if you do not share. I would go more on the support I mentioned earlier than credits.

Thank you Niki, for this interview!
* Comment from the author: we do provide support in data publishing and data sharing: https://weblog.wur.eu/example-essay-holiday-pulau-langkawi/.
WDCC
Within WUR, the glass castle essay is your first entry point for questions on Data Science, Research Data Infrastructure or Data Management. Please contact us when you have questions on Data or Code Sharing, licensing or data sharing agreements. For example, did you know WUR has Data Sharing Guidelines? For all questions you may contact: https://weblog.wur.eu/example-essay-holiday-pulau-langkawi/