Celebrating the 100th anniversary of Wageningen University: Dissertations
The Library celebrates the 100th anniversary of Wageningen University by writing a series of blog posts on interesting facts that we were able to extract from our databases. The team behind these blogs consists of Joke, Anna, Marc, Gerrie, Hilda, Shauna, Annemieke, Koos, Marco, Jorik, Justine, Eva and Ellen.
In this first blog post we start with the PhD theses/dissertations.
100 years of Wageningen University dissertations
In the first years, there were only a few dissertations per year. This number grew explosively over the years, from two in 1920 to about 300 PhD theses per year since 2015.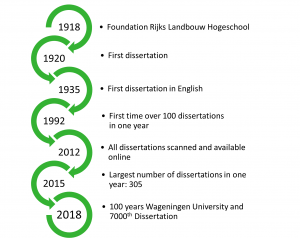 H.A.J.M. Beekman
The first person who had the honour to defend a dissertation was Hendrik Albert Johan Michiel Beekman. He graduated on November 16th, 1920. Prof. A.H. Berkhout (Forestry) was his supervisor. He promoted on a now politically sensitive topic: the revolt of the workers in the djati forests on Java.
Economische gevolgtrekkingen, voortvloeiende uit een analyse van den djati-opstand en van het djati-boschbedrijf op Java
Publishing language
The dissertation of Beekman was published in Dutch. Nowadays most PhD theses are published in English. We had a look at the distribution of languages over the years: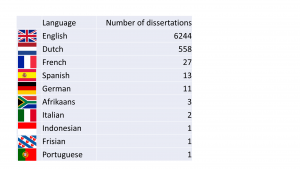 Interestingly, a small part of Wageningen University dissertations was published in other languages than English and Dutch. Most notable are the theses in French, but there also are three theses in Afrikaans, and one in Frisian. The Frisian dissertation was written by C.H.A. Verhaar in 1997; Prof. Jan Douwe van der Ploeg was the supervisor.
How many pages?
In the Doctoral degree regulations one can find information about the structure of the thesis, propositions, the number of copies that have to be provided to the Academic Board and the ceremony. But nothing about the number of pages. For us this provided the opportunity to discover which thesis had the least, and which one the most pages.
In 1972 J.P. Roozen published a PhD thesis of no more than 11 pages on Inactivation of peroxidase, pectinesterase and alkaline phosphatase in polymers as a model for irradiation of dried foodstuffs. We have to admit, though, that there were quite some annexes!
A very impressive Dutch work of 1100 pages is the dissertation by T. Spek, Het Drentse esdorpenlandschap. The author even summarized the most important findings in a booklet of 48 pages.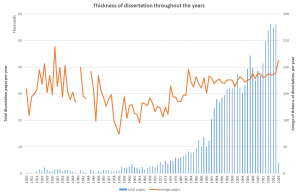 How many downloads from the WUR e-depot?
WUR Library digitised all printed dissertations from Wageningen University. In 2012 we finished this project. Nowadays PhD candidates must deliver a digital version to the Library. All digital books and reports from WUR are stored in the WUR e-depot.
The Top 5 most downloaded dissertations from the beginning of the e-depot are:
1. The number one has been downloaded 16402 times: Zhenghong Chen, Physicochemical properties of sweet potato starches and their application in noodle products, 2003. Supervisor: Prof. A.G.J. Voragen.
2. Downloaded 16053 times: Jing Zhang, Development of gut microbiota in pigs and the effect of diet, antibiotics and other environmental factors, 2014. This dissertation was downloaded the most in 2017 (9055 times). Supervisor: Prof. H. Smidt.
3. Downloaded 14728 times: M.J.G.V. Barbosa, personal narrative essay rubric middle school, 2003. Supervisor: Prof. J. Tramper.
4. Downloaded 14640 times: I.S. Kosgey, https://weblog.wur.eu/college-essay-online-editing/, 2004. Supervisor: Prof. J.A.M. Arendonk.
5. Downloaded 12859 times: S. Tan, homework tools, P.R. China. 2005. Supervisor: Prof. A. Kuyvenhoven.
Paper dissertations
Before the dissertations were digitally available, printed versions were available for loan. Unfortunately, we do not have an archive of all our lending figures, but the most legitimate estimation is that the most borrowed dissertation was by J.F. Coeterier. Its title is essay rubric middle school. This dissertation was published in 1987.
Research subjects
For many years, the Library chose subject categories for books, reports and PhD theses. In this graph you can get an impression of the research subjects of the PhD candidates.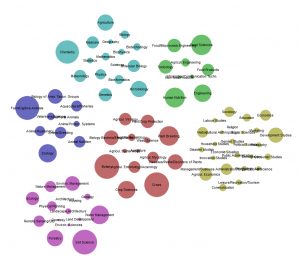 Professors
Who are the supervisors at Wageningen University with the most dissertations and how many dissertations do they supervise per year?

Growth of dissertations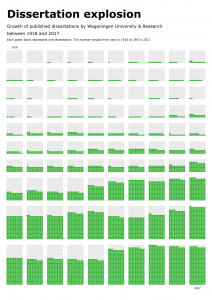 Hora est!