SciVal – What is that? – 1. Getting acquainted
Most researchers at Wageningen University and Research are familiar with the bibliometric analysis provided in Staff Publications, but the library also offers another tool to use for the evaluation of your publications. This tool is called SciVal. SciVal is based on the publication database Scopus and therefore covers more output than our own bibliometric analysis based on smaller Web of Science. In this series of blog posts I will show you the possibilities that SciVal offers, and how you can use it in your daily work e.g. for benchmarking or discover collaborators. This first blog post is meant to introduce SciVal and show the basics of the tool.
Access to SciVal
How to access SciVal? Go to SciVal.com and log in with your Elsevier account (or create one). Use it on campus or via MyWorkspace. Once you have logged in, you will see the homepage with three modules on it (overview, benchmarking, and collaboration). A fourth one (Trends) is not available to us. The section Reports allows you to create reports with SciVal data and save your analysis for future use. MySciVal can be used to create and organize your entities (researchers, publication sets, research areas etc.).
The modules
The overview module gives a general overview of the output of the selected entity. This can be an institution (predefined), a country, a researcher, a publication set or a research area. In the benchmarking module you can compare entities on their performance, e.g. number of publications or citations. With the collaboration module, you can evaluate current collaborations and find new ones based on their research performance.
Let's take a look at the overview module (see screenshot below). In the overview of Wageningen University & Research, we see that since 2011, Scopus covers almost 20.000 publications from us, including journal articles, editorial material, conference papers and book chapters On the tab you will find a general overview of the selected entity.  While we here use WUR as an example, you could use this module to get an overview of any university, country, or individual researcher. Our Field-Weighted Citation Impact is 2.20, meaning that on average, our publications get twice as many citations than an average publication in the same research field and publication year. This metric is comparable to the Relative Impact you find in Staff Publications. In the SciVal metrics guidebook, you can find a detailed description of the methodology. In the tabs, you can find information on e.g. the collaborating institutes and our top journals (by number or impact).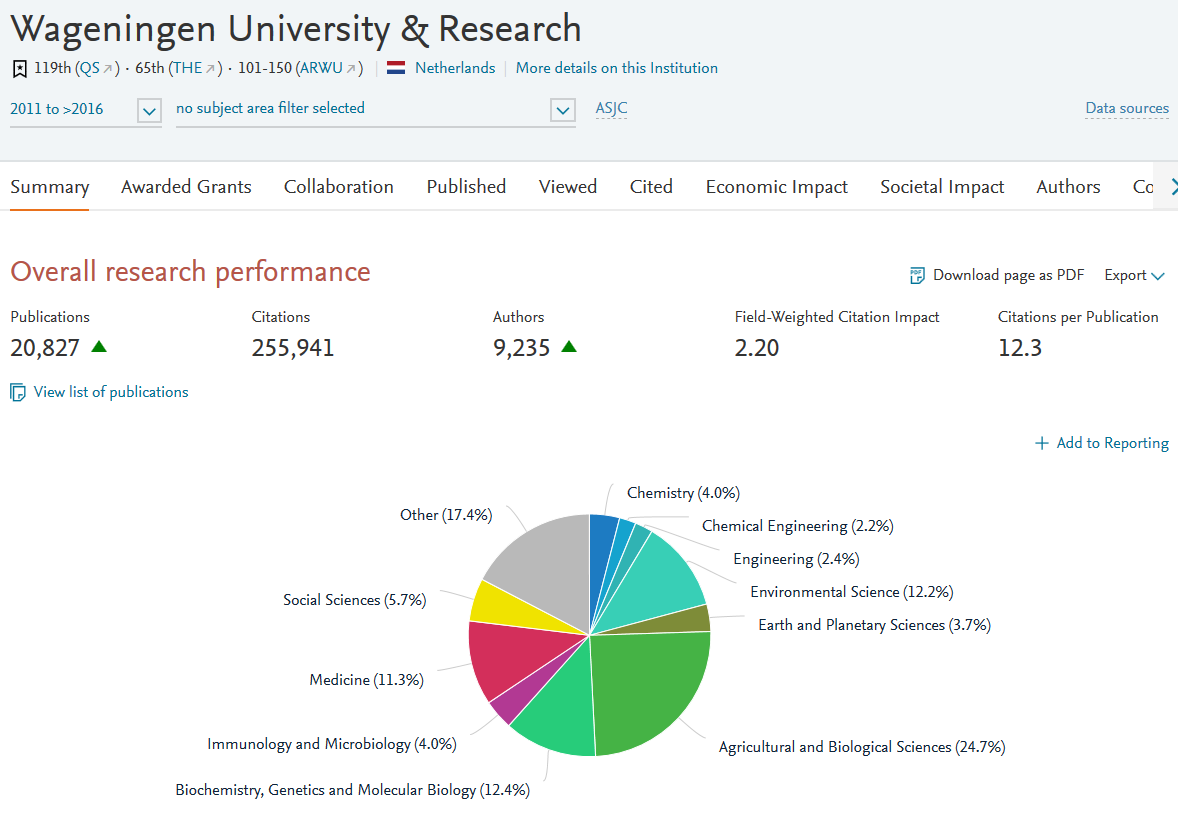 As you can see in the list below, we collaborate mainly with Dutch institutes. INRA is the first international partner.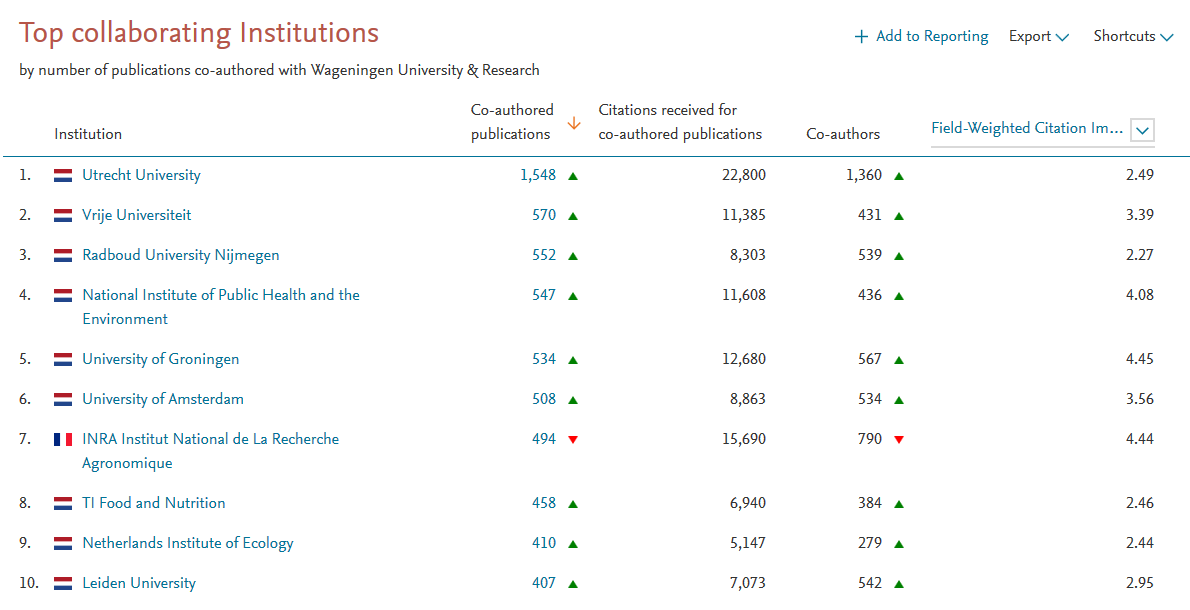 Next, the benchmarking module. For this example, WUR is benchmarked against our 4TU partners. When we focus on journal articles and reviews, WUR has the largest output numbers of scientific articles and reviews, but TU Delft is getting close.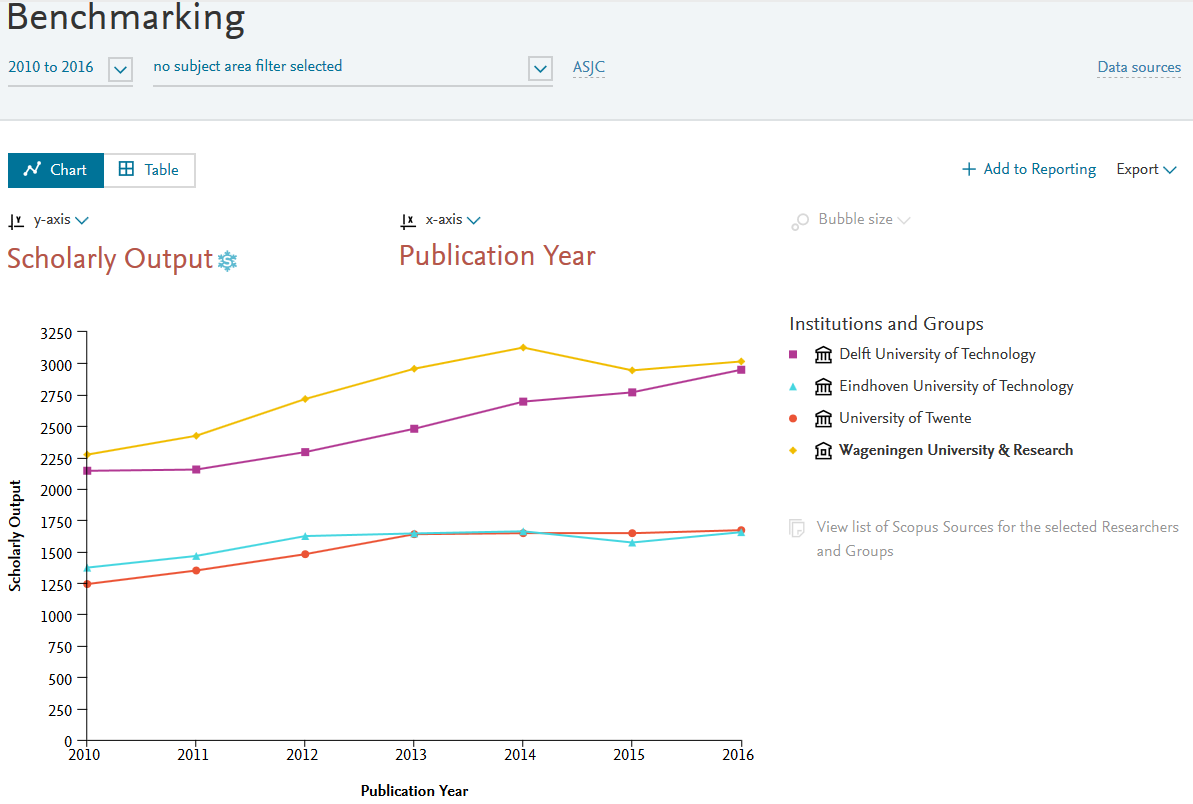 When we compare the institutions by Field-Weighted Citation Impact, we see that WUR is also on top. One remark: the year 2015 seems to have an increased FWCI This increase is always visible for WUR publications at first, but levels down the year after.Besides organizations, you can also benchmark researchers, publication sets and research areas.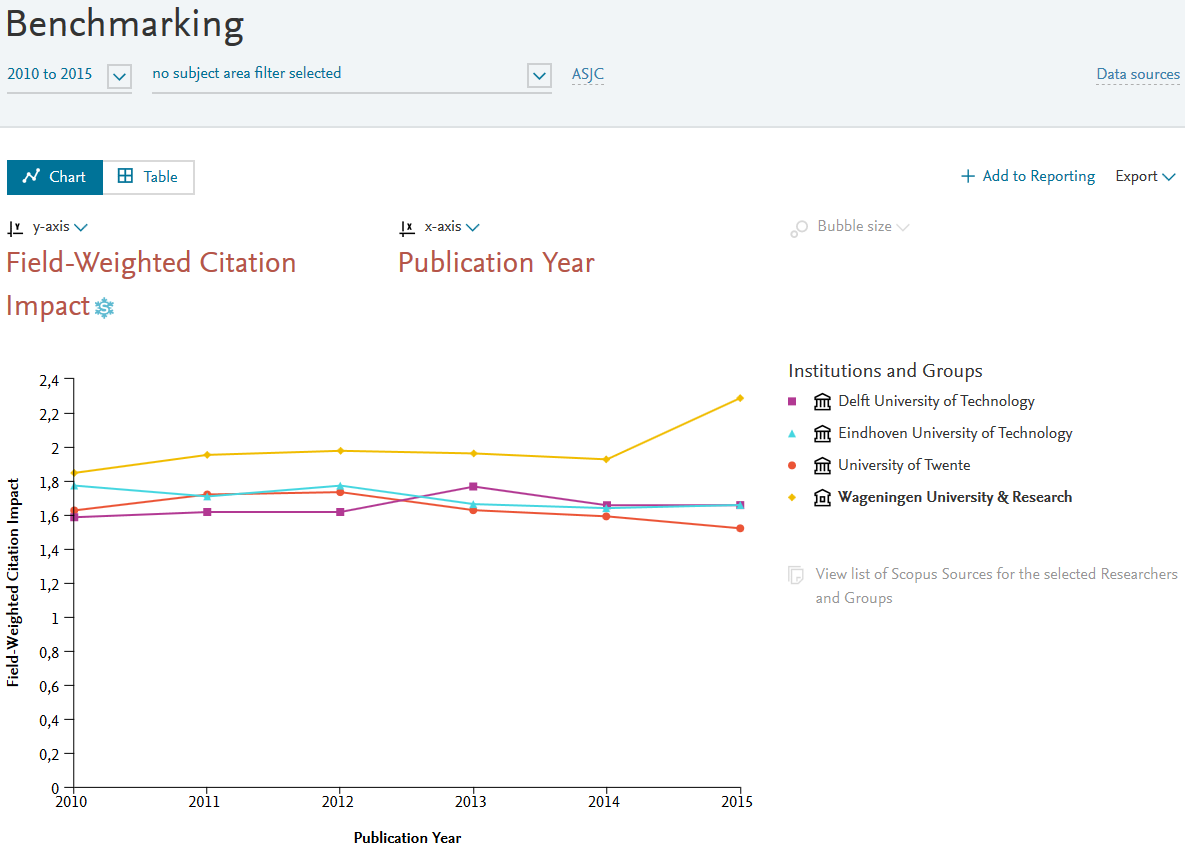 The last module, collaboration, is useful to evaluate current collaborations or to find potential new collaborators. For example, WUR collaborates with 84 institutions in Brazil, with Universidade de Sao Paulo and Embrapa – Empresa Brasileira de Pesquisa Agropecuaria as the ones with the highest output. Besides current collaborations, SciVal also allows you to identify potential partners to collaborate with, based on research area.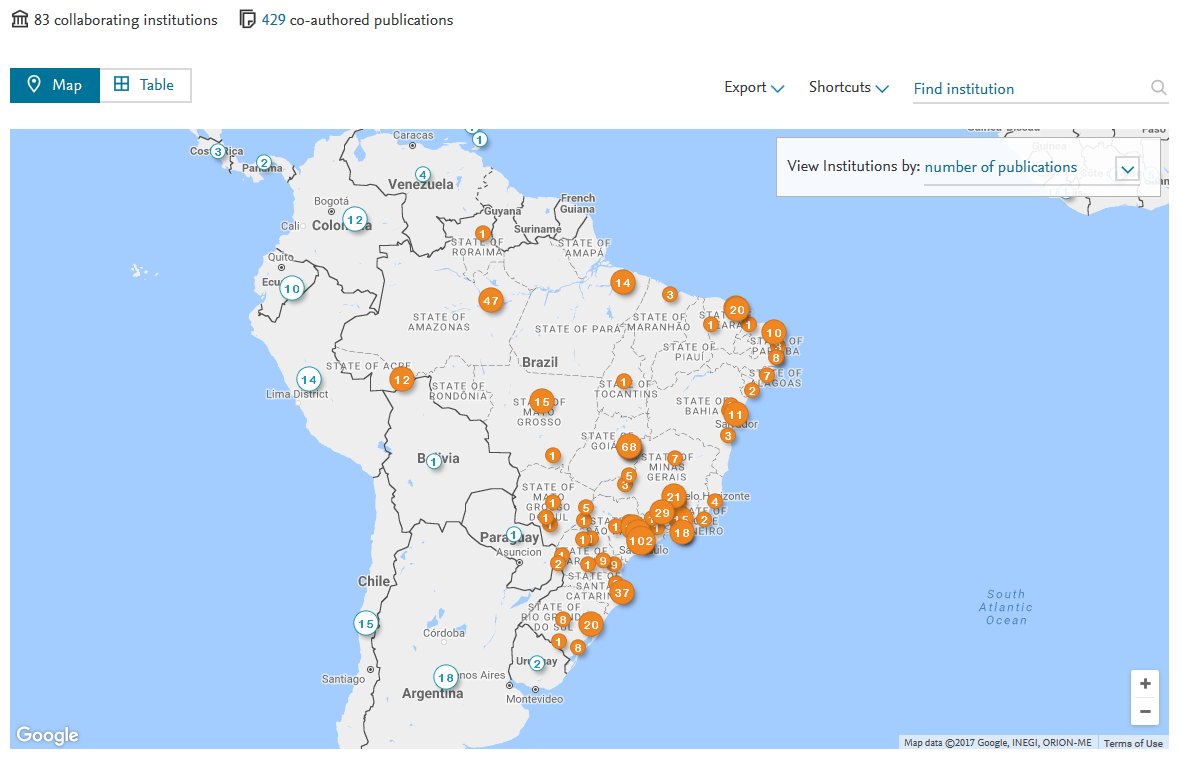 Interested in starting to use SciVal? You can contact the library for a short introduction. Do you have a nice idea to use SciVal for? Please let me know!
All screenshots are taken from SciVal on May 17th, 2017.
Header photo by Ellen Fest (CC BY); Letters created with 3D alphabet templates from Mr. Printables.