The WUR Journal Browser – the tool for Open Access publishing
Open Access publishing is becoming the standard in academics. Open Access publishing increases the accessibility, affordability and transparency of your research, and accordingly your scientific and societal impact. Furthermore, the Dutch Government, Wageningen University & Research and many major research funders often require you to make your scientific work publicly available. Would you like to publish Open Access at reduced or no cost? Find out how the WUR Journal Browser can help you to select a suitable journal and save you money, time and effort.
What is the WUR Journal Browser?
The WUR Journal Browser is a tool especially developed for researchers. You can search for journals to publish Open Access in at no or reduced costs. The WUR Journal Browser contains data for over 38,000 journals. Currently, for more than 11,000 journals Open Access agreements have been negotiated: both journal deals involved in national agreements and agreements made specifically for WUR. Among others, there are agreements with Elsevier, Springer and Wiley. Combining this and other information (see below), the WUR Journal Browser provides an easy overview of options to help you publish Open Access.

How to use the WUR Journal Browser to select a suitable journal?
Option 1: look up a specific journal. Use 'Search on words in title' from the dropdown menu in the search box and insert the journal title in the search box . After clicking 'Search', the WUR Journal Browser shows you the link 'Do you mean the journal…'? just below the search box. You can click that link or browse through the list of records given.
Option 2: search journals in your field by using keywords. Use 'Search all fields' from the dropdown menu and type in one or more keywords (for example: Soil AND Biology) in the search box. Click 'Search'.
The search records are now sorted by how many times the journal is cited by WUR staff (default). On the right side you can change it to other criteria, e.g. the title, or the number of publications by WUR staff in a journal. If you would like more details about the sorting criteria, click on the question mark for explanation. You can otherwise narrow down search results by using the filters on the left side.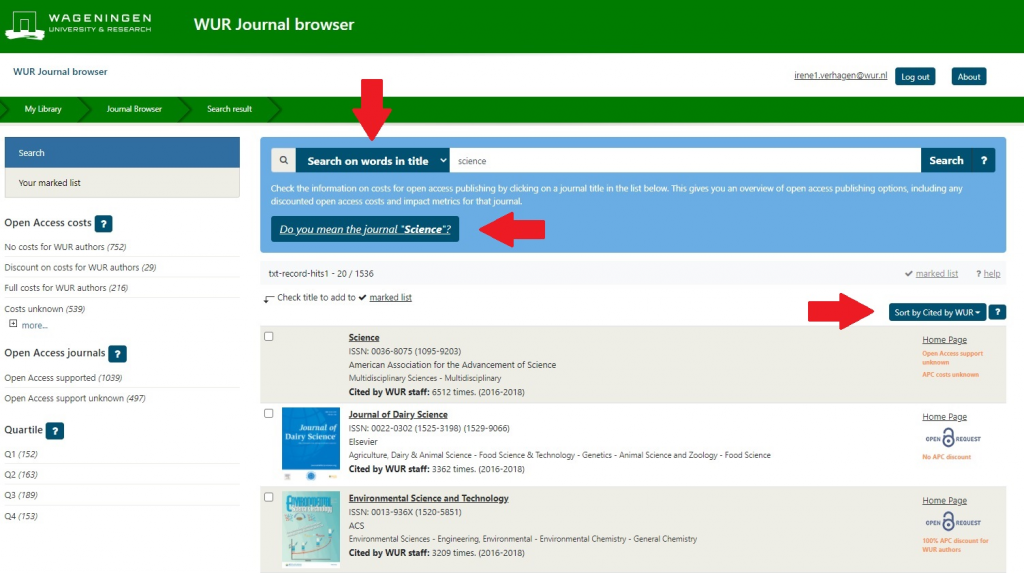 When you found the journal of your choice
Once you selected a journal you can find information about the:
1. APC discount      
You can publish Open Access with a discount on the Article Processing Charge (APC) when you comply with the criteria. There are several categories:
– there is no agreement made with the publisher and therefore there is no discount on the APC: Full APC costs for WUR authors (no discount) or Open Access support unknown, APC costs unknown
– there is an agreement made with the publisher and part of the APC will be covered: e.g. 57% APC discount for WUR authors
– there is an agreement made with the publisher and 100% of the APC will be covered: 100% APC discount for WUR authors 
– there are no APC charged: No APC costs     
Note: before submitting an article, please check at the publisher's website if the provided information is still applicable.
         
2. Impact: journal rankings and WUR metrics
Several metrics are listed here, such as the latest JCR impact factor and the accompanying quartile (Q1-Q4) a journal belongs to. Scopus Journal Metrics are also provided, among which the SCImago Journal Rank (SJR) and Source Normalized Impact per Paper (SNIP). These measure the impact of a journal and a journal's citation impact, respectively. To give an impression of 'journal use' within WUR, the number of times an article from that journal is cited by WUR staff, and the number of publications in that journal by WUR staff, are given. This information is valuable when you plan to submit your article to a relatively new journal, or to a journal with no rankings.
3. Green Open Access: Taverne Amendment and self-archiving
Green Open Access offers alternative options to publish your initially closed, behind-a-paywall publication, Open Access. You may have published closed access if, for example, WUR has no agreement with the respective publisher or if your funder or research group doesn't reimburse the costs for publishing Open Access. With Green Open Access, you self-archive your publication in Research@WUR. The WUR Journal Browser provides you with information about the two possible routes to publish Green Open Access: (1) sharing the PDF of your publication by making use of the Taverne Amendment and (2) self-archiving your manuscript based on copyright restrictions of the publisher (e.g. version for archiving, embargo period). For more information please check the page on Green Open Access.
Similar Journals
The list of similar journals provided for a journal is based on the co-occurrence of two journals in the references of a WUR article (i.e. a co-citation of these journals). The co-occurrence is a measure for similarity between two journals and can be used as a list of suggestions for journals that may share topics and research fields. For more detailed information about co-citations, please see here.
Gold, Hybrid and Green Open Access
The different Open Access publishing routes are shortly described below. For a detailed explanation, please see the Open Access publishing routes.
– Gold – publication in a full Open Access journal upon payment of the APC.
– Hybrid – publication in a subscription journal where part of the articles are Open Access upon payment of the APC.
– Green – self-archiving a version of your article. This can be done through the Taverne Amendment (publishers version) or by self-archiving the Author Accepted Manuscript in thesis statement informative essay examples.
About
The WUR Journal Browser is developed by WUR Library. It uses external sources (e.g. Scopus, Journal Citation Reports, the model argumentative essay middle school, SURFmarket, openacces.nl) to update its information. All other Dutch universities use this Journal Browser, several of them have a personalised version.
Support
For detailed information about Open Access publishing, please go to the WUR Open Access pages. For questions or tips to improve the WUR Journal Browser, please send an email to journalbrowser.library@wur.nl. If you have a question regarding Open Access (agreements), please send an email to openaccess.library@wur.nl.