WUR Library Centennial Puzzle
The Library celebrates the 100th anniversary of Wageningen University. In this fourth post we will test your search skills in Staff Publications with a puzzle. To solve the puzzle, you need to search in Staff Publications.
Submissions are closed! We have drawn a winner and he or she is contacted. You can find the correct answers at the end of this post.
Instruction
All answers to this puzzle can be found by searching in the Staff Publications on the WUR Library website.
For many questions, you have to use the advanced search option to find the answer.
Write numbers in full.
Ignore spaces when filling out the answers.
Write the Dutch "IJ" as two separate letters.
In the green bar, the solution of the puzzle will appear. Send this solution to: forum (dot) library (at) wur (dot) nl with subject "WUR Centennial Puzzle", before June 28th, 2018. We will draw the winner from all correct responses. The winner may select one item from the centennial collection of the WUR shop, like a sweater.
(Library staff is excluded from competition.)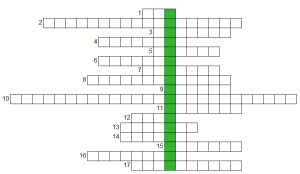 Questions
What kind of animal is depicted on some covers of the 25-year old reports from the Research Institute for Cattle, Sheep and Horse Husbandry?
What is the last name of the author of the first refereed Open Access article?
Who is the second author of the article by Willem de Vos published 25 years ago in the Journal of General Microbiology?
In a video, philosopher Bart Gremmen talks about the moral problems concerning animals being killed. What animals?
What type of publication was published most by the Institute for Land and Water Management Research?
… a European food and nutrition policy, a 2017 report written by Louise Fresco, amongst others.
What is the name of the author who published for the organisational unit Rijkslandbouwproefstation voor Veevoederonderzoek 100 years ago?
What is the first word in the title of the most cited publication of Wageningen University in 2008?
Who is the author of the oldest dataset published in Staff Publications?
In which journal did R.D. Politiek publish the most refereed articles?
What is the third word in the title of the only publication in English of all publications from 75 years ago?
In which city was the conference held where staff from WASS presented on tourism in 2018?
What is the first word of the title of Arthur Mol's lecture from 2008?
Which crop hosts the chocolate virus that was patented by WUR researchers in 2010?
In which journal have WUR researchers published the most refereed articles so far?
Who wrote the first catalogue (in Dutch 'catalogus') of the Library of WUR's predecessor, the Rijkslandbouwschool te Wageningen?
What was celebrated in the book by G. Bankoff?
Solution
COW
VALKENIERSURINGAR
GROFFEN
ROOSTERS
REPORT
TOWARDS
EZENDAM
STRIGOLACTONE
RIJPMA
LIVESTOCKPRODUCTIONSCIENCE
HAPLOID
OSLO
BIOFUEL
TOMATO
PLOSONE
ANONYMOUS
CENTENNIAL
The solution was: WUR RESEARCH OUTPUT.
This puzzle was created by: Justine, Marc, Koos, Marco, Eva and Ellen