Strength training and protein: a powerful combination for older people
Extra protein in the diet does not prevent loss of muscle mass in older people. But strength training and protein combined, it works wonders.
One gets 'love handles', the other can no longer ride his bike as fast as before. No-one can escape the march of time: somewhere between the age of thirty to fifty muscle mass begins to decrease – by 3–10% every ten years.
According to some scientists, you can slow down that process by eating more protein. Epidemiological research has shown that elderly people with a protein intake of 0.8 g per kilogram of body weight – this is the reference intake or RI – will lose 40% more fat-free mass than those who eat 1.2 g per kilogram of protein per kg body weight per day. In other words, an extra glass of milk or portion of beef a day and your muscle mass will be fine.
Too simplistic
I think this argument is too simplistic. Indeed, there are indications pointing to a relationship between protein and muscle mass, but it has not yet been demonstrated that eating more protein than the RI really would lead to older people retaining more muscle mass. We found no causal connection in our research. And we are not alone, as a meta-analysis, examining a number of studies, to be published in 2016, will show.
Increasing protein intake and whole-body strength training increases muscle mass in the elderly.
So should we simply jettison the idea that protein is good for preserving muscle mass? Certainly not. In combination with whole-body strength training, increasing protein intake increases muscle mass in the elderly. See our recent publication in the peer-reviewed journal JAMDA.
Our research subjects participated in a 24-week strength-training programme. Half of them received a supplement of 15 grams of protein twice daily, the other half a placebo. In the protein group, the subjects' lean body mass increased from 47.2 to 48.5 kilograms. The lean body mass of subjects who only did strength training showed no significant change (45.7 kilograms).
Strength training and protein: muscle building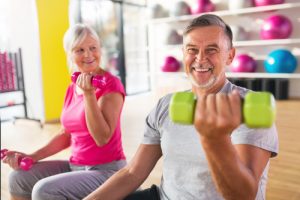 Strength training appears to be a very strong stimulus for the synthesis (creation) of muscle proteins, also increasing the breakdown of muscle protein but to a lesser extent. It helps maintaining a healthier balance  between the synthesis and breakdown of muscle protein, than in a person doing no exercise at all. But to achieve a positive muscle-protein balance and build up muscle mass, a person needs to eat protein just before, during or soon after strength training.
It is undeniable, in my view, that strength training and protein make a powerful combination for preserving muscle mass in older people. However, more long-term studies are needed to understand how to optimize protein intake, and how to integrate extra protein intake and strength training into everyday life. Such studies will provide the 'missing' insights that will enable us to preserve muscle mass in the elderly.
If you would like to know more about protein and preserving muscle mass in older people, please leave a comment below.