What's new in FeedbackFruits 2.0?
The building of FeedbackFruits is bursting with energy! People are scrumming, experimenting, innovating.. and playing table tennis. They are located in a factory hall where young start-ups take shape: YesDelft. In the middle of the building you find a little greenhouse. Which makes 'us Wageningers' feel at home immediately. The purpose of the greenhouse is indeed to germinate new ideas. And it is the location where the gentlemen and handful of ladies of FeedbackFruits present us their new ideas for FeedbackFruits 2.0.
FeedbackFruits 1.0
For those of you who do not know anything about FeedbackFruits yet, please hold on!
For those who already use FeedbackFruits and want to know what changes: you may skip the remaining of this paragraph.
FeedbackFruits is a platform which is integrated with Blackboard and provides it with some extra's:
Share: A space where you and your students can upload documents and video's. The great advantage is that you can add comments in these files. Students can use this for asking questions, to help each other or to provide feedback.
Dialog: A discussion forum with a nice look and feel.
Live: A voting system for smartphones and laptops to make your lectures more interactive.
Happy with what is available in the current 1.0 version? No worries: at least for the academic year '17/'18 we will support both versions.
FeedbackFruits 2.0
So what's new in FeedbackFruits 2.0? Well, a lot! I won't bore you with the technicalities. Let's focus on the three most important changes!
1. Give the power back to the teacher
FeedbackFruits was developed by students for students. While the company grows up they increasingly also facilitate your work as a teacher. There is for example a search option that you can apply within one course, but also for all courses. You may also use this to find the contributions of specific students. Next to that, there is an integrated help system with a contact person for your course.
2. The whole is greater than the sum of its parts
You can plug in separate features in Blackboard, so just select those elements you like! But if you wish to use many features, you get more! You can organize student activities in a so called 'Path'. While working through the path, students immediately see important deadlines and you can keep track of their progress. In the future you will be able to even create personalised learning paths for those student who need some extra exercise or perhaps can skip an activity.
3. New features
As a result of the plug in system, FeedbackFruits will continuously release new features. They start with our good old friends Share and Live. Which will change name and look slightly different. To give an example: Interactive Presentation (the successor of Live) can be integrated in PowerPoint, which will make it easier to use in the classroom! The only real new feature available by the spring of 2017 will be Peer Feedback.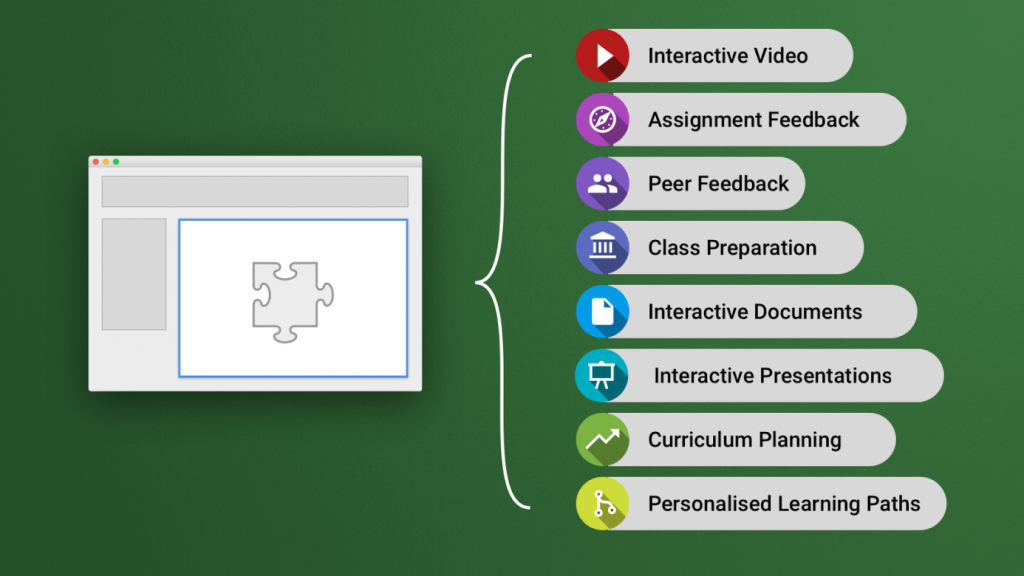 From 2017 onwards Wageningen University will slowly start integrating the individual features for those teachers interested. Since FeedbackFruits is eager to develop new features and you guys are the best source:
What would you like to see added?? Please leave a comment below: