There's more to soil functions than growing crops: how the LANDMARK project supports farmers and policymakers
Sustainable food production has recently risen to the top of the EU policy agenda, with the introduction of the Global Sustainable Development Goals. To ensure the delivery of food, feed and fuel products in an efficient and sustainable manner, land management requires an understanding of not only how to produce these goods, but to also the provision of a range of ecosystem services (soil functions) to society.
I've been working on soils and soil quality for over 25 years and for a long time, I learned to think of soils in many different aspects. Agricultural soils in particular deliver five key functions. Everybody is firstly interested in primary production, because we need to eat. But there are more: nutrient cycling, the regulation and purification of water, climate mitigation through carbon and nitrous oxide emissions, and biodiversity: a viable habitat for soil-dwelling organisms to live and function.
There is so much more our soils can do to ensure the sustainable delivery of crops and other ecosystem services.
Interconnectedness
Every single day, farmers manage their soils to deliver these functions, but they are not necessarily aware that they're doing it. So they focus on just managing their soils to grow crops for primary productivity. But of course, to get a good crop, the soils also need to cycle the nutrients to support crop growth. You need a good biodiversity of the soil, because that in turn mineralises lots of the nutrients. We need to regulate our water through these soils, otherwise we get flooding. So there is so much more our soils can do to ensure the sustainable delivery of crops and other ecosystem services.
Holistic policy perspective
At the EU policy level, there are policies such as the Water Framework Directive, or the Nitrates Directive or the Sewage Sludge Directive: very singularly focused on individual issues. But when you have a policy that restricts or changes the management of one system, then that has knock-on effects to another system. So rather than having many singular policies, we need to look at this from a holistic point of view – at how we can combine these in order for them to work together.
LANDMARK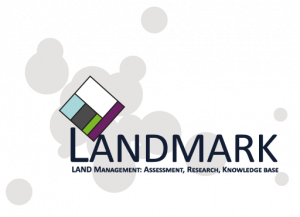 Our LANDMARK project (LAND Management: Assessment, Research, Knowledge base) is a Horizon2020 project that started in 2015. The primary objective of the LANDMARK project is to assess the supply and demand of soil functions from local to European scale (with comparisons of systems with Brazil, China and now also Ethiopia).
The ultimate goal is sustainable management of our soils. To achieve this, we have adopted a multi-actor approach in which we combine the knowledge and resources of many individuals. In the LANDMARK project, we have placed a lot of emphasis on understanding what the stakeholder wants from their soil, be they a farmer or advisor, local or national government, industry or European policymaker. Their opinions vary, both dependent upon where they come from and what their association with soil is.
All soils have the capability to deliver multiple services, but the capacity at which these services are delivered depends upon landscape and management. It is difficult, if not impossible, to maximise all these functions ubiquitously and simultaneously. Instead we should focus on trying to deliver two to three functions at an optimal level, based upon local conditions and environments.
At the moment, the LANDMARK project team is developing detailed models to understand the drivers of the five soil functions, which will be used in a decision support tool for farmers to optimise their soil management. We will also commence a test of 100 sites to assess how we can measure soil functions across Europe. At a policy scale, we are developing a number of scenarios for future policy requirements and how these can optimise the sustainable use of Europe's soil resources.
Wageningen expertise
In Wageningen, we have all the disciplines that work on this. I think Wageningen University & Research understands the many different aspects of soil quality and soil functionality. Therefore it's great to be able to discuss with colleagues and define some of those interactions.
I'm the coordinator of this project with Prof Rogier Schulte from Farming Systems Ecology as the project manager. We also work with colleagues from Wageningen Plant Research and Biometris.
LANDMARK will be completed in October 2019. If you are interested in keeping in touch with LANDMARK, please check our website www.landmark2020.eu, Twitter account https://twitter.com/Landmark2020 or email info.landmark@wur.nl.