Tourism on Arborek
I am standing on our ship, gazing at a small dot of green in the middle of a blue ocean. As the dot becomes bigger and the details become clear, our curiosity grows. We have arrived at Arborek, a small island of 0.1 square kilometre (including a football field) with a population of 300 people, that has almost completely adopted tourism.
On arriving at the colourfully painted jetty we are greeted with cheers and smiles from the children playing in the lagoon. A welcoming committee invites us to sign the guest book. I quickly try to obtain some more facts: Tourism started in 2009 when Conservation International tried to convince the community to stop fishing in the Marine Protected Area surrounding the island and develop tourism as an alternative source of livelihood. The island now has 13 homestays (guesthouses) and 70% of the population has shifted from fishing to tourism.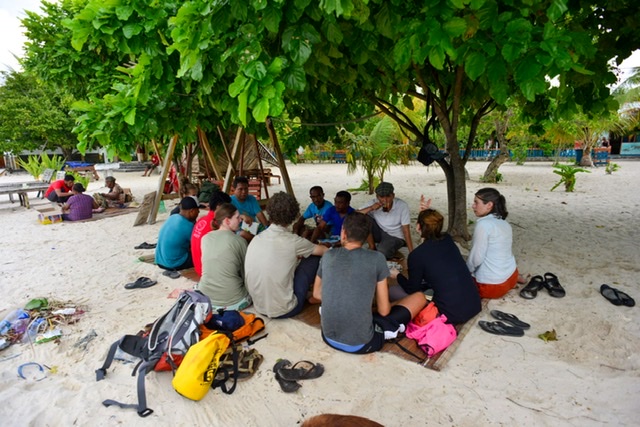 Community-based tourism
The streets of the village all look freshly swept; very uncommon in these parts of Indonesia. Everywhere we see images of manta rays. Next to Arborek lays Manta Sandy, a place where these magnificent sea creatures meet to be cleaned by small reef fish. Women are sitting in the shade braiding manta hats for the tourists.
My sociological brain grinds. How is this possible? Why is everybody so happy with thousands of visitors walking through their streets and looking into their houses? My own research on community-based tourism, as well as hundreds of studies worldwide, are all about its challenges. Tourism typically leads to growing division in the community and a loss of social cohesion.
Island of hapiness?
As I roam the streets, guided by Wawan, one of our Indonesian colleagues, I am trying to find more clues. Is it the geography? It is of course a very small island, populated and manged by only two clans. Is it the manta's that attract shiploads of tourists to make sure there is enough cake for everyone? Is it the visible influence of the church on the island?
We stumble into a Danish volunteer who emphasises the strong hospitable culture of the Papuans and their collective decision making. A homestay owner tells us that he is not in it for the money; his enterprise is a way to lead an easy life with his relatives. Completely zen. As we return to the ship I am still puzzled. Have we discovered the island of happiness? Have we seen 300 actors perform a new touristic masterpiece? A combination of both?