Tips for Securing a Room with Idealis while Studying in Wageningen
How do I find a place to live? I bet that's a question on your mind if you're considering studying in Wageningen. I'm here to help you figure it all out. Scroll down to find out more!
Coming from abroad, the easiest way to find a room is with Idealis. They are the main housing provider for students in Wageningen and Ede, and are renting out more than 5,600 rooms, studios and apartments. So there's surely something you'll like as well. But before you jump on their website to figure it all out yourself, let me give you some pointers for securing a room with Idealis with ease.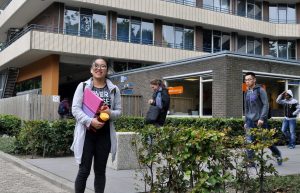 How to get started?
First of all, if you're quite sure that you'll be studying in Wageningen, subscribe to ROOM.nl as soon as possible. That's because the earlier you register, the more chances you have to find a desired room before arrival. I'll get back to that in a bit.
Once you've signed up, you can view the various offers Idealis has for that particular day. Depending on when you take a look at the offers, the number of offers can vary from anywhere between 2 to 40 or more. Just to try out the system, you can respond to one of the offers. What you'll then see, is your ranking in the list of all responders. It might easily be 45th or even 327th, but there's no reason to freak out. Your ranking in that list is dependent on a couple of factors, and here's all you need to know.
What contributes to your ranking?
Registration date
As I mentioned, sign up with ROOM.nl as soon as you're quite sure about coming to study in Wageningen. The longer you've been in the system, the more likely it is for you to find a room when the time is right. Once you've signed up, there's not much more you can do at that moment and the best is simply to wait until about a month or two before you actually want to move to Wageningen.
Distance priority
If you live more than 130km away from Wageningen, it's highly likely that you'll receive distance priority. If that applies to you, you'll receive an email with such indication. The priority is valid from June 15 – July 15. For students who have received a message about housing via WUR, there are slight differences.
Idealis will send you an email two or three months before you start your studies, explaining how you can find a room.
If you have not yet registered at ROOM.nl, you can still do so at that time.
You will receive an e-mail from Idealis in which they indicate the period in which you can respond to the rooms on offer with priority.
You can email the admissions office if you haven't heard anything before June 15. PS! Distance priority is only valid for students who start in September.
In practice, the two factors work out like this: From all the people with distance priority who have applied for a specific room, the one who has been in the system the longest, will receive an offer to rent the room.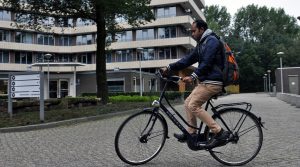 So, considering these two factors, I advise you to register right away, but then wait with actually applying until June or July (or January if you start in February). Just because the process will go much smoother then and you'll save yourself some stress. There's really no point in only seeing a couple available rooms and then, when responding, seeing yourself end of the list anyways.
And, there's more..
Idealis will have many more rooms on offer in July and August, and in January. When I was looking for a room, I witnessed the number of offers literally increasing from 3 to more than 50 a day. Besides, the rental period also starts within a month after you've responded to a room. That would mean that if you find a room in April, you will have to start paying rent in May. And that's something you definitely don't want if you only move in August.
Now that I've covered what contributes to your ranking, let's also save you some time and stress by telling you what absolutely does not matter for your ranking.
essay on addressing school assembly
What does absolutely not matter for your ranking?
The time of the day you respond
On ROOM.nl you can look for new offers every day at 12.00. You have several days to respond to these offers without worrying about your ranking. In the online advertisement you can see the date by which you must respond, it doesn't matter who was first or last.
The final ranking for each room is composed when the response time closes.
The number of times you respond to rooms
When I was looking for a room, I did my best to apply for two rooms every single day. Turns out that this makes no difference at all. Of course, it's more important to do it when you're close to moving to Wageningen, but otherwise, just apply when you really want to and your ranking seems reasonable.
The number of times you refuse an offer
When you finally are number 1 and receive an offer to rent a room, you can, of course, still refuse. For example, you might find out that the room is actually too expensive of not really what you want. So, feel free to say no, because that again has no influence on your ranking. At the same time though, you shouldn't be too picky with the rooms, because there's no guarantee in the end that you'll find one if you keep refusing every single room. Personally,  I did it twice, and then took the 3rd offer.
I've now covered all the essentials now and hope you can get started with finding a room you'll like. If you have any questions about what I've written, feel free to leave a comment below and I'll get back to you.
Also, this is only the very first blogpost in the upcoming collaboration with Idealis. From now on, you can read more about the different housing possibilities with Idealis every month. Let me know if you have any particular topics you'd like me to cover, and, make sure to subscribe so you won't miss any of the upcoming posts.
Last updated March 2019