A Day in the Life of a Plant Sciences' Student
When deciding on your master programme at WUR you might as well want to know how the daily life in the City of Life Sciences looks like: how to face long days of classes? How to manage the classes with extra activities? Where can students go to have a fun and relaxed moment after a busy day at the campus? Here, I will give you a brief but hopefully helpful description of one of my days as Plant Sciences student during the current period 4.
8.45 AM – Wake Up
In this period, my classes start all only after ten, however I like to wake up with enough time for a relaxing shower and a complete breakfast. A fresh start definitely helps to face any class-full day! By living close to the campus, I have more time also to chat a little with my housemates before going on my way to Forum.
It's a Tuesday, and lately quite sunny which remembers me the mornings in my home country. I grab my lunch, bike keys and leave home ready for another day and another interesting class.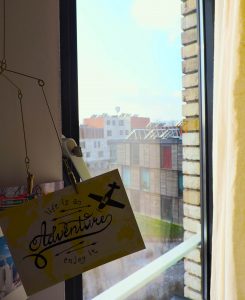 10.30 AM – Morning class
My mornings in this period start always with a lecture about Viruses – from taxonomy to plants' and animals' diseases. The course is called Fundamentals of Applied Virology and raised my interest right away since it covers a wide spectrum of subtopics and gives you the chance to learn a lot about recent epidemics. More than interesting, as I am specializing in Phytopathology and Entomology, viruses are also a hot research topic.
12.15 AM – … in Dutch means "lunchtime"!
Viruses can be interesting, but food is essential to keep the focus and energy for the classes still ahead. I must say that as Portuguese, was harder to adapt to the meal hours and the different food (I mean, bread can be very interesting but …). The truth is that the Dutch lifestyle requires adaptations like this one. Besides, after a while you realize is not that hard 🙂 There's also a big variety of meals options in both Forum, Orion and Campus Plaza. Still, the best part is that variety does not mean different types of bread (yeeei) but instead food from diverse countries and cultures, from Italian to Asiatic! Hence, there's always a solution for those busy (lazy?) days when you cannot cook or simply forgot your lunch at home.
13.25 AM – Precisely on time 
Time to go back to the virology lectures, however now to practical class. Since we work with new machines and techniques, we need some introductions from teachers and technicians. For that, and to avoid miss any information, punctuality is important. Adding, once some protocols involve transgenic plants and potentially dangerous virus, we work in controlled environments and fully equipped laboratories. I must say such laboratories are a great advantage of being a plant scientist at WUR!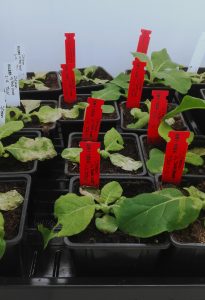 17.15 AM – World domination via viral epidemics is postponed… for now.
Could be indeed a plan for some, but the only truth here is the fact of being done with classes for now. I leave the lab with the hope of 0 contamination in my samples and ready to start the fun part of my day (I mean I love pipetting… but you know). I grab some coffee and head into the city center direction.
18.00 AM – Time to teach some Portuguese
Cycling to the Building with the Clock, where I have the great opportunity to share some knowledge about the 6th most spoken language in the world (already 2 enough reasons to learn it, no?). For the coming hour, students from the beginner level learn not only the language of Camões, but also historical and cultural facts about Portugal.
https://weblog.wur.eu/homework-tools/
19.00 AM – Let's level up!
The level increases to intermediate, as well as the litters of tea and the number of cookies. All it takes to keep all my students awake and motivated!
20.00 AM – Class dismissed but the Latin mood is still on!
A quick snack as an energizer and I am ready for some salsaaaa! At ISOW, besides, the language courses, you can also do a lot of sportives, musical and relaxing activities. In fact, was through the ISOW Salsa classes that I get to know more students in Wageningen and that helped me to fit in. Due to the great Salsa teachers (Lucia and Santos), after more than one year I still attend their classes and feel is a great integration moment still.
what are the basic steps in essay writing
21.30 AM – Heading back home
… for some rest and a real dinner, because some Portuguese habits you just can't let go so easily. Luckily, I live with great housemates, so every time our schedules cross, we share food and nice talks – we talk about our days, what's going on in The Netherlands and in the world. For me, the perfect end of the day. Before bed-time, I try to get in touch with my family and friends, tell them about my adventures and how glad I am to have them in my life, even if some kilometers apart.
So, this was a close insight into my daily life as a WUR Master student. If you have questions regarding any topics I mentioned or about my master programme, feel free to leave a comment or share some coffee-break words