3 Places that Can Help you Buy Sustainable Food
It's amazing how many different options Wageningen has to buy food. It has options for all tastes and tastes: large supermarket chains and small local producers; home deliveries and harvest yourself on the farm; ready meals or slow cooking; of everything! The only difficult part will be to choose, mainly because there are no hours left in the week if we want all the options.
I will share with you the places where I chose to buy my food. However, I strongly recommend that you test other options as well, to decide where you feel best buying and which fit the most in your routine. I chose these because my priority is to have direct contact with the producers (I like to talk.) Here they go:
De Hoge Born
This is a farm almost on campus, although it is not part of WUR. De Hoge Born is a philanthropic center of people undergoing psychological treatment. It's what the Dutch call lievegoed. In this center, people work there voluntarily to help in the treatment of others. It was my first job in Wageningen (because I moved here doing parallel jobs to get paid for school), but as it was for free I exchanged the work for food.
I really like the place and keep buying there, even without working anymore. They plant food in an open air area and in a greenhouse, these foods go to the store (photo below), and what is not sold they give to the chickens and compost. Very incredible, the chickens eat organic and seasonal vegetables! In the store, they sell products that come from other local producers or from nearby countries, all with labels about where the food comes from. And here's the big tip for the students: we have 10% discount on purchases. Do not forget to ask when you're paying!
Schedule:
Monday:

12.00 – 17.00 hrs.

Tuesday:

12.00 – 17.00 hrs.

Wednesday:

12.00 – 17.00 hrs.

Thursday:

12.00 – 17.00 hrs.

Friday: 12.00 – 17.00 hrs.

Saturday: 10.30 – 14.30 hrs.
Location:
Bornsesteeg 87, 6708 PD Wageningen, Netherlands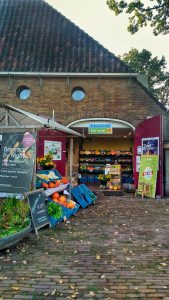 https://weblog.wur.eu/education-in-america-essay/
Photos: signboard side of Forum and shop where they sell the products
De Vlijt
general essay examples is a windmill founded in 1879, near the center of Wageningen. Anyone who lives here will certainly pass in front of the mill every week since it is on the way between the university and the banks, bars, shops in the city. There they sell bulk products of all kinds: whole grains, fine flour, in small pieces, … I'm learning lately to make bread and I've never found a better flour than what they got there! It is very good. On Saturdays, you can also do visitation at the top to see how they do the grinding, and see it.
Schedule:
Thursday:

09.00 – 18.00 hrs.

Friday: 09.00 – 18.00 hrs.

Saturday: 09.00 – 17.00 hrs.
Location:
Harnjesweg 54A, 6706 AT Wageningen, Netherlands
Photos: De Vlijt from outside and inside
Open-air market
This is where you will most likely meet your friends more than anywhere else! At the fair, they sell various products: cheeses, mushrooms, bread, flowers, vegetables, fruits, … In addition to ready-made foods like lumpias and stroopwafels! It's very good. It is around the church in the city center (also where the bars and cafes are), so it is a good place to buy your food very slowly, especially if the weather is good!
Schedule:
Wednesday market: 08.30 -13.00 Hrs

General market: (exotic) foodstuffs, flowers, clothing, and fabrics

Saturday market: 08.30 – 17.00 hrs.

Foodstuffs and flowers, "farmers market" (boerenmarkt), organic food.
Location:
Church square in the city center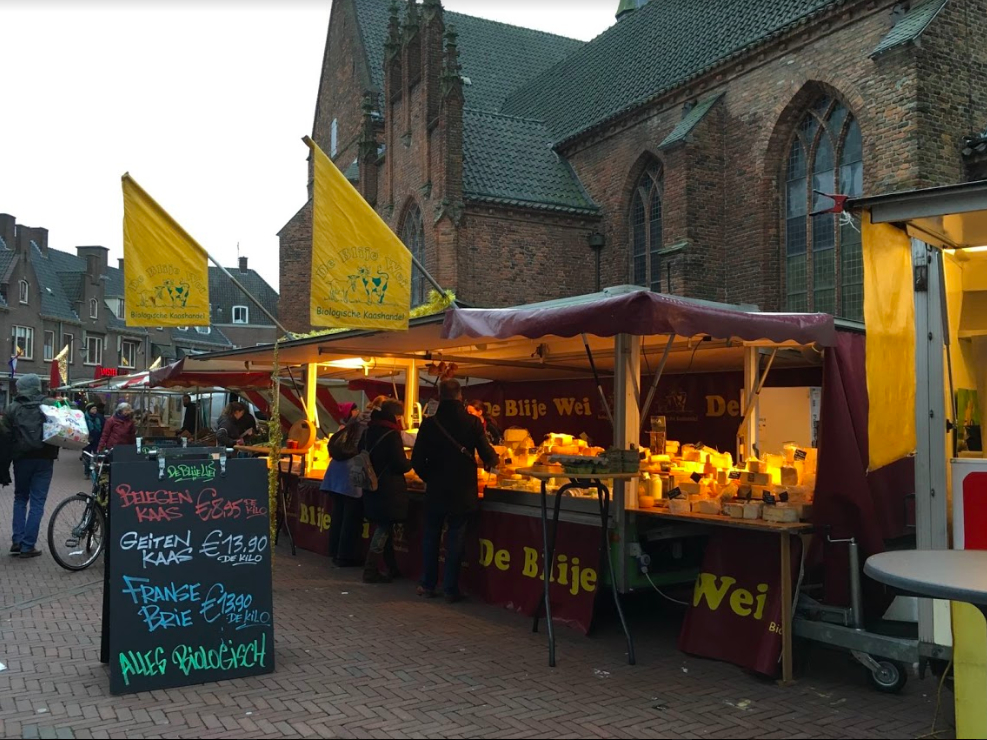 Photo: organic cheese from Dick!
I hope you also enjoy these places as much as I do! Check out the WUR website for more info.