A Documentary That Will Help you Understand Food Sustainability
During my first year of studies, I participated in an initiative of RUW Foundation to create a documentary about the future of food, as part of the celebration of 100 years of the university. The documentary is calleduniversity of pittsburgh essay, and we had the challenge of showing Wageningen's different views on how we should design our food system so that we can feed 9.7 billion people worldwide by 2050.
Our biggest challenge was to think about how to show different views in the same place.
What do insects have to do with health?
What does organic agriculture have to do with innovation?
And food waste have with climate?
What are the different visions for the future of food?
Where do they meet?
And most important for us…
How can we show people that anyone can be part of a change in the world?
how to write an essay on a book report
Photo: the power of a shoal
Luckily, at the stage we were defining the vision of the documentary, we found a booklet written by Louise Fresco and Frans Kampers calledhttps://weblog.wur.eu/ftp-editorzoho-agent-filcache/. In that book, they showed with an interdisciplinary vision, how can we transition to a sustainable food system by solving the challenges: health, innovation, climate, and us argumentative essays on cyber bullying.
And then, this became the main script of our interviews:
HEALTH
According to Kees van Veluw, we should also consider the social aspects of sustainability. For example, the physical and mental health of individuals. "I think it's very difficult for consumers to understand what healthy food is," said Judith van der Horst. It is important to take into consideration also the lifestyle, a combination of healthy eating with an active life. It always buys products that are biological, plant-based and whole grain. And as a sport, she runs and cycles to work.
According to the interview with Frans Kampers, one of the key issues is to understand the biochemistry of the body. Each individual is different, and understanding the differences brings us closer to preventative health care.
The Netherlands is aiming to reduce the meat consumption on the population's diets, and Wageningen is leading the researches on how to make this transition to ensure quality, flavorsome & healthy food. There are many types of research being done on how to replace meat with alternatives proteins, explained Arnold van Huis.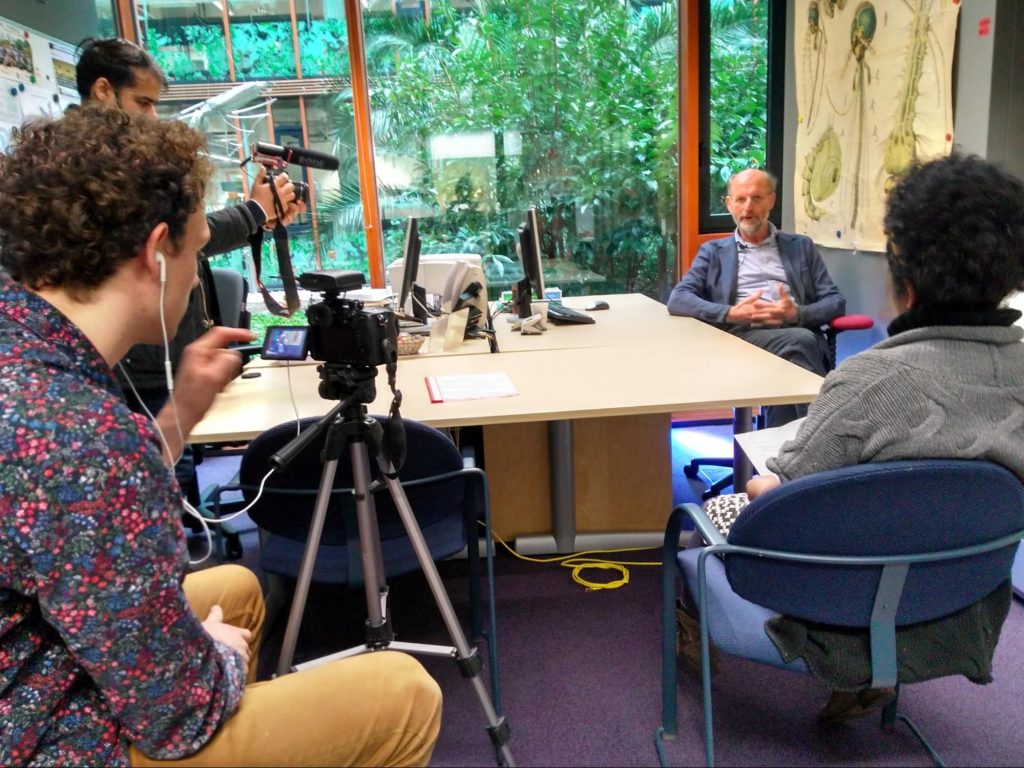 Photo: the interview with Arnold, a researcher on edible insects
INNOVATION
Innovation is not just about technologies, but just like health, it involves people. How to create innovations guaranteeing affordable prices for consumers? And fair conditions for producers? According to Maria Barbosa, consumers need to be aware of what they eat. She is an algae researcher, an innovation that also seeks to popularize alternative protein sources. Algae production can be used in places where it is not possible to have other types of crops, like deserts.
But how to have critical thinking in the midst of so much information? "Solutions worldwide are not possible," said Martin van Ittersum. "We need to reflect what is a fair price for products". Consumers must demand information about fairtrade products through labels of the food we buy, said Peter Oosterveer. Researchers and consultants, understand the local context by going to the field and building the solutions together with the people. Not bringing them from a top-down approach, said Paul Hebinck.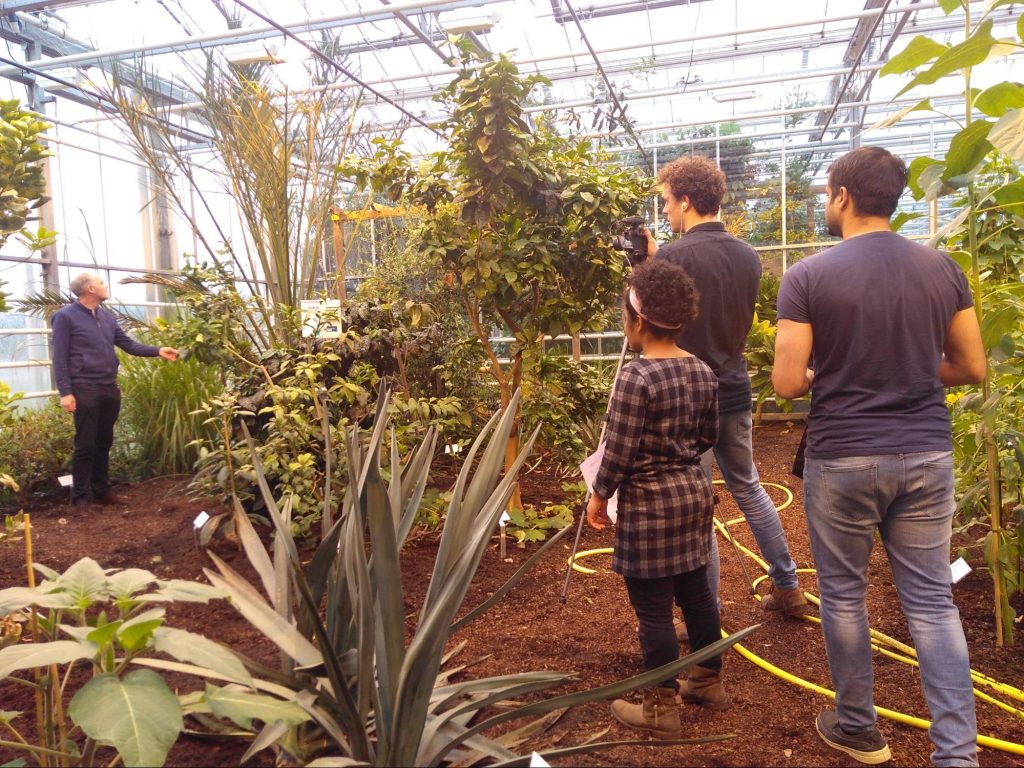 Photo: the interview with Martin in the tropical greenhouse
CLIMATE AND CIRCULARITY
How can we plan a production that doesn't harm the environment while reducing waste? For this reason, the last two topics, climate, and circularity are shown together in the documentary. Toine Timmermans, a member of Refresh, is taking his part in a movement to prevent food waste in Europe. One of the initiatives of this movement was to inaugurate a living lab on surplus food, a partnership with the WUR, with the local government and companies.
"Food losses occur for different reasons depending on the country," said Han Wiskerke. The researcher also said that we as consumers need to think about the system as a whole: production, access, security, … Our environment, ie the local availability of food, should stimulate consumers to have a sustainable diet.
One of the researchers on the food production system is Hannah van Zanten. from the livestock research department. She researches how we can create circular systems to avoid waste. This change involves everyone. Research institutions, government, companies, and also consumers. Citizens can avoid wastage in their homes, and also come together to make larger-scale changes, said Ilona de Hooge.
Curious to know more? Follow the release on our Facebook page!