Furnished Room or an Unfurnished Room, What do I pick?
Are you a new student who is about to join Wageningen?
If you are, you are probably applying through room.nl for a place to stay here in one of the many student dormitories. While applying, you would have noticed by now that there are two types of rooms that one can apply to, one with furniture and one without furniture. This essay should hopefully give you an insight into what both the rooms would feel like and maybe even guide you into choosing what the right type of room is for you. I will also tell you about places where you can buy furniture here in Wageningen, and places where you can even get some of them for free. I must warn you though;
being lucky is the only skill that you require in order for you to get a free item.
The first impression of both types of rooms
So let us begin with a furnished room. These rooms come with very basic furniture set which includes a chair, a study table, wardrobe with a mirror, a bed and a mattress. From my experience, people eventually end up filling their room with more furniture to complement the basic set like an added sofa or an extra bookshelf. Such rooms generally make sense for people who do not want to go through the hassle of furnishing everything from scratch. Most international students prefer such rooms for the same reason. In an unfurnished room, you are left with nothing but an empty cuboid when you enter it for the first time. In such rooms, you are also are expected to install everything from scratch including the light in your room.
Places where you can get furniture
Every corridor in a student dormitory has storage/common rooms, and you will be surprised to see the type of free stuff you end up finding in these rooms. There are also common spots in the building you move into where people drop off their old stuff. I was lucky enough to find a bookshelf, laundry buckets and a sofa in my storage room. You will almost certainly find spare mattresses and pillows when you enter your corridor, which would mean that you won't end up sleeping on the floor the very first night in your room. There is also always a possibility that people who lived in the same room before you may have left some of their old stuff behind. When my friend entered her room for the first time, she found a large red carpet which covered the flooring.
One more factor that you can take into consideration is that just as you move into Wageningen and plan to start your education, there will always be people who are just about to finish theirs around the same time. Some of them might be in the same corridor as yours, or the same building as yours. These students would generally be selling their furniture online at the Wageningen Student Plaza Facebook group before they leave, and it might be a good idea for you to contact them maybe even before you arrive here in Wageningen. Second-hand material flow is quite popular here in Wageningen. There are also two other shops you can check out for cheap furniture once you come here- Kringloop Wageningen and Emmaus. For more expensive options, you can always look at IKEA which is a half an hour car drive away from Wageningen.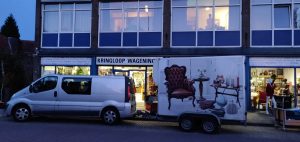 Kringloop Wageningen- About 6 mins cycling from the university
Booking a Bakfiet
It will also help you if you try to book a Bakfeit (a vehicle for transferring material) early, in case you have to move your furniture from one building to another. The instructions on how to book a Bakfeit will be given on the Idealis website. You can even book one before you get to Wageningen, back from your where you live, if you have already signed your housing contract. It is wise to book it early especially during the master intake periods(Sept and Feb) as many other students will also be moving into their new rooms around the same time.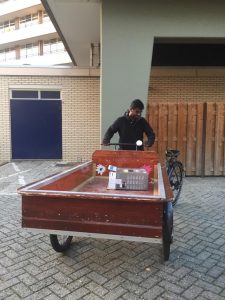 A picture of me on the Bakfiet 🙂
To conclude, both types of rooms have their own advantages and disadvantages.
In a furnished room, you probably will not have enough space to install a bed or cupboard of your own liking, but at the same time, you won't enter into an empty cuboid staring back at you when you enter the room for the first time.
Unfurnished room. It is not too difficult for you to find furniture for your new room here in Wageningen. If you search in the right place and are aided by the element of luck, you can furnish your room without much trouble.