Learning Dutch for International Student FREE!
During the earlier period of studying in Wageningen, I do not feel any urgency to learn Dutch. I think that everyone can speak to me in English. For example, when I went to the market, the seller asked me in Dutch. But when I seemed confused, the seller will start speaking English with me. It happened many times and in many places.
However, I just got information that Wageningen University provided free Dutch lessons. You can go to Wageningen into Language and see whether the registration for Social Dutch is opened. After registering via the web, you can go to their office and pay 90 Euro.
This money serves as a deposit; if you come to 80% of the classes and follow the final exam, you will get your money back.
What did I do during my Social Dutch classes
I finished my Social Dutch 1 classes. I want to say that it was fun learning Dutch. I did not have any expectations because like I said before I do not feel that I should understand Dutch.
The class is really helpful for me to learn Dutch. At the beginning of every class, the teacher will allow the students to ask difficult Dutch words. Besides telling the students about the meaning of these words, the teacher will show in which context we can use those words or the example of the sentences with the words.
Then, my Social Dutch class was very interactive. It was not only writing and learning about the structure. Most of the times, the teacher invited us to play games or worked in pairs for practicing conversation.
For me, the difficulties of joining the Social Dutch at the University is that sometimes I need to allocate my time to repeat what I learned during the class, or else, I will forget. However, I usually spared 30 minutes before classes to work with homework, repeat the last lessons, or prepare some questions about difficult words.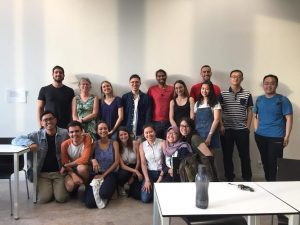 Group Photo with the classmates taken during our last class
"Ik spreek een beetje Nederlands"
To practice my Dutch, I also set up an informal group meeting with a Dutch friend. During our meeting, we exchanged knowledge of our language. I learned Dutch, and she learned Indonesian.
I feel proud every time I do not need to check my google translate apps while doing my grocery shopping, or it feels great to be able to reply to the cashier in Dutch. I want to say that learning Dutch while you are living in the Netherlands makes your learning process easier because I can practice my listening skill while listening to your classmates talking in Dutch. I can learn many new words just by visiting the nearest supermarket.
Now, I can say to my Dutch friends: "Ik spreek een beetje Nederlands", means I can speak a little bit of Dutch. And I am sure that I want to learn more 🙂 If you have questions or experience of learning Dutch, feel free to leave your comments in this post!!
Tot ziens!