GROW WITH THE FLOW- TEDx Wageningen University
The TEDx chapter of Wageningen University is back again this year with a brand new theme branching out from the roots of the previous year's success event The Green Wave.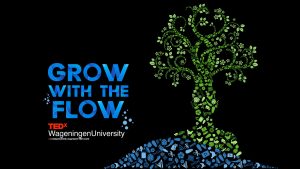 TEDx Wageningen University (x=independently organized event) was founded in 2018 by Michiel Voskamp, a Masters student and saw great response in their first ever event. Followed by his successors and taken over by the current Chairwoman Zoë Veldhuizen the team is supported with 30 odd volunteers enthusiastically working for their next event of the year 2019.
Sustainability is a popular topic nowadays. Compared to just a few years ago, people have an increased awareness about the harm unsustainable practices can have on the environment. Many people are now bringing their own coffee cups and water bottles everywhere, or switching their meat burger for a veggie burger every once in a while. We want to take this as the starting point to answer the question;
How do we move from here?
Riding the sustainability boat with an aim of building a greener future, TEDx Wageningen University brings to you the event of the year 2019 -Grow with the Flow
How do technological innovations aid in the construction of this goal?
How do we find solutions to those unsolved puzzles by gaining inspiration from the nature?
While reconstructing our surrounding how do we rebuild our inner self?
Towards the quest of finding solutions to these questions is the event Grow with the Flow!
The event will throw the spotlight on the three main aspects: Technology, Nature and Personal development.
Get ready to be Inspired!
With a bunch of awesome speakers and performances, 21st September is the day to rekindle that spark in you.
Grab your tickets now!
Exclusive discounted student & PhD tickets!
college personal essay examples
For more information visit: https://weblog.wur.eu/marijuana-legalization-argumentative-essay/
essay youth and social media
21st September 2019
Location: Orion- Wageningen Campus
Stay updated by following us on Social media
where i come from poem essay Facebook
Instagram