Student accommodation in Wageningen is scarce: Follow this steps to deal with it
An escalating number of international students at Wageningen University and Research is not followed by the increase in student accommodation offers. It creates a problem where many students cannot get their housings right before the academic year starts. It  causes stress among newly international students as they need to find places to stay while preparing for a new period of studying.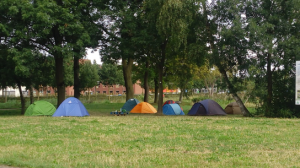 Pictured by: Dissa Natria, (Some students were several days strayed out in front of Forum building. They built tents as they could not find immediately any housing in Wageningen)
It is imperative being proactive and make sure that you have a proper accommodation while you are studying in Wageningen. I have some interesting tips that might be useful for you who are looking for housing in Wageningen.
First, you can browse the information regarding the accommodation in several websites such as
Pararius, ROOM.nl, HousingAnywhere.nl, etc.
Make sure that the accommodations offered are being advertised via official website or company, kindly check-in: (Dutch Chamber of Commerce) .
It is important to make sure that you have accommodation via legal way, it will prevent any scams which happens while you are looking for the accommodations.
In Wageningen, students can look for the housing from IDEALIS, Throts, etc. Do not forget to subscribe and start to look for your room for at least two months before you come to Wageningen.
The demand for housing in the early new academic period is quite high. Before getting new offers you are placed on the waiting list.
Second, use your social media. Students sometimes sub-rent their room when they are doing fieldwork or internships outside Wageningen. They often post information regarding sub-renting information in social media.
Facebook (FB) is one of the most popular social media. Wageningen Student Plaza is a regular FB group offering house rent information. This is so familiar among students who would like to sub-rent their rooms or for those who look for accommodation. It is worth a try anyway!
Third, use your contacts and networking. You might find old friends or colleagues studying or living in Wageningen that might give you information about a place to stay.
In my case, I contacted other Indonesian students studying in WUR. I asked for more information about accommodation offers. It is really helpful as my friends stayed in Wageningen longer than me. They advised me where to find a suitable housing. funny essay introductions
Source: Kepplinger
Fourth, Looking for accommodation in towns nearby. As the demands for housing in Wageningen is so high, try also to search accommodation offers in the cities nearby, such as Rhenen, Bennekom, Utrecht, Ede, Arnhem, etc. Bennekom is the closest area from Wageningen, so you can also find the housing there.
You don't need to worry about the transportation. It is because all transportation in the Netherlands has already well integrated. So, commuting from and/or to Wageningen won't be so difficult.
That's all? Not yet. There are some important notes to remember.
The accommodation scarcity in Wageningen also potentially increases scams which might target new students. Honestly, I almost got scams from the irresponsible person when I was in a hurry looking for a place to stay.
There are some signs indicating scams:
(1) You have to pay rent in advance without seeing the apartment or meet the landlord.
(2) Rental price is much lower than other accommodation offers in Wageningen
(3) accommodations advertised with false addresses (I experienced once)
Hopefully, the above-mentioned information will give you insights about how to find accommodation in Wageningen.