International students from the Excellence Programme 2019
Dohun Kim is a student from South Korea. Currently, he is studying the Master's Programme in Forest and Nature conservation (MFN) and honoured with the Excellence Programme of the Wageningen University Fellowship Programme (WUFP).
Excellence Programme is a scholarship awarding  a few selected non-EU/EEA students.. Providing supports for tuition fees and some activities to enhance personal capacities. Through this post, Dohun, shares his experience with the Excellence Programme and WUR.
My Experiences with Excellence Programme and WUR
My background
I finished my bachelor's degree in Political Science and International Relations with a minor's degree in Forest Environmental Science in February 2016. I wanted to study nature conservation further, right after completing my military service as an army officer. Therefore, I started a master's degree in Forest Environmental Science from September 2018. Where, I mainly studied international forest policy, especially with a focus on Reducing Emissions from Deforestation and forest Degradation (REDD+).
How did I find WUR and applied
While searching for relevant researches for my study and research project, I discovered that WUR has been producing substantial amounts of research outcomes in the field. Interested, I searched more about the university and found it very fascinating. At the same time, I noticed that the application procedure for WUR was ongoing.
Although I was already pursuing my master's degree, I always wanted to study abroad if there is a chance. Also, I was sure that as one of the best programmes in the field, MFN of WUR would provide me invaluable knowledge and experiences for my study goals. Thus, after having lots of thought, I decided to apply for WUR in January 2019.
Excellence Programme
I got admission in the latter half of February. However, I could not make my mind yet and was thinking over and over if it is a wise decision to have a new start considering time and especially the study expense.
Unexpectedly, I got the invitation letter to Excellence Programme from WUFP in April. I wrote an essay about a particular topic. Which I had to compete with other candidates to get awarded with the scholarship. I wrote the essay as diligently as possible and prayed heartily that I pass the round.
the results came out via mail in May, I got the nomination for the Excellence Programme!
I felt so proud and happy that day and all my worries by then flew away.
I finally decided to study at WUR and started to prepare my new life in Wageningen. It was a moment for a big change in my life.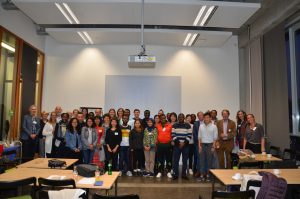 Scholarship programmes students. Photo: Ester
My Experiences in WUR
My new life at Wageningen started with the Annual Introduction day (AID). It was a very amusing and unforgettable time! I made good friends and got acquainted with the university. Soon after the AID, the first period of study had begun.
In a relatively short time of 8 weeks, the courses had delivered a lot of information effectively through high-quality lectures and practical activities. I could also have learned state-of-the-art discussions in nature conservation, especially with focus on sustainability and multidisciplinary perspectives. Though I just finished my first period, I feel that I already have made big progress and looking forward to studies in coming periods.
I am sure that my study in WUR would be an important milestone for my future career. I hope that sharing my experience will help future students who want to study here.
Thanks very much again to WUFP for providing me the opportunity to study at this great university!
Thank you so much Dohun for sharing with all of us your "Excellence Programme" experience and your path towards Wageningen University and Research. You have worked incredibly hard to achieve your goals. Without a doubt, you will continue to have success in all your further objectives.
A bright future is ahead of you!