Winter season is upon us! Christmas Markets & winter activities to warm our hearts
December month is cold and dark, but it's Christmas time! House decorations, lights, ice rinks, incandescent bulbs, Christmas trees everywhere… Every detail makes you feel both festive and spirited. Some families get carried away though and transform their home into a winter wonderland, but it's still nice! You can really feel the enthusiasm of holidays and the warmth of Christmas spirit covers of love and happiness the darkness month of the year.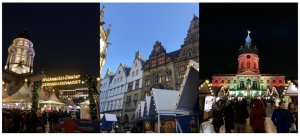 (Pictures: Mary Jo; Location: Germany)
Amsterdam city is full of Christmas markets during this time of the year, also in nearby places like Haarlem and Leiden. If you stay in Wageningen and you do not want to go that far, markets are not only spread around Amsterdam, but also nearby.  Arnhem city (20km away from Wageningen) every Sunday there is a market (SonsbeekMarkt), in winter, of course, it becomes a Christmas market.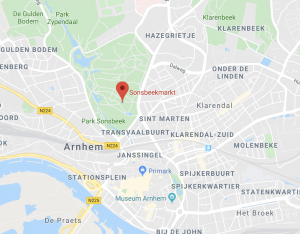 So if you feel like visiting Arnhem you can either take the bus (direct bus from Wageningen ), train (from Ede-Wageningen) or bike (1 hour cycling). Anywhere you go, you will for sure have the chance to experience how the Dutch enjoy spending those days.
The biggest market! With over 200 stalls, food and music, the Dordrecht Christmas market is one of the largest in the Netherlands. You can visit this market from 14 till 16 December.
German Christmas Markets
Traveling to our neighbours to visit the most ambient and festive Christmas market in Europe, Münster, Germany. It's only 3 hours away from Amsterdam by train.  A one-way ticket costs from € 20. SAVE THE DATES! The Christmas market in Münster is open from 25 November until 23 December 2019.
Find trains to Münsen here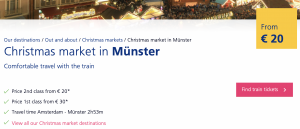 GERMANY, BUT WHERE TO? Every city in Germany has a Christmas market, but the best places to visit are the ones that we pointed out on the map below and km far from Wageningen. Rent a car and have a road trip with friends, why not?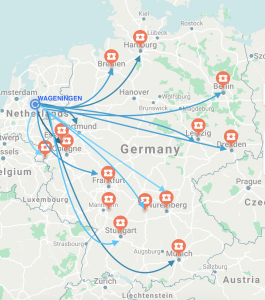 Christkindlesmarkt, Nuremberg (601 km )
Engelchen market, Düsseldorf (150 km)
Lucia Christmas market, Berlin (624 km)
Marienplatz Christmas market, Munich (749 km)
Striezelmarkt, Dresden (690 km)
Cathedral Christmas market, Cologne (180 km)
Markets in Rothenburg ob der Tauber (557 km)
Marktplatz, Stuttgart (540 km)
Römerberg market, Frankfurt (378 km)
Leipzig Christmas market (587 km)
Heidelberg Christmas markets(427 km)
Town hall Christmas market, Aachen (179 km)
Hamburg Christmas markets (418 km)
Bremen Christmas markets (308 km)
Ice Skating
As ice-skating is so popular in the Netherlands, it's easy to find a rinks. If you enjoy ice-skating, SWU Thymos is organising the Ice Skating Experience around January every year, pay attention and check their activities and dates, you will enjoy a nice outdoor ice skating! Below you will find some ice-skating rink locations:
⛸❄️⛄️ Event by Thymos
You can go to the gym throughout the seasons, but how often can you go ice skating? Want to recall how cool your ice skating experience was? Or just want to learn how to ice skate? Don't worry and be happy because SWU Thymos and ESN Wageningen are organizing an ice skating activity on Friday the 17th of January at Flevonice, the longest open-air ice skating track in the world!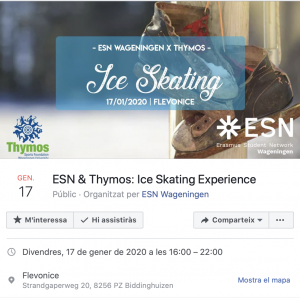 Date: Friday 17 January 2020
Time: 16:00h gathering at Sports Centre De Bongerd.
Estimated return time: 22:00
Location: Flevonice (Biddinghuizen)
€12 if you have sports rights AND an ESN membership card.
€14,50 if you have sports rights OR an ESN membership card.
€16 if you have NO sports rights and NO ESN membership card.
Subscribe here: https://forms.gle/QB3WnACaeCS5CVdk8
Anywhere in The Netherlands..
To warm our hearts and bodies when it's freezing cold outside is having a good tea or hot chocolate with biscuits!(Dutch classic biscuits: Speculaas & Stroopwafels). You can do that anywhere around Wageningen, you don't need to take the train or bus to enjoy a charming chrsitmas feeling and a cozy hot drink. I am not really a hot chocolate person, If you are not fan either,  I do recommend trying the chai latte spice tea, it's really tasty and cozy, it has the perfect spice balance to enjoy as a lovely winter drink.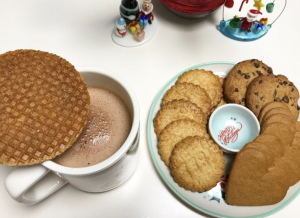 (Picture: Hot chocolate with Stroopwafel on top and biscuits)