Go get your internship!
While some universities do not oblige their students to do an internship, the opposite is true for Wageningen University.  In this university, an internship program is highly required by MSc students in order to complete their master study. This program intends to support personal development while at the same time preparing students' future career. As much as 24 ECTS are rewarded for the students that have successfully completed their four months of internship programs. Students can do the internship at any places they want such as research institutes, companies, govermental institutions or NGO.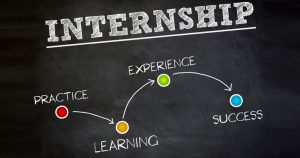 Source: hireclix.com
There are several steps to help you finding internship places;
1. Find what you want and what your interests
Ask for yourself: Start by asking several questions to yourself such as "which topic suit you best"( based on your expertise), "what type of future career you want to achieve", or "which personal skill you are going to improve". These basic questions can narrow down the options regarding the internship places you can possibly apply to.
However, couple of things need to be considered in deciding which internship place suit best for you.
First, think about your qualification, particularly regarding the degree you own. Most of the time, this relates to your expertise (background study) that will guide you to find a suitable position in a particular institution or a company. Second, consider your experience. Some of us may eager to learn something new while others are interested in strengthening skills they currently have. So, it's up to you whether you are looking for a new skill or harnessing the one you already have.
2. Do a research. Read and read!
Search information as much as possible to find internship place which  suitable most for you.
Internship websites:
Those websites are mostly used by students to find their internship places. Those links provides almost all information regarding the internship programs or even job opportunities you can access to.
3. Contact the internship provider
After finding lists of suitable places to do the internship, you can start contacting the internship provider. For instance, you can ask whether they have an opportunity you want and whether requirements match with your background knowledge.
For instance, I contacted the contact person from desired organizations. Then, I tell them what I am looking for and what are my qualifications and experiences. See whether they have a good vacancies or not for us, then do following up. This approach work well for me, so maybe for you too. Just give a try!
4. Finish your paperwork
This will determine whether you need a working permit, the type of residence permit you need, the maximum internship remuneration that you can receive tax-free and whether social security contributions need to be deducted. Paperwork are really matter, make sure that you fulfill all documents they asked.
Have you got an insight about how to search internship place?Tell me your story in the comment space below!
Written by Isnawati Hidayah (Master of International Development) and Muhammad Syamsu Rizaludin  (Master of Organic Agriculture)