International students return home amid worldwide border closures due to COVID-19
I am Fergus, I am from Scotland and I am following the MSc programme in Organic Agriculture.
Currently, I am not on campus. I travelled back home to Scotland just before the university closed down. I decided to travel back following the university advice for international students.  The university was going to be closing down and there would be nothing for me to do if I couldn't access the buildings. At the time, I was finishing my thesis work and had to abandon my last experiment. Luckily, I had enough data to finish writing my thesis at home.
On my way back, despite the though situation, I never encountered any international travel restrictions or heath checks.
Right now, the whole of the UK is locked down. Which means people are not supposed to leave their homes unless it is for groceries, exercise or essential travel. So far most people seem to be following these restrictions. The government has also given the police the power to fine people if they break these rules. I did not expect the pandemic to reach Scotland or the Netherlands. It has been amazing how quickly it has spread through our globalised society. On arrival home, I learnt my neighbour had the virus after travel in France, which emphasised to me the importance of the lock down measures to prevent more people being affected.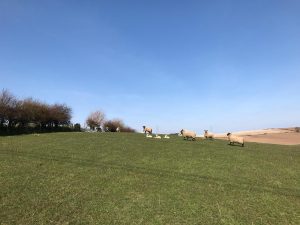 Sheep with their lambs in the grass-field. Scotland
Everything is very quiet, no cars on the road, the streets are empty. It is therefore a bit weird when I go out to do the groceries. However, everyone is in the same situation and doing similar things. There is therefore a common feeling of solidarity. For example, in the UK the whole country organised a clap for healthcare workers and old people are given priority hours to do their shopping.
Most people are staying at home. Often when walking in the street I bump into people and everybody seems to be observing social distancing staying at least 1.5m apart while having a conversation. It is quite funny to see actually.
Regarding my study programme at WUR, I am worried that it will be delayed because of the situation and I will therefore have to pay another year of tuition fees. I was meant to start my internship in May and finish on-time in August. However, this will no longer be the case and I most likely will not finish my internship until December.
In Wageningen, I lived with my girlfriend. Luckily our contract was due to end in March just as the situation was getting more serious in The Netherlands. We therefore had no problems cancelling the rental contract.
Currently, I am working from home on my thesis and still attending meetings online. This is the biggest change that people have adapted well to; now all meetings have been shifted onto an online platform and everybody you speak to is through a screen.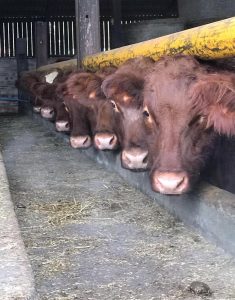 Family farm cattle
Alongside my thesis, I help my dad at the family farm  in Scotland. I spend most of the time feeding and taking care of the lambs, cattle, etc. So far nobody in my family has been affected. However, I am worried that the economic consequences could be much longer lasting than the lockdown period.
My perspective is the same; family first and do something you enjoy. The situation emphasised the importance of it.
Everyone is in the same position, so just relax, make the most of what you have right now and don't think too far ahead.