WUR Master Open Day goes Online! – 30th of April 2020
This year the Master's Open Day will be online. Due to COVID-19 outbreak WUR campus remains under lockdown. However, we are still planning to show the university, its opportunities & offers to prospective students.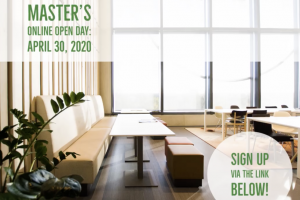 During the Online Master's Open Day we will do our best to introduce you to WUR, its master's and study places, like this spot in the Helix building, in the best possible way! Have you not signed up yet? Go to wur.eu/masteropenday and we hope to see you online at the 30th of April!
Find the latest upcoming digital Open Day and other kinds of event held by Wageningen University & Research. One of the Top Universities in the world, in  life sciences field in particular, it's considered one of the best universities in the world.
These virtual event will allow you to learn more about our university and have your questions answered by WUR students.  Make sure to check out the virtual event we feature below to stay up to date.
Check our master's programmes! In these programmes, you will focus on current and future ? global issues that are of increasing importance to both industry and government. HERE you can find out more about the master's programme we offer.
Stay Safe & Save date!