Dutch Meetings & breaks ??
Once you have successfully moved and found a job in the Netherlands, the next step is to meet Dutch business culture. It is known that Dutch employees work independently, but they are very fond of meetings. Usually, meetings are informal, although the schedule is strictly respected.
Impunctuality is seen as impolite. Everyone has the events and plans noted on their agenda, and they follow their schedule accordingly.
I thought "I will arrive a bit earlier, because they are Dutch".  Nee! If someone arrives too early than what's planned is also seen as weird. Five o'clock is five o'clock sharp.
If you want to get anywhere in the Netherlands, you have to learn to be punctual!
Regardless the company hierarchy,  Dutch business are characterized by their horizontal structure, where everyone is equally important.
During business meetings, despite people business, all the workers expect to give their opinion. Subsequently, the process from consideration to the final decision is time-consuming.
Nevertheless, once the resolution is reached, implementation is efficient and immediately.
It is therefore clear then that Dutch meetings do need a break in between. Which is almost as important as the business.
Afternoon meetings are "dinner meetings", Dutch supper time is rather early, from 4.30 pm to 7 pm food is their dinner. Meetings after 7 pm are not common, because it is too late and everyone wants to arrive early at their places.
During breaks, you can enjoy healthy snacks and odd Dutch treats. My honest opinion about typic Dutch food during meetings is that they do not look appealing, but they are surprisingly tasty. For example, kroketten and bitterballen. Bitterballen are meat ball, whereas kroketten have a cylindrical shape fried crust and filled with beef or mushroom soft paste. Both are often served with mustard.
On the other hand, the healthy snacks are cut vegetables (carrot, celery, cucumber…)  placed into a cup, so you can dip them in yogurt sauce or hummus.
Peanuts are unforgettable; Borrelnootjes are essential during the meeting breaks, made up with peanut coated with a spiced and crispy outer shel (highly addictive).
Tea and coffee are indispensable
Tea and coffee are are among the world's most popular beverages, but in The Netherlands, they drink more coffee and tea than tap water. I dare to say that is impossible to not to find them during an event.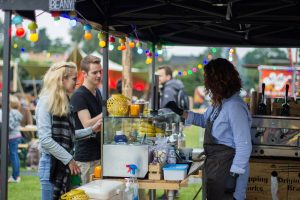 The funny fact is that Dutch people can continue discussing business over dinner time. I wouldn't get surprised if there is barely a total break from the meeting. They want to assure that every minute in the meeting is productive.
My last advice to international community living in The Netherlands; it is fine to make mistakes or not follow strictly Dutch manners. You will easily be forgiven because people will clearly notice you're a foreigner.
Enjoy and learn from their culture, share time and knowledge with each other.
The more we learn from others, the more we grow as individuals.