Winter in Wageningen
My First impression (without any experience):
When I got my admission into Wageningen University and when I started telling my friends and relatives about my departure to the Netherlands, the instant question that preceded after their wishes was "That is a very cold country, would you be able to survive there?" After receiving several warnings I started to doubt myself and the google as google showed the average temperature during the seasons. Also, at that time I was not as good as I am now in googling and finding the relevant information's (thanks to WUR!). So, I started to get overprepared for my first winter in Wageningen
"Winter in Wageningen is not as bad as you might think!"
What I thought it was and what it was:
My over preparation list was even more over-prepared by my family. Yes. I had packed a couple of sweaters, two jackets, several pairs of thermals, several pairs of woollen gloves, woollen socks etc…. My baggage was limited. Still, I stuffed myself with so many temporary winter clothing. As experts told:
"It is always better to get your winter clothes like Jackets from the country you would be residing as they would have prepared it according to their environmental conditions and also it would cost much lesser with attractive seasonal discounts".
Which is true. After reserving some winter clothes for purchase in the Netherlands, I finally landed in August. August being the last weeks of summer, was having pleasant weather. It was good and did not need any layer of clothing except for a few days. But my thrill of wearing a sweater, made me wear a sweater on the days when it was not required also, just to get that feeling. (As in my place wearing a shirt itself would make you feel you are overdressed!)
Winter is coming:
Several months passed by and finally, December came.
"The winter in the Netherlands usually starts around December and goes on until the second week of March. With mid-January to mid- February being the peak time."
The Autumn had made all the trees to shed its leaves and thereby giving an endearing beauty in and around the woods. The weather in autumn is usually pleasant. Towards the end of autumn, you would be getting shorter and cloudy days which is an indication that the winter is coming!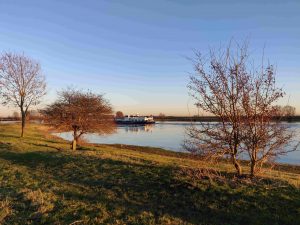 At the beginning of the winter, it is usually not so evident that winter has actually come but eventually, you will start feeling it. It is not that it would be extremely cold or anything. The winter in Wageningen is normally between 4 degree Celsius and 12 degree Celsius during the day and in the night-time can go up to a maximum of -5 to -7. It has not gone beyond this in the last two years.
Life in Wageningen Winter:
"Winter days are not the most active days, but they sure are the most festive days"
During wintertime, it would be hard to see a completely sunny day in Wageningen. The temperatures are manageable. But the climate changes between cloudy, rainy and at times sunny. So, you will have to learn to live with that. The sun rises around 8:00 AM though you cannot see it and sets by 4:30 PM-5:00 PM. This means that there would be shorter days and longer nights. Most of the days are also cloudy!
Concerning snow, it does not snow much over here. The last two years it only snowed for a maximum of two to three days throughout the whole winter. But not a sight to be missed if it snowed! Sadly, if you are looking to get some heavy snowfall this is not the place (thanks to the climate change!).
https://weblog.wur.eu/college-admission-essay-topics-to-avoid/
During this time, you would have the festive mood lit up with the Dutch Sinterklaas (A Dutch festival which is as big as the Christmas) followed by Christmas and New Year. Wageningen is a small place you cannot expect much for active Christmas celebrations, but you do get the Christmas vibe with their lightings and the decorations done in the markets. You could visit the Christmas markets which are popular in Germany (this year is a question mark though!)  or other big cities where the celebrations are quite large.
Do not lose your enthusiasm!
During Winter it is very common to feel lazy, dull, lethargic, and just settle in your couch or bed. But this is the time to be active and sweat it out! I do understand that it is not possible to go for outdoor sports because of the weather and now because of the Covid-19 too! But indulge in some indoor sports which are offered in plenty by the Sports centre of Wageningen. The link to the same is posted below. They offer plenty of indoor sports to kick off your laziness!
https://weblog.wur.eu/college-application-essays-accepted-by-harvard-university/
Do not forget to stretch every day as the muscles tend to tighten during these cold times. And as you cannot see the sun that often makes sure to get your right dose of vitamin D. If required consult your doctor and take vitamin D supplement tablets.
Finally, Winter in Wageningen is not bad at all! Just make sure not to give in to the laziness and keep yourself active physically and mentally! The only downside I would say is the constantly changing weather which you would have to get used to. Temperatures should not be a problem!
Buienradar is an effective app to monitor the rain.
The Weather Channel is another useful app by IBM to monitor the weather.