How did I celebrate the Spring Festival this year in Wageningen?
When the festival is coming, more than ever we miss our relatives and friends far away.
Since I started studying abroad, this is the second year that I could not come back to China to spend the Spring Festival with my family. I really miss them and hope everything goes well for them.
Thankfully, it was also fun to spend the holiday with my friends this year in Wageningen and it was a unique experience that I will never forget.
Spring Festival is also called Chinese New Year which is considered the most important traditional festival for Chinese people and Asians. While it is not only celebrated in China but also in other countries and regions across east and southeast Asia, and people have adapted it to their local culture, customs and routines vary a lot in different regions. Usually, people in China will have more than seven days off to celebrate the Spring Festival. As a result, the people who work somewhere else could come back to their hometowns and the whole family could get together. So, Spring Festival is also regarded as the days of reunion among family members.
Spring Festival is on the first day on the Lunar calendar. However, the celebration starts on the day of New Year's Eve (known as Chu Xi), while it can start very early in some parts even one week before the new year. And there are so many traditional customs that I would like to introduce to you, and let's start with "saying goodbye to the past, embracing the new".
Purchase New Year's goods
Spring Festival is a time that people would pour out their money to buy new things for the incoming year. They would purchase foods, clothing, decorations, presents for relatives and friends, etc. In my childhood, one of the top expectations for the new year was the new clothing prepared by my parents, which was a sweet memory. At this moment in Wageningen, due to the corona situation, it is not possible to go to the mall. However, online shopping provided me with another choice to get what I need. So, I bought some new clothes and some snacks to celebrate the New Year.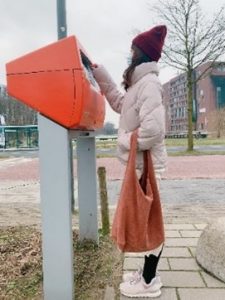 Clean and decorate the house
Every family would thoroughly tidy up their house from inside to outside to sweep away "ill-fortune", hoping to make space for good luck in the coming year. One day before Chinese New Year's Eve, I cleaned my room carefully, laundered my bed sets, and put on new ones. I even checked every tiny corner in my room to make sure everything stays neat and well-organized.
It is also popular to post Spring Festival couplets (Chun Lian) with the themes of happiness, wealth, and longevity on front doors to ward off evil spirits and welcome peace and abundance. One of my friends wrote Spring Festival couplets by himself with a Chinese ink brush, which added more traditional sparks.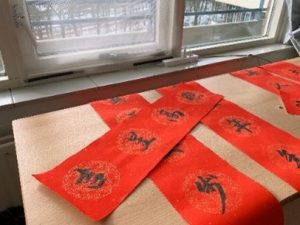 In recent years, more and more people prefer to post "Fu", which means good fortune. Besides, Chinese people prefer to make decorations in red, especially during the Spring festival. Red has become the cultural totem of the Chinese, representing joy, excitement, and harmony, therefore, this typical colour is also called "China Red". If you pass a room with red decorations such as Spring Festival couplets, "Fu", lanterns, and Chinese knots putting on the front door, it shows that the host is welcoming the new Year.
Have New Year's Eve dinner
On the Eve of Chinese New Year, family members usually reunite to have a feast, dishes of which often carry some special blessings. For example, fish means abundance for a family, rice cake means everything goes well next year and sausages represent the long-term relationship. Another important consideration is the diversity of food ingredients (including various kinds of meats, vegetables, seafood, cereals, and nuts), which contributes to the great number of dishes.
It was the first time that I prepared traditional New Year's Eve dinner with my friends. As from different regions of China, we attempted to repeat and reproduce the food we had on Near Year's Eve when we were in China and made something that is quite unique and featured in our local regions. I tried to make an Eight Treasure Rice (also called Chinese Rice Pudding), which was lightly sweetened sticky rice stuffed with red bean paste and topped with dried fruits and red dates. In Chinese tradition, the number eight is a magical number that is pronounced similar to another Chinese character "Fa" which means to be rich or to thrive in business. Besides, the diverse colours and sweetness of this dessert represent luck and happiness for the coming new year.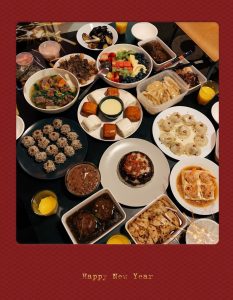 Watch New Year's gala
After dinner, the whole family sits together and watches CCTV new year's gala which is the biggest party in a year. Along with the TV show, people chat, share their stories of the last year when they company with their families. When the New Year's bell rings, people say goodbye to the last year and welcome the new year.
Pay a New Year's visit
On the following days after New Year's Eve, people wear new clothes and visit their relatives and friends, saying "Happy New Year" or "wish you make fortune" to each other. The elderly will give "red pockets" with lucky money to children which means to bring wishes and good luck to them. This year, we had a more interesting thing to do in Wageningen.
A week before Spring Festival, a snowstorm attacked Wageningen, having left thick accumulated snow on the ground. In addition, the lower temperature for a period leads to the freezing of the lake during the Spring Festival. These made it a perfect time to go outside to enjoy the view and have fun. It was amazing when I stepped on the snow and play with the snow. My friends and I went to a grove and we spent an hour building a lovely snowman. We also took a walk on the iced lake, which is slippery, so we needed to be careful when moving. When I am writing this blog, I can still remember how happy and excited I was during those days.
essays for sale rhetorical analysis
Spring Festival is always an important holiday for Chinese people, and we celebrate it in our special way. But more importantly, no matter where you are staying and where you are from, wish you all health, happiness, and well-being in the following year. Happy Chinese New Year!