My master's degree experience – Arun Balasubramaniam (Alumnus)
About me
Hello there! Before I start, I would like to thank the Wageningen international blog team for allowing me to share my experience of studying in Wageningen.
My name is Arun and I am an international student from Chennai, India. I completed my master's degree in environmental sciences in August 2020.  I specialised in the environmental technology thesis track. Now, I currently work at a membrane water technology company called Blue-tec in the nearby town Renkum.
Early Days
It feels like yesterday that I took my flight from Chennai to Amsterdam in August 2018, to start my study in Wageningen. It was also my first time travelling to Europe. I had gotten a room in Asserpark, one of the student dormitories before I had arrived here. Filled with excitement and nervousness, I remember packing my suitcase with mostly Indian food and cutlery and getting on the flight.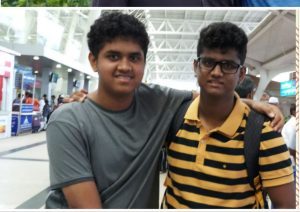 Me (to the right) and my taller younger brother on the day of my flight in 2018
I had taken part in the annual introduction days (AID 2018). The people from my batch would agree with me that we had one of the best introduction day's ever. I remember partying and barely sleeping for nearly 5 days straight and also getting to see quite a bit of the city. Yes, that is right! Although Wageningen is very small, it is still a city and not a town! For any new student joining the university, I would definitely recommend them to take part in their AID. It is one of the most fun and informal ways to get to know the university, the city and also make new friends. AID is currently made online due to COVID-19, and I hope it changes to an offline version soon.
I remember studying very hard for my first period courses. I was in a new environment and a new educational system.  My determination/eagerness to prove myself made me perform quite well in my first set of exams. I guess after that, I knew I could survive in this environment and relaxed a bit more during my studies. I had taken my free-choice course on water treatment early on in my master's, in period one. This course was one of my favourites in Wageningen. For those of you looking to specialise in environmental and water technology, I would suggest this course.
My most favourite course
My most favourite course of the environmental sciences program is the European workshop course. Students who start their study in September, generally take this course during period 6. In this workshop, you join a group of 30 students to perform a group project in another part of Europe. We had gone to Porto, in Portugal. The course is super interactive and fun, and for me the trip to Porto felt like a vacation with friends. You can find out more information about this workshop in an older article of mine. I have attached the link below.
The European Workshop Course – International Students Blog (wur.eu)
Education with extracurriculars
If you plan yourself quite well, it is very easy to get a good work-life balance at the university. In my first year, I found myself often with a lot of free time in between exam weeks. Although never a regular, I had taken the sports facilities in Wageningen for the two years of my study. The facilities are not expensive (around 100-120 €/ year) for master's and bachelor's students and they include access to squash courts, gyms, tennis courts, swimming pools and many more.
I had also joined the boards of two different organizations. I worked as the secretary of the Indian student association and also the event coordinator for the International student organization of Wageningen. For new students, I would definitely recommend combining board work with their studies. It teaches you a lot of useful non-academic soft skills like leadership and time management. My experience working with boards helps me even now when I work in my company.
Thesis & Internship year
During my second year, I did my master's thesis and internship. My thesis was on a topic called ozonation to treat wastewater. A thesis normally takes six-seven months to complete and I had taken around nine months to complete mine. I started my internship at Blue-tec five months into my thesis. I remember the workload getting more intense during my second year, especially when I had to combine board work with my thesis. The first year is a lot easier. There was also a point where I was doing my internship during the days and thesis at nights. I would definitely recommend any new student to always first complete their thesis before they start their internship. Otherwise, the workload can get too intensive during this part of their studies.
I found my internship quite easily. I found it at a company called Blue-tec, in the nearby town Renkum. Blue-tec had an offer where I fit in perfectly.  At Blue-tec, I work with membranes to design processes and operate machines to treat water.  I do feel that for finding internships & jobs, besides academics & extracurriculars, an element of luck is also required. For international students, learning to speak Dutch is also a huge bonus.
What lies ahead for me
Before I came to Wageningen, I wanted to focus on a career in environmental and water process technology. I do feel that my coursework and experiences in the environmental sciences program have pushed me in the right direction towards my career path.
I feel Wageningen is a place where there is an ample amount of both academic and non-academic opportunity for every student. All you need to do is seek for it :-).