Typically Dutch – How is the Netherlands different from where I come from?
The first thing that came to my mind while writing this article was a random thought. It was the phrase, "Waar kom je vandaan?" and how its tonal structure and ending sounded similar to the phrase "Nee yengendu vanda?". Both the phrases ask the question, "Where did you come from?" The first in Dutch, the official language of the Netherlands, and the second in Tamil, a language spoken in the South East of India, the place where I come from.
I came to the Netherlands and to Wageningen three years ago and finished my master's in Environmental Sciences last year. Naturally, coming to a country almost seven thousand five hundred kilometres away from where you originally stay would mean adapting to a new lifestyle, and to a new culture. Below are a few things I found different here in the Netherlands, compared to India.
Transportation
Bicycles are a huge part of Dutch culture. There are more cycles in the Netherlands than people and also separate lanes just for cycles. If you live in the Netherlands and don't have a bicycle, it's like eating an Oreo biscuit without the cream. It just does not make sense. It also helps that the temperate weather and flat roads make for perfect cycling conditions. Of course, the only exception is when you cycle during the snow. India's tropical weather makes it much more challenging weather for cycling.
There are often times I feel I need to record the coordinates of my bicycle to find it in the Netherlands. Here is a fun fact for you: the city of Amsterdam removes nearly 20,000 bicycles each year from its canals.
In the Netherlands, driving motor vehicles like cars is also more structured with driving lanes and a lot of road signs. This is very different from India, where it is instinctive driving and you need to be wary of animals like cows and dogs crossing the road. In India, you also find a lot more scooters on the road when compared to the Netherlands. Getting a license in India is also much cheaper (around 20 euros) when compared to Netherlands (above 2500 euros).
Public transportation like buses, trains, and trams are well organised and fairly accurate on time in the Netherlands. Although with buses, from my experience it is always good to be a couple of minutes earlier to your bus stop. There is a mobile app called 9292 which provides detailed travel information making it very difficult to get lost in the Netherlands. Trains also have WiFi. The biggest drawback with public transportation in the Netherlands is that it is quite expensive when you compare it to other European countries.
In India, public transportation is very cheap. Buses are less organised and it is always difficult to predict when your next bus would arrive at the stop. However, inter-city trains and local trains in large metropolitan cities like Mumbai are better organised and also more crowded. The fun lies in experiencing the crowd itself. Transportation apps like Ola and Uber, and autorickshaws are also very popular.
Intercity trains in the Netherlands (left) and India (right)
Food
Coming from India,  at first, I did find food quite challenging to adapt to in the Netherlands.  India is mostly rice & roti eating culture, whereas, in the Netherlands, it is mostly a bread sandwich eating culture. However, over time I did also notice that I found it easier to eat bread here and rice back in India. It's funny how the human body works and adapts to its environment. A common misconception my Dutch & other international friends had about Indian food was that it is spicy food. I beg to differ. I would often tell them that "Indian food is not spicy, but full of spices."
French fries referred to as 'friet' in Dutch are quite popular in the Netherlands. The fries in the Netherlands are much bigger in size and less salty when compared to the ones in India. There are also much more options for sauces in the Netherlands. In India, ketchup is the most popular choice. Syrup waffles also referred to as 'stroop waffels', are a delicious sweet found in the Netherlands. You cannot find them in India. I remember taking over ten packets of it to give to my relatives and friends in India when I went for my vacation. They loved it.
Weather
In Chennai, the coastal city where I come from, the weather is generally warm during winters and warmer in summers. The weather in the Netherlands can have its own mood at times. I have seen sunshine, rain, and cold winds all within a day and within the span of an hour in Wageningen. The Netherlands also gets to see all four seasons during the year. Spring and autumn are the most beautiful. Winters are mostly slow and grim, and summers can get very warm and you need fans. I have also noticed that ceiling fans and air conditioners are quite rare in the Netherlands, and people normally buy portable fans during summers. This is very different from Chennai, where you can find ceiling fans in practically every household.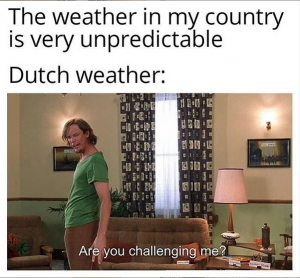 Drinking Water
Lastly, I would like to finish this article with drinking water. In the Netherlands, water from the taps is drinkable. In India, drinking water is normally purchased separately or tap water is purified with filters for drinking purposes. You can also find a lot of bottled water, and small water packets in stores in India, unlike the Netherlands. During my first vacation back to India, I remember making the mistake of directly taking water from the tap a few times only to realise that it is non-drinkable.
I hope this article provides an insight into a few differences between India and Netherlands. Naturally, the list would be much longer than what I have written here. If you find differences in culture between your country of origin and the Netherlands, do share them in the comments. I would love to read them!