BSc Student Konrad tells us about his experience living and studying in Wageningen
Why did Konrad choose WUR? And what it is like? Check out the video with Konrad and read his story below.
Could you please briefly introduce yourself?
My name is Konrad Peckolt Fordal, I'm 24 years old. I'm half Norwegian, half German and currently, I'm finishing my bachelor's degree in Environmental Sciences. This autumn I'll begin with the Master's Metropolitan Analysis, Design and Engineering.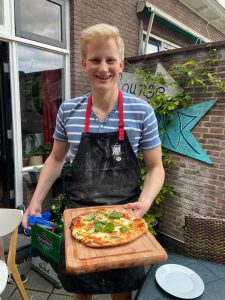 Where do you live? In a student house like Starflat or do you rent a room in the city?
I live in a student house in the middle of the city centre with five Dutch housemates. Besides being central and comfortable it's my housemates that make it an awesome place to stay. We hang out, eat a lot of good food, organise themed evenings and go on weekend trips together.
What do you do besides studying?
I'm a member of the student association Franciscus, so every Monday I eat and have a drink with my 'year club'. A group of 17 mates joined the association the same year as me. The association hosts a lot of great events and parties throughout the year.
I'm also a member and chair of several committees in my study association Aktief Slip, where I was a board member for one year. I often go to nice events to see friends from the study. To keep in shape, I regularly run and bike through the green areas around Wageningen. Travel is also something I love to do when guidelines allow it, and Wageningen is a great base to explore other parts of the Netherlands and Europe.
As an international student abroad, how do you meet other students?
Wageningen is dominated by students, so you meet students everywhere. Everyone is open for a chat and get to know others, so (for me) it was easy to meet other students. You get to know your fellow students during excursions and practical's. In the first years, we also ate lunch in the Spot in between lectures and we still meet at the activities of Aktief Slip. By joining Franciscus, I made a lot of friends quickly and as a bonus, I learnt Dutch fluently (from not knowing a word when I arrived). I truly recommend considering joining a student association as an international student, in my opinion, there's no better and more fun way to integrate into Dutch society.
What are your favourite spots on campus?
The indoor garden in Lumen. A lot of light, plants, water and wood. Four nice things in the same place. The spot is nice for lunch and the ponds on campus as well. I also want to mention the Forum library, it's beautiful and bright with a lot of natural light making the time studying as comfortable as possible.
Do you also have favourite spots in the city?
The beach at the Rhine is my favourite spot in Wageningen as I love to swim and it's nice and calm there. Arboretum Belmonte is another favourite because of the view and all the green. The capitulation room in hotel de Wereld is a nice place for a drink or a bite in a historic setting. The chairs there are incredibly comfortable as well.
What do you like the most about studying and living in the Netherlands?
First of all the friends I have made here. Second, all the nice events and activities. Thirdly, the associations I have been so lucky to become part of. Also, it is a great university with fantastic lecturers and co-students, interesting courses and personal feedback. The personal support from all staff helps you find the right way for you in your studies, even if things are not going as you were planning on.
The Dutch and internationals living here are friendly, open-minded and keen to meet new people. Even though it is a small and densely populated country there's still a lot of green and blue around you. It is easy to get around with the bike or by using the fantastic public transport system. There's little not to like, actually.
When did you first hear about WUR? What made you decide this is where you wanted to study?
I first heard about WUR when I was searching for universities in Europe offering study programmes focusing on sustainability and climate change. At first, I thought that because I did not know the university or city yet, it probably isn't that good. Nevertheless, the course description, high international and national rankings and the focus on learning in small groups made me curious, so I decided to stop by on my way to friends living in The Hague. The visit to the campus and the city convinced me that Wageningen was the right place for me.
Why did you choose your programme?
I wanted to study something where I can help others and try to make the world a better place. With a growing concern for the climate crisis, we're facing. I figured out that the best way I could help was to study the problems and learn more about the possible solutions. The interdisciplinary approach and broad range of courses and topics covered also suits me very well.
Which part of your study do you find the most interesting?
Again, a difficult question! Honestly, there's too much that interests me in our study. If I have to choose: the lectures on climate change in the different courses we have. As the study is interdisciplinary, I've learnt how problems could be solved from the perspective of economics, policy and technology.
The discussions on whether or how the economy can be decoupled from climate change have been very interesting as well. Furthermore, the big group work courses at the end of the first and second year were challenging but rewarding. Excursions and practical's have always been nice breaks from more traditional lectures and tutorials.
Do you already know where you see yourself working in the future?
Well, the study is broad, so I'm lucky in the sense that there are a lot of possible ways to go! It makes it hard to choose, though. At the moment, I want to work internationally with a focus on green and circular solutions in cities, but nothing is sure yet.