How to pick a study: 5 tips for comparing study programmes
If you found several study programmes that you're interested in it's good to compare these. At a first glance, they may look the same but often when you dive into the details you might discover differences. Don't know where to start comparing? With these 5 tips, you have an easy checklist.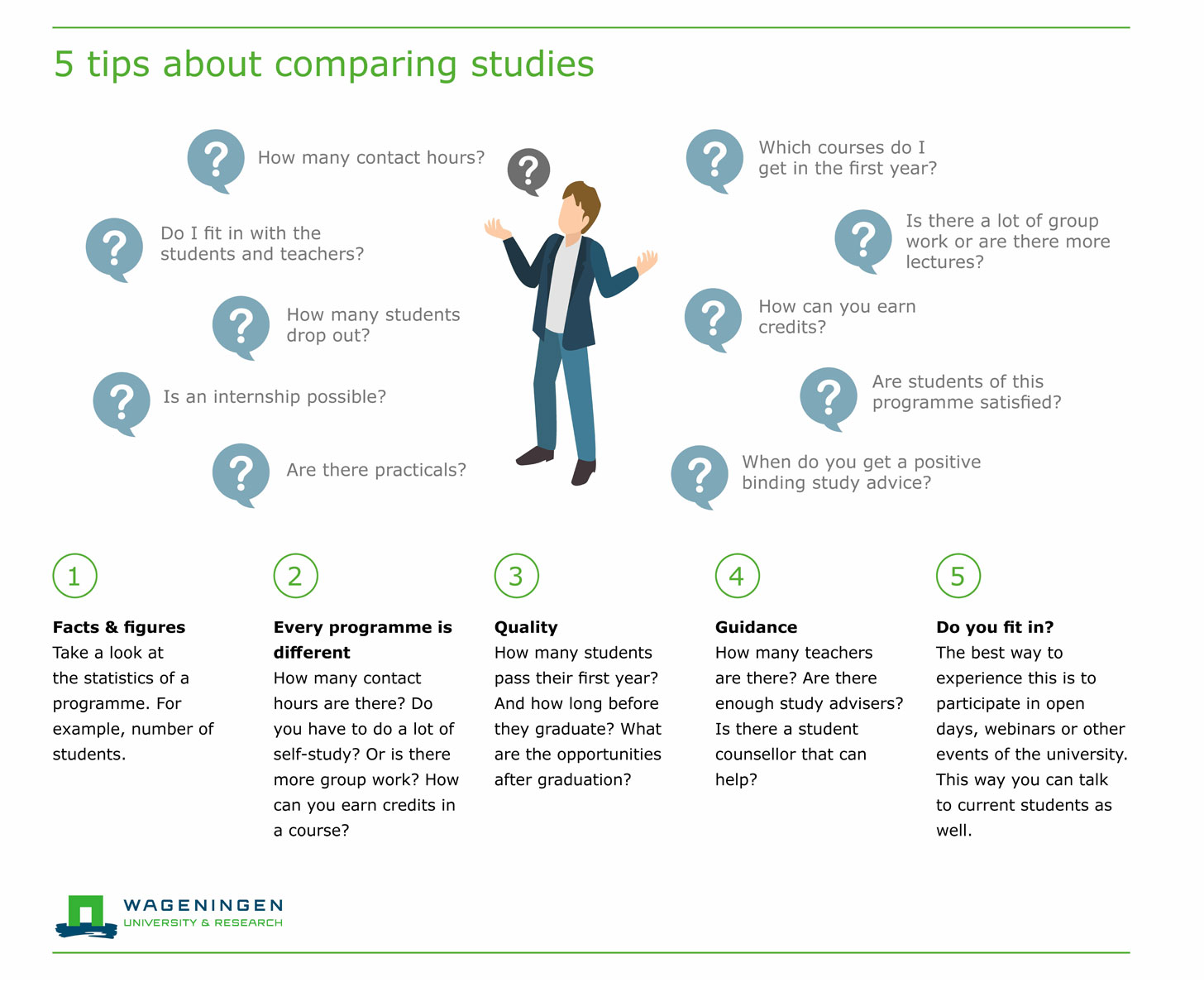 Tip 1: Facts & figures
The easiest thing to compare is the numbers of a study programme. For example, the number of students or the duration of the study. Often master's are 1 year but at Wageningen University & Research you study for 2 years to get your master's degree. You can also look at the overall number of students and the ratio international/national.
WUR has an overview of the facts & figures on the website.
Tip 2: Every programme is different
When you jump into the details of a study programme you can take a look at things like contact hours, group work and self-study. Maybe the classes look quite similar but the way of teaching is different. Also, it's good to see how you earn credits for a course. Do you have to take tests, give a presentation or write an essay? With this information, you can ask yourself what you like best. Some students learn easier by attending lectures, others rather have a practicum.
Tip 3: Quality of the study programme
It's important that you study something that you like but you also want a degree that has value. To get an idea of the quality of a study programme and university you can look at rankings. Impartial parties evaluate universities and rank them. We explained a few rankings in this blog.
But also numbers like how many students pass their first year and how long before their graduate are good to look at. And what is the career perspective and opportunities after graduation?
Tip 4: Guidance
During your studies, you want to get the right guidance when necessary. Take a look at how many teachers are there? Or are there enough study advisers? At WUR every study programme has a study adviser that helps students. Also, a student counsellor or student dean helps students during their studies.
Tip 5: Do you fit in?
When you have an idea about the statistics it's time for the most important question: do you fit in? The best way to experience this is to join (Virtual) Open Days, webinars or other events. Also, talking to students give you an idea if the university is a fit for you. Sometimes there's a possibility to chat with students online as well. For example, the 'Chat with our students' option at WUR.