A day in the life of a WUR MSc student: Samuel
Have you always wondered what a typical day in the life of a WUR student looks like? Of course, there are many different activities, depending on your studies and your personal preferences. However, it is always helpful to have a look into someone else's experience to get an idea. In this blog, MSc Urban Environmental Management student Samuel tells you all about his daily life, from living in student dorms to thesis work and daily habits to stay motivated!
Motivational mornings
"For me, the most important thing about my morning is getting motivated for the day. I need a sense of purpose to know what I am supposed to do today. Every day feels like a new opportunity to fulfil my destiny, so I want to be as intentional as possible during the day. This is why I start every day with a meditation. By looking inwards, I can discover what it is that I am meant to achieve today.
My purpose is always related to helping people, because this gives me a sense of fulfilment. My daily meditations then help me discover who I am meant to help on that day and how I can help them. After my meditation I like to wash up and prepare some food, although I usually don't eat in the mornings. I prefer having my first meal at lunch, because I sometimes feel down if I eat early in the morning."
A typical university day
"After getting ready I cycle to Gaia to work on my thesis, which is titled Planning the Commons: Exploring Urban Green Space Provision and Inequalities with Accessibility in the Accra Metropolitan Area. It's about the unfair distribution of green space, which resulted from colonialism. I aim to identify who has access to green space and who doesn't, as well as possible reasons for this.
Understanding why inequalities persist is the first step in promoting equality. I like working together with other thesis students, because it gives us the opportunity to brainstorm and challenge each other to think outside the box. I feel like the discussions with my fellow students really help me shape my thinking and improve my thesis. Being creative and coming up with new approaches by connecting with fellow students is actually one of my favourite things about writing my thesis."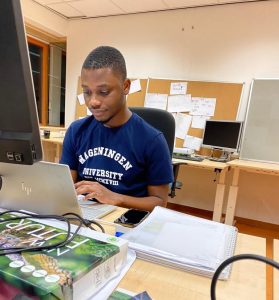 Unwinding and relaxing
"Although I enjoy working on my thesis a lot, I think it's very important to relax as well! Personally, I like playing FIFA with friends, cooking and having hallway dinners with my housemates. I live at Hoevestein together with seven other people, some of whom are Dutch and some internationals. We all get along very well, which is really important, especially during times of lockdown. The kitchen is a central meeting spot for us, whether it's just to have a little conversation or to enjoy a meal together.
I really enjoy making food from my home country, especially fufu or jollof rice. Fufu is a cassava and plantain dish served with soup. Jollof is a stew served with rice. Although many countries claim that they have the best jollof rice, I can tell you that Ghanaian jollof really looks and tastes the best!"
Getting ready for tomorrow
"As I'm a real night person, I often work at night. It's much more quiet and I enjoy the idea that everyone else is resting. I get less distracted and I feel like it helps me focus. It's not unusual for me to stay up until 2 a.m., sometimes even 4 a.m.!
However, I also think it's very important to wind down at night and prepare your mind for the next day. I like to check in with myself by listening to some meditation music and really trying to connect with myself. I like to reflect on the day and return to my sense of purpose. For me, starting and ending the day with a meditation is a really great way to stay motivated and be true to myself."