Earning credits (ECTS) at Wageningen University & Research
Earning credits or study points are an important aspect of your studies. You might be used to only getting grades, but at university, you have to earn credits. With these credits, you can finish a course and eventually earn your degree. What credits are and how it works we will explain in this blog.
What are credits and how can you earn them?
Wageningen University & Research applies the European Credit Transfer and Accumulation System (ECTS). This system is based on the workload of students. One credit is 28 hours of participating in education, exams and studying. With this calculation, the study programmes determine how many credits a course is worth. So not every course has the same amount of credits.
A full academic year is 60 credits, divided into 6 periods of 6 or 12 credits. It is important to get a sufficient grade for each assignment. Otherwise, you won't get credits. When you've earned all the credits for a programme you will get your diploma.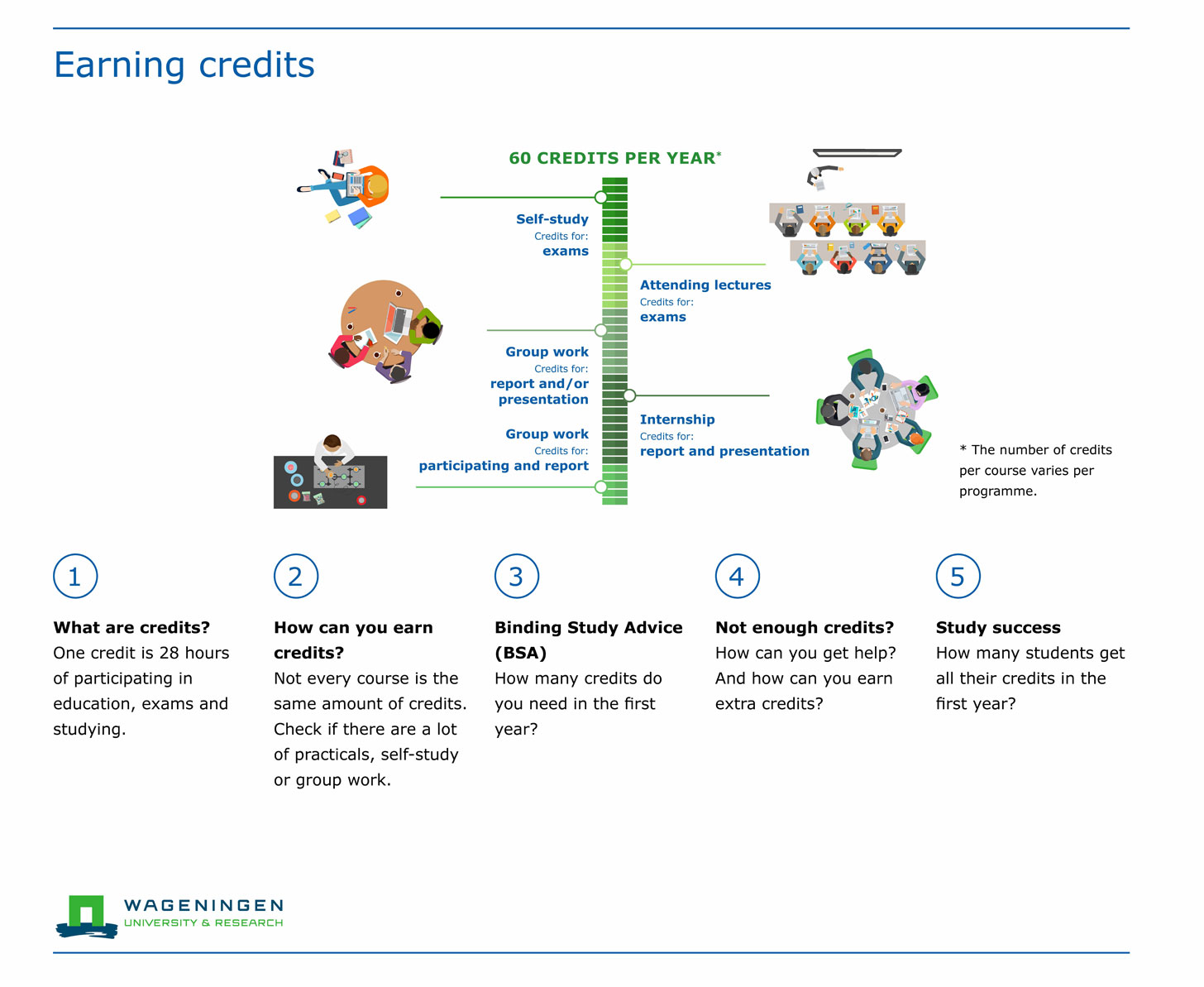 Does everyone get 60 credits in the first year?
Not everyone earns all their credits in the first year. This can have different reasons. You might need some time to get adjusted to the university or the way of teaching. And some students find it easy to learn for exams but harder to make a presentation about a project.
It's okay if you haven't earned all 60 credits in the first year. But it's good to look at why you haven't managed to get all the credits and if you need help. You can always talk to your study adviser if you are worried about falling behind. As a bachelor's student it's important to have enough to get a positive study advice. See what this means below.
What happens when you don't have enough credits? The Binding Study Advice (BSA) for bachelor's
If you are doing a bachelor's programme you will get a Binding Study Advice at the end of the first year. This advice is based on the number of credits you earned in the first year. This means you can obtain 60 ECTS, however, it's okay when you're not getting all 60 credits in the first year.
To get a positive study advice you need to have 36 ECTS by the end of the first year. A BSA means you are allowed to continue your studies. To be on track with your studies it's recommended to at least try to earn 50 credits during your first year.