Times Higher Education Impact Ranking 2022
You might be familiar with university rankings that focus on the university as a whole or within a subject like agriculture. But Times Higher Education also has an impact ranking in which they rank universities on their contribution to the Sustainable Development Goals (SDGs).
Wageningen University SDGs
Wageningen University & Research is participating in the ranking with 5 Sustainable Development Goals. With these goals our university scores in the 100 worldwide (nr.65) and number 1 in the Netherlands.

The scores per SDGs are:
SDG 13 Climate Action 3rd place
SDG 2 Zero Hunger 22nd place
SDG 12 Responsible Consumption and Production 44th place
SDG 15 Life on land 33rd place
SDG 17 Partnership for the goals, between place 100 – 200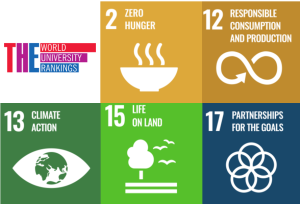 View the full Impact Rankings 2022 
What are Sustainable Development Goals?
The United Nations set 17 Sustainable Development Goals as a blueprint to achieve a better and more sustainable future. With these actions, they want to end poverty, protect our planet, and ensure everyone around the world can live in peace and prosperity. In the video below you can see all 17 goals.
Sustainable Development Goals in our education
The SDGs are also part of our education at Wageningen University & Research. This means the goals are woven into the courses for students. They are educated to become academic professionals who can contribute to sustainable solutions for issues like hunger, good health and sustainable cities. If you are curious about which goals are represented in which programme you can find an overview through the links below.