Winter is coming…
It is not just a dialogue from Game of Thrones that fills us up with anticipation, it's the "season" itself that makes us happy. Filled with great enthusiasm, I wonder what winter will be like in The Netherlands. It will be my first winter in a European country. The trees are shedding their green cover, rebelliously standing firm in their spots. The mist is bothering the sun to no end and the rains have started to show their true face. The autumn has already begun and in no time, the winter will arrive.
Most of the people over here, whom I talked to say that winters are not as harsh as other countries. But they are unpredictable as well. From snow to continuous rains, one cannot be too sure about the weather. And since this is the case, it is better to be safe than sorry. Better to be prepared for the worse than let the fate take control.
Better to be prepared for the worse than let the fate take control.
The most important thing to do will be shopping. Isn't that fun? Shopping for warm clothes is not such a tough job. But to do that in time is crucial.  Its better to start out soon, maybe tomorrow? Plan a list of things to buy. Some things that I found on my list were these:
• Warm waterproof jacket
• Gloves with a good grip
• Ankle length Boots with a good sole
• Woollen cap
• Sweaters/ Sweat-shirt/ Hoodies
• Woollen socks
• Thick, strong Muffler
It's a good idea to shop for all these things in one place, but sometimes people are very particular about the brand and hence must go through many shops. In my case, I will buy stuff in one big store.
There are many shops in Wageningen that now have discounts and sales put up in anticipation of the increase in number of shoppers. The main street is dazzling with attractive posters of various orders of discounts and the Mega-markets like Hema and Action now also have some warm clothes for sale. The shops look simply marvellous with all the winter decorations. Even the kids shops are beautifully decorated.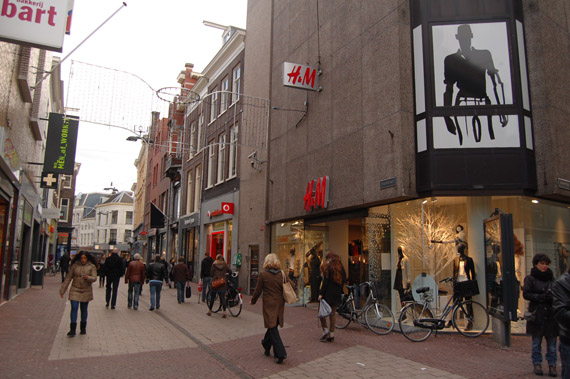 H&M Arnhem [Source]
Heeding the opinion of one of my friends, who has been here since the last winter, I decided to do the shopping in the city of Arnhem. It turned out to be a good idea. Their centrum, which is quite close to the train station, has many huge shops that offer great variety and great prices for the warm stuff. The stores like H&M and Primark are student's favourite and one can expect a crowded floor almost every day. I chose to buy stuff from H&M. I could buy everything in one place (except the boots, which came from neighbouring store of Van Haren) and at a fair price. There are also brand specific shops in Arnhem and it will also be worth your while to visit them and view their latest collection. All is within walking distance. Now that is the benefit of shopping in a city.  But it can also be done in Wageningen itself or the sister town of Ede.

Open32 Arnhem [https://weblog.wur.eu/compare-and-contrast-essay-movie-and-book/]
Famous shops like Jack & Jones, Open32, We store, Zents, Vero Moda, etc. have quite fascinating articles that require your attention. Hema is the place if you are price-conscious. Most of the shops can be found  on Hoogstraat and the nearby streets.
In Ede, Grotestraat is the place to be. With variety of gender specific as well as unisex shops, it is fun filled shopping street. Chasin' Ede, Bonita GmBH, We men, Promiss, etc to name a few. To visit these stores, one can take a bus to Ede-Wageningen Station and then take a bus to centrum or simple ride your bike.
So, with so many options, you are now equipped to prepare for the coming winter. I hope we all enjoy our time in Wageningen, this winter. Cheers!