Studying in the Netherlands: my experience
by Julia Winkeler, student Plant Science from Delaware
I started studying for my Master's degree in Plant Science at Wageningen University & Research this past February. I feel very grateful to be able to study at the number 1 university in the Netherlands as well as the world's top-ranked university in the field of Agriculture & Forestry.
When I visited the campus last summer, it was everything that I could have wished for. The campus breathes life sciences. No matter what topic someone is learning about, it is always related to the university's motto: "To explore the potential of nature to improve the quality of life."
Why did I choose Wageningen?                
On my daily cycle to campus, I feel like the luckiest person alive, and yes, even while it is raining. I am not used to riding a bike as my main vehicle of transportation, but I love how it wakes me up in the morning! The birds, trees, and flowers are also very beautiful on this commute. But the nature is not the only reason I came to Wageningen. The education here is outstanding. With this master and the reputation of Wageningen University & Research, I have the potential to find a job all over the world.
Another great thing about my study is that I have do an internship during my masters. This way I can gain experience in the professional field. This internship can be completed almost anywhere in the world. I am planning on possibly doing mine back in the States.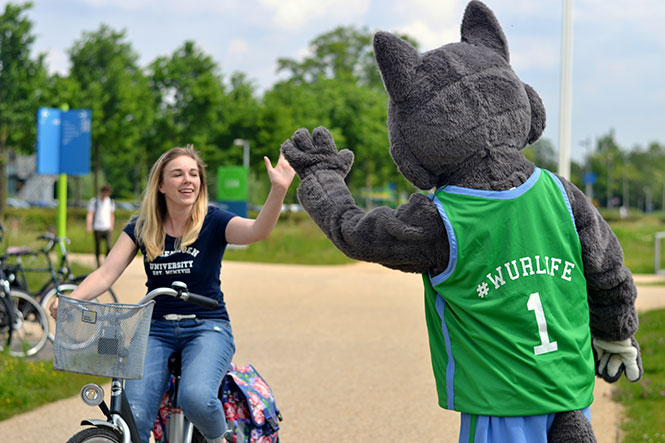 Comparisons to American universities
Wageningen University & Research is quite small, which makes it very personal. Also the professors are approachable and open. They're even available during a coffee break if you have any questions about the program. They want you to ask questions.
Speaking of coffee breaks, a single class could meet for four hours in a row in the morning, or after lunch, but you always have 10-15 minute coffee breaks every forty five minutes. I think this was the biggest shock for me, as my classes back home lasted only an hour and fifteen minutes maximum. While the length of the individual class periods are longer, I can have only two classes at once, which is easier for me to manage during finals week.
I also really enjoy that I still have a long summer break in Wageningen during which I will be visiting friends and family. You could write your thesis during summer, but that depends on your research. And the food! I'm not a fan of typical Dutch food, but the cafeteria on campus offers great fresh and healthy food at a nice price. Just like the coffee.
How to get in to Wageningen University & Research
Applying for a university in the Netherlands is a bit different then doing so in the States. Even though Wageningen University & Research is the number 1 in the Netherlands, this does not mean they only accept A-level students (so they can stay on top). Every student that meets the criteria will get accepted to Wageningen. This means everyone has an equal chance of getting in. The GRE's are also not required for applying! Also, coming from the States, I did not have to take an English language test.
Questions?
If you would like to hear more about studying in Wageningen you can always contact me by replying to this blog. I'm happy to answer your questions and help in anyway possible! Also, if you like to stay updated about the university, you can essay importance of education in hindi.