Sinterklaas from an Spanish perspective
One of the nicest things of Wageningen is the number of crazy and original activities that take place day after day. Dutch festivities are something nice to enjoy in the city centre, as is Sinterklaas where you can eat millions of pepernoten (lucky you if you still feel well after 100 of them).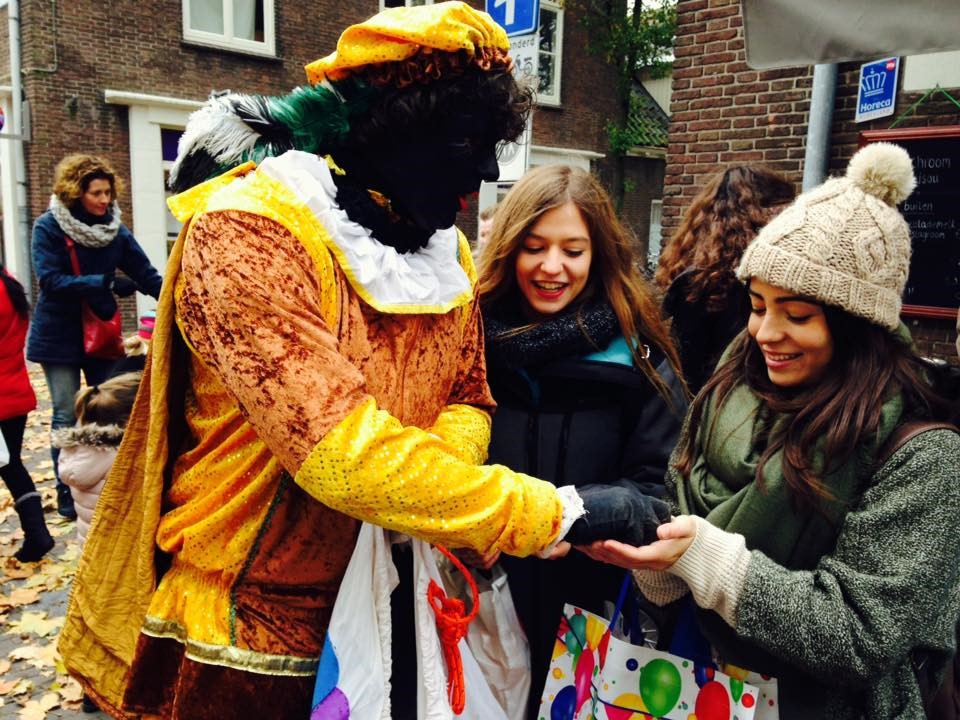 I remember my second Sinterklaas where my best friend Angélica came to visit me. I knew already for many children in The Netherlands, the most important day during December is 5th December, when Sinterklaas (St. Nicholas) brings them presents!
Me as an Spanish girl, I was not shocked, Santa Claus is also celebrated in Spain and he also brings us presents by sliding through the chimney. However, I found so funny when I heard that Sinterklaas was coming by boat from Madrid which is in the middle of Spain and where boats have never ever arrived as you can imagine.
Dutch festivities are something nice to enjoy in the city centre.
The real shock came when we arrived to the market and saw one million 'Zwarte Pieten' ('Black Peters') surrounded by even the double amount of children. I have heard, children are told that the Zwarte Pieten are aware of all the things they have done in the past year in a big book. Sinterklaas will give presents to the good children but for those which behave bad, he will put them in a sack for Zwarte Pieten to bring them to Spain for a year for them to know then how to behave! I would say please take me as soon as possible so I can see the sun and not pay the ticket back to Spain in Christmas which generally requires me to sell one of my kidneys to be able to buy it.
The first time I celebreated Sinterklaas was indeed in Spain. This happen when Tessa came to follow her Erasmus there and lived with my at my parents place. I will never forget we teaching my parents to sing a dutch song where the "daag" word is repeated again and again. Together with a mom which has zero sens of rithm we put carrots inside our shoes (except my brother which felt completelly embarrassed about it). It was suppossed that during the Sinterklaas evening (when Sinterklaas arrives to The Netherlands), Sinterklaas will arrive during the night with some presents and lots of peppernoten which will be placed inside the shoes. We brushed our teeth and went to sleep waiting for Sinterklaas 🙂
I received an amazing present which was a big letter N completely made of chocolate.
This year I celebrated Sinterklaas with my Dutch family (Tessa's family). This time, the entire family met in the house and in a certain moment someone knocked to the door. It was Sinterklaas but he was not there. Instead, we found an enormous amount of presents with names on them just in front of the door.
We played treasure hunt games with poems (happily mine was in English). Jack (4 years old) followed the clues to find little presents left by Sinterklaas. And of course, Tessa's mam made sure we ate enough pepernoten so we could not see them again. WE also ate something called 'letter blanket' or 'banketletter' (which means letter cake), and is made from marzipan or pastry, this was absolutely horrible. However, I received an amazing present which was a big letter N completely made of chocolate, I wish I could take a picture of it but its already gone 🙂https://weblog.wur.eu/introduction-paragraph-argumentative-essay-example/