Lecture Week 2018
Welcome to Wageningen! Are you considering Wageningen as your future university? Would you like to know what could you expect when studying in Wageningen? Join us to the online Lecture Week from Monday 22 October to Friday 26 October and experience Wageningen lectures.

When and where will the online Wageningen Lectures take place?
If you are wondering how would you feel learning courses at Wageningen, you can attend the lecture week online. This Lecture week will take place from Monday 22 october to Friday 26 october 2018. Exclusive videos of classes in vivo will take place each morning at 10.00 AM. Each morning you can experience what is studying at Wageningen via a new video online.
What can you expect?
During this Lecture Week, the different learning styles at Wageningen University & Research will be shown. You can see a new lecture every morning which will be guided by Julia. During each lecture you will be taken inside the classrooms where both professors and students will tell you about the lectures.
Are you interested in doing your masters or your bachelors at Wageningen? Are you considering studying at Wageningen University? If this is your case, I will encourage you to attend this online event.
What is new about lectures in Wageningen?
There are many professors in Wageningen that know how to engage students into their classes. I bet you think you already know what is studying at a university. I am sure you expect lectures to become boring after sitting for hours in a chair. I will not deny that, however; Wageningen has a genuine and interactive way to structure lectures.
Professor at Wageningen are keen on engaging you in their classes. Based on my experience, attending a lecture in Wageningen can become actually fun and entertaining.
Generally, the beginning of a course in Wageningen is theory. However, as soon as all the required knowledge has been explained, you will get the chance to apply this theory directly in intensive group work. By doing so, you'll experience what you have just learned with all the theory.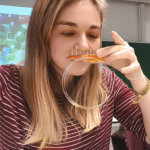 Most of the professors in Wageningen will ensure that you really practice the theories you have to learn. Be prepared to step out of your comfort zone and face real problems of the areas of interest. At the beginning you might be afraid of how intense and real it can become attending a practical. However, you will eventually realize that the theories can be understood way better by applying them. Moreover, it will also be much more fun to learn than just listening to a lecture from you chair. As you can imagine, how you feel in a lecture is up to each individual and that's why I really encourage you to check out how some of these interactive learning styles are used in Wageningen during the online Lecture week.
Do I learn only from lectures?
If you thought that just by attending lectures you would learn all the required information, you were completely wrong. Regardless of which study programme you are planning to join, you will be working in loads of group works throughout your studies. Often, the group assignments account for a minimum of 25% of your final grade and this grading can go up to even an 80%. You might initially feel group works are unnecessary and excessive. However; group work activities will not only teach you academic stuff; but will also develop yourself as an individual and will prepare you for your future job position.
To pass a course you will need much more than taking an exam.
The exam grade will account for a 25% to a 50% of your final grade, this implies that you might have to write a practical lab report, follow computer assignments, do presentations or even make a movie. For some other courses you won't need to an exam and instead you will write a report or an essay. Wageningen offers a wide variety of teaching methods that will force you to become open-minded and more flexible. If you are wondering how are all these teaching methods, the lecture week is the best moment to get an overview of these.