A weekend in Berlin
Although Wageningen is a nice place to spend a weekend and chill with some friends, sometimes it feels too tiny. As you might know, reaching different places around Wageningen is sometimes hard. Last weekend I wanted to travel a bit without spending too much money on it. That its actually possible from Wageningen. There are many blablacars which do not cost more than 50 euros and which can allow you to travel to Germany, Belgium or France. In my case, I decided to spend a weekend in Berlin.
Wageningen – Berlin
After I finished my course on Friday, I took the bus to Ede. Many blablacars leave from Amsterdam to Berlin. As a tip, ask the driver to pick you up in Barneveld as its in their way to Berlin and it's the easiest point to reach from Wageningen. Once you are in Ede, you can arrive to Barneveld within 24 minutes and it will cost you only 4 euros.
Depending on the day and the traffic jams, the trip can take between 5 or 7 hours. Hence, you can easily arrive for Mediterranean-dinner time to Berlin.
Berlin Surroundings
One of the things I liked the most from Berlin is the amazing atmosphere that surrounds the city. People is drinking beer all over the city and even in the train. There is music in literally each corner of the city and people doing tiny performances. In addition, the amount of festivals and events that contains the city its outstanding. No matter where you go, you will find an event to join.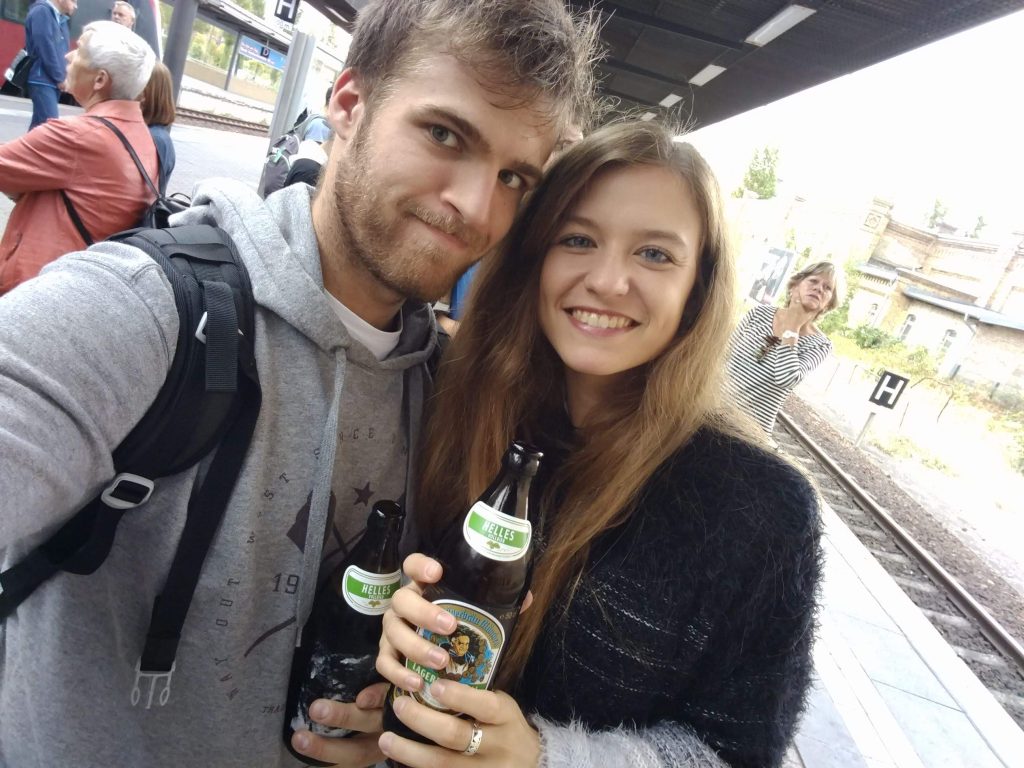 Food
Berlin does not only offer a wide variety of cultural events, it also offers an extensive assortment of meals from different countries. This Saturday we chose Japanese food and hence we went to Cocolo Ramen X-berg. I will not lie by saying that I ate the best ramen I ever tried. This place its located at Kreuzberg close to the canal. You can get here easily by train; stopping at Schlesisches Tor. This area is located at the west side of Berlin. In this area you can find many restaurants which offer cheap meals from all over the world.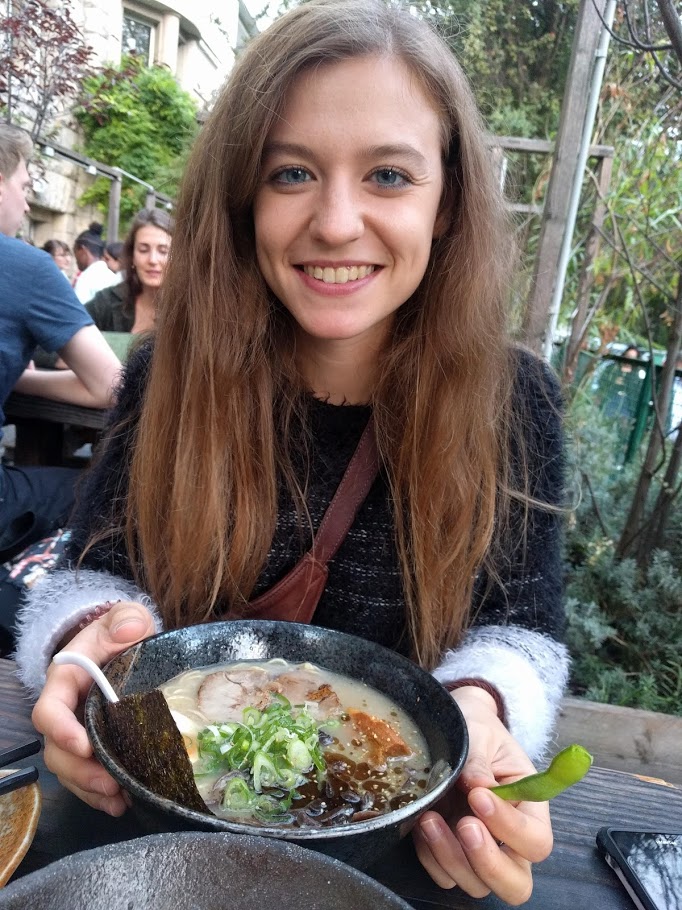 Together with the Tonkotsu ramen, we tried dumplings and Edamame which I would recommend you to have as a side-meal if you ever come to this place.
Sundays at Mauerpark
The Mauerpark is a public park located in the Prenzlauer Berg district of Berlin. Its name can be translated as "The park of the Wall", making reference to the fact that the Berlin Wall passed through there. The park is situated on the border between the district of Gesundbrunnen and Prenzlauer Berg of the former West Berlin.
Berlin offers more than just amazing parties, even on Sundays.
There are many relaxing things to do on a Sunday in Berlin. In my case, I visited the famous Karaoke in Mauerpark.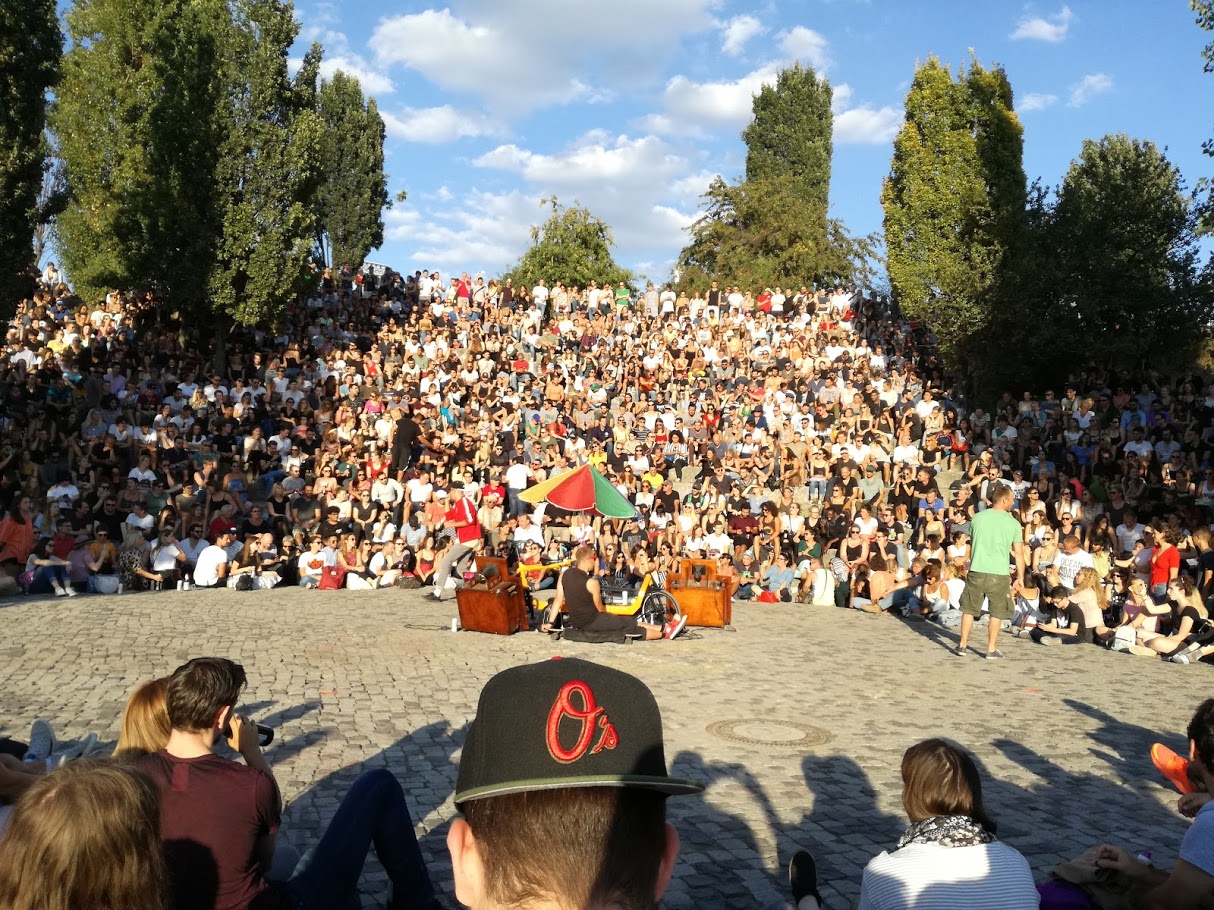 The Mauerpark is the perfect place to spend a lazy Sunday. You can hang around there and enjoy the different alternative activities that take place in there. Many livebands play at random spots in the park. There are many activities where you can join, some of them require a minimum of exercise but end up being very satisfying. In addition, every Sunday there is a large flea-market with secondhand products.
As a final tip, I would like to let you know how to make even longer your weekend. If you want to spend as much time as possible in Berlin and still be able to arrive on time to your Monday-lecture, I suggest you to return back by bus. You can get your ticket back to Wageningen for 35 euros via GoEuro. Within 6 or 7 hours you will be back in The Netherlands. In my case I travelled with Eurolines that has plugs on the bus and hence I could watch Netflix during all the trip!